Aldrin's big cake out of this world
September 12, 2010 - 11:00 pm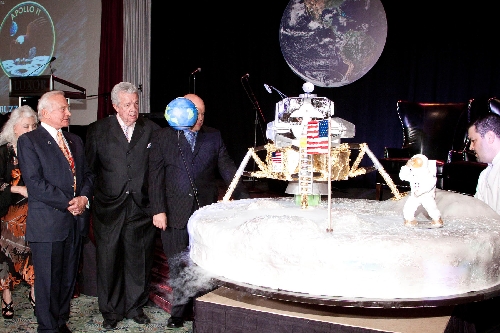 At age 80, astronaut Buzz Aldrin has seen the world from a lot of angles: he survived 66 combat missions over Korea and took a walk on the moon.
But the Luxor had a surprise for him on Saturday that added frosting on the cake to a life well lived.
At the end of "An Evening with Buzz Aldin," Luxor chefs rolled out a special 600-pound cake that included a large replica of a lunar lander as the centerpiece.
As an astronaut, he couldn't resist commenting on the electric-powered "Earth" that was revolving around the giant cake.
"Small detail," he said. "Wrong way."
Luxor chefs put almost 600 hours into creating the cake project, which was filmed by a TLC camera crew for a "Fabulous Cakes" episode.
Earlier in the evening, Aldrin told me about his Las Vegas days. He had taken gunnery training at Nellis Air Force Base before going to Korea and returned here after the war.
"I remember a lot of little nightclubs and you could gamble with 10-cent chips at a casino in North Las Vegas," he said.
"Being a Ph.D.," he said the idea of coming up with a system to beat the house appealed to him so much that he organized a plan based on cutting the odds.
In on the plot were five fellow Nellis pilots and they gave it several test runs, he said. But unlike the six Massachusetts Institute of Technology students who took Vegas casinos for millions in winnings, Aldrin's system didn't pan out.
"Thought about living here but I'm a scuba diver and that lake out there was just too cold," he said.
The celebrity turnout included U.S. pole vaulting great Don Bragg (who won the gold medal at the 1960 Rome Olympics), Muhammad Ali's daughter May May Ali and the singing golfer Don Cherry, the only man who had a Top 10 hit ("Band of Gold"), a Top 10 finish in the U.S. Open (seventh in 1960), and opened on the Strip (for Peggy Lee in 1952).
THE SCENE AND HEARD
Priscilla Presley, who married Elvis Presley at the old Aladdin hotel in 1967, will be honored as the 2011 Woman of the Year at Nevada Ballet Theatre's Black & White Ball on Jan. 29 at Aria.
SIGHTINGS
At N9NE Steakhouse (Palms) on Saturday: five-time NBA champ Kobe Bryant. At another table: former NBA All-Star Gary Payton. … Comedian Dave Chappelle, spotted in the nightclub at Tao (The Venetian) on Saturday with friends. … Actor Christian Slater and his family, celebrating a birthday at "Viva Elvis" (Aria) on Saturday. On Friday, astronaut Aldrin and his wife took in "Viva Elvis." … Chanel "CC" Dudley, best known from Rob Dyrdek's "Fantasy Factory" on MTV, hosting at Pure on Saturday. Also at the club: Elton Brand, power forward for the Philadelphia 76ers. … Charles Kelley, lead singer of the hit country band Lady Antebellum, and wife Cassie, at the 10:30 p.m. performance of "Peepshow" at Planet Hollywood on Saturday.
THE PUNCH LINE
"The Fumbles Bunnies." — From David Letterman's "Top Ten Least Popular College Football Team Nicknames."
Norm Clarke can be reached at (702) 383-0244 or norm@reviewjournal.com. Find additional sightings and more online at www.normclarke.com.