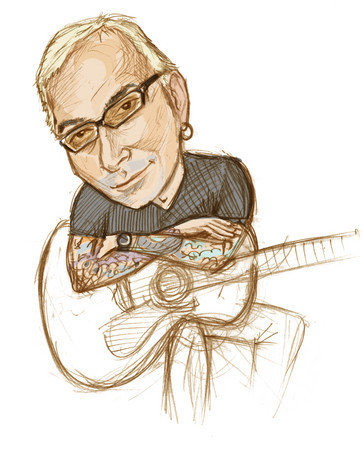 Rock star cliches being what they are, you don't expect a famous singer to talk about Jesus and Christianity. But politically active Art Alexakis is proudly a liberal Christian.
"It makes me angry that people have turned (Christianity) into something negative. It's a positive thing. It's not about judging. It's not about exclusivity," the Everclear singer says.
"When you read his words right out of the Bible, he's a liberal, dude. There's nothing conservative about him, not even a little bit."
I mention a part of the Bible, and he says, "You mean the guy who told parables about how a rich man would never, ever get into the kingdom of heaven?"
Alexakis thinks it's funny that Jesus portraits have depicted him as a blue-eyed white guy.
"He was a Palestinian Jew," he says. In portraits, "he usually has perfectly coifed hair, and he looks like Fabio, maybe a little less muscular.
"But Jesus was a carpenter. He was a man's man. He was not a pansy. He was not some little sissy boy. To me, as a Christian, that was part of the whole lesson. It doesn't matter who you are or where you come from. We are all God incarnate."
Alexakis believes "all the different prophets, from Buddha to everybody, were basically the same entity. They just showed up at different times to talk to different people."
With help from Christianity, the singer has overcome drugs, bankruptcy and other life obstacles.
"I don't drink. I don't do drugs. I don't screw around on my wife. I'm pretty boring," he says.
So his resulting philosophical approach to life is:
"I'm a pessimistic optimist. I think the glass is half full — but if I don't drink it, someone's gonna take it from me."
Alexakis performs solo acoustic Saturday at The Venetian, before a set by Ed Kowalczyk (formerly of Live) and after the excellent Leigh Nash of Sixpence None the Richer ($28-$68).
SHEENA'S DIRTY JOKE
"How many country musicians does it take to screw in a light bulb? Three. One to screw in the light bulb, and two to sing sad songs about the old one."
That clean joke comes courtesy of Las Vegan Sheena Easton, who performs tonight and Saturday at South Point ($30-$40).
You can find the dirty joke she told me on my VegasLand blog. And read my interview with her in today's Neon section.
Doug Elfman's column appears Sundays, Mondays, Tuesdays and Fridays. E-mail him at delfman@reviewjournal.com. He blogs at reviewjournal.com/elfman.