February 7, 1999 - 12:03 am
Updated September 12, 1999 - 1:00 am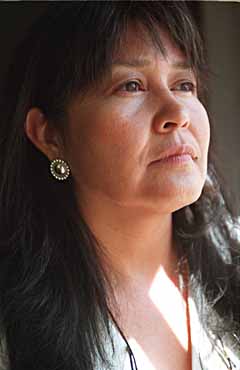 Alfreda Mitre was in the second grade when the differences boiled over. The Colony kids, as children of the Las Vegas Paiute Tribe called themselves, had been redistricted to Washington Elementary School and found the inhabitants hostile. "The teachers didn't know what to do with us and the other kids didn't like us, and some of The Colony kids were punched around.
"Finally we banded together and had a big knock-down, drag-out fight with our tormentors. Boys and girls on both sides, mostly pushing and shoving and a few sat on others and a few threw blows, and then it was over.
"We told them … we don't want to be here ourselves, but we are mandated to be, so leave us alone."
Mitre told the story to illustrate a key fact of life for the Las Vegas Paiutes. "We don't have the choice of moving to some other neighborhood. We're a land-based people; where we are is a big part of who we are."
The long period of poverty endured by the Las Vegas Paiutes, and the economic miracle that lifted them out of it, are both firmly rooted in that fact. For more than 50 years, living on their ancestral tribal lands — the 10-acre fragment that even whites acknowledged as legally theirs — seemed the only way they could hold onto their land and their identity. Yet living there condemned them to a 19th century lifestyle without running water or electricity, let alone the great cultural leveler of television. City water lines didn't serve the reservation; city equipment didn't pave the streets; and city cops didn't patrol.
Mitre, 45,was chairperson of the tribe when some of the most positive and most profound changes came, but said neither she nor any other leader was personally responsible. "The tribe as a whole can take the credit," she said. "Because we are so small we can do what most reservations can't do, and that is govern almost by consensus." There are only 54 adult members of the tribe.
According to Paiute elders interviewed in the 1970s the Las Vegas Paiutes are descendants of a band that used to migrate all over the Las Vegas Valley. They returned to the same spots every year in proper season to harvest wild plants or small game. Even after a few white settlers began appropriating water sources and grazing livestock on the plants Indians had formerly eaten, there were enough resources for most Paiutes to maintain a traditional lifestyle. Others welcomed the opportunity to work on ranches for money or goods their own culture could not produce.
But change became a necessity after 1905, when a railroad brought settlers by the hundreds, claiming all water sources and all fertile lands. Helen J. Stewart, who had operated the Las Vegas Ranch for years before selling most of it to the railroad for a townsite, realized the Indians who had befriended her soon would be pushed out of their homeland entirely. To prevent that, she sold a 10-acre parcel of her remaining land to the federal government for the perpetual use of the Paiutes.
It became known as the Las Vegas Indian Colony. For some 20 years, it was administered — or more accurately, neglected — as a remote part of the Moapa Paiute Reservation. No rations were ever issued there by the Bureau of Indian Affairs, though relief agencies during the Depression gave food to Paiutes as they did to whites.
A school was built at The Colony but soon abandoned. For many years the principal method of educating Indian children was to send them to boarding schools.
Daisy Mike, a Las Vegas Paiute elder, told an interviewer in the 1970s how she got to the Fort Mohave Indian School as a child, before World War I. She was then living in Goodsprings, so her own trip started by buggy to nearby Jean, where the Paiute children would take a train maybe half a mile to another siding, then walk a couple of miles to the mining town of Barnwell. "From there on a stagecoach clear to … California. From there we went on the train again down to Needles. From there we walked … 18 miles up to Beaver Lake. From there we went to school. We took a boat across the river."
The boarding school system was compulsory, and children who did not go voluntarily were taken by force.
By the time Mitre came along, Paiute children attended Clark County Schools. But "Colony kids" found themselves different from their classmates in ways more than skin deep.
Among American Indians, said Mitre, it is impolite to look another person directly in the face. "So one of my cousins was always in trouble because she wouldn't look at her teacher. The teacher would yell at her, 'Don't you hear me?' And my cousin respected this teacher a lot, liked her, and that was just all the more reason she wouldn't look at her."
The Colony had no electricity, so the children didn't see the TV shows that filled the conversation of their classmates. And they lived in makeshift, one-bedroom houses, so nearly all their play was outdoors.
"We had great imaginations. We played we were movie stars and put on plays. We had all sorts of competitions. Foot races, or we would race the train that ran along one side of the Paiute land. Some had dirt bikes. We'd see who could throw the farthest, who could hop highest, who could make up the best stories.
"On Saturdays we would go uptown and check our mail. We couldn't get our mail delivered because we didn't have defined streets, and therefore no street addresses. And I thought that post office on Stewart Street was the most beautiful building.
"Then we would cross the street to where the library used to be, about where City Hall is now, sneak into the library and read as much as we could before they booted us out. We couldn't check out books, again because we didn't have addresses, and you had to have an address to get a library card. And since we couldn't check out books, the librarians perceived our being there as loitering. There was one nice lady who would let us stay, though.
"I remember what a great day it was when we finally got paved streets and street numbers. It meant we could get mail! We finally felt we were getting somewhere."
The Las Vegas Paiute Tribe was recognized as an independent body in 1934. The tribe's early leaders like Raymond and Kenneth Anderson, said Mitre, were heavily involved with the Mormon Church. "They recognized that if you made friends with these people, they would help you."
In the 1960s LDS church leaders helped the tribe negotiate to get water lines and electricity extended into the tribal land. "One of the things that spurred that was the fact they built a Mormon Church and it needed electricity and water. … The LDS helped us get these things, then provided some of the manpower and the tribesmen did most of the physical work." The 1970s saw the tribe start writing its own building codes and establish a police force.
Establishing the tribal smokeshops, which have become cash cows, was a traditional decision by consensus rather than majority vote, said Mitre. Curtis Anderson, Kenneth's son and the current tribal chairman, said the first smokeshop, at North Main Street and Paiute Drive, started about 1983. It quickly developed the reputation of being the cheapest place in town to buy cigarettes by the carton. Today, even though the tribe has branched into selling convenience food and authentic American Indian jewelry, tobacco products remain the overwhelming majority of its business.
David A. Colvin, the tribe's attorney, explained that the state cannot collect taxes on sales on Paiute lands, since the tribe is politically independent of the state. However, the tribe worked out an agreement with the state — as other tribes have in other states — that the tribe will collect its own tax equal to, or greater than, the amount the state would collect. The state entered the agreement to protect other downtown businesses from being too badly undercut by a business that doesn't have to pay state taxes. The Paiute's own government got a steady funding source for its police department, court and other social services. Outright profits are divided among tribal members.
Smokeshop money, said Mitre, enabled the tribe to replace substandard houses. "Things moved so quickly that the best thing was to knock down the makeshift dwellings and move in the doublewides," said Mitre. The tribe bought the mobile homes initially and sold them to tribe members on an installment plan.
Even before the tribe approved its own constitution in 1971, said Mitre, women had an equal voice in tribal affairs. In 1978 Gloria Yazzie became the third person elected to chair the tribal council, and Mitre's sister, Margaret Henry, was the eighth, holding the post from 1988 to 1990. Henry was among the leaders who felt the tribe should forget about asking the Bureau of Indian Affairs for help, and become more proactive in planning the tribe's future, with free-market approaches such as the smokeshops. Others of the same mind included council members Carmen Patrick, Billy Frye and Gloria Shearer.
They saw that the original colony was losing its usefulness as a place to rear children. The location was rural when Helen Stewart sold it in 1910, but the city had not only grown up around it, but fallen into urban decay. They began lobbying Congress to recover additional acreage from their original territory.
In 1983 when Congress authorized a new, 4,000-acre reservation, straddling the Tonopah Highway north of Kyle Canyon road. Lying at the foot of Mount Charleston, it was given the mountain's Paiute name, translated into English: Snow Mountain.
Mitre, meanwhile had gone away to Sherman Indian High School, in Riverside, Calif. "It was no longer mandatory, but there were other Indians from across the country, and it was my grandmother's preference that I meet other Indians." She went to Riverside Community College and then University of California, Riverside, for a degree and graduate work in sociology. Now she works for the University of California, Santa Cruz in a multidisciplinary program blending history and sociology.
She took leave of her academic career twice to return to Las Vegas and serve as chairperson, from July 1990 to 1998, with a break from mid-93 to July 1994.
"My whole reason for returning home was to assist in diversifying the business," she said. "All we had was the smokeshop, and the cigarette business is not going to last forever. Federal taxes are going higher, and everybody's imposing restrictions on smoking."
The tribe's main asset was the 4,000 acres of raw land, so developing that seemed the obvious direction to go. "Deciding what to do was a little scary for us," said Mitre. "We don't feel we're like most businesses in Las Vegas. If they build something and it doesn't work, they can move on. Las Vegas Paiute tribe don't have that option because they feel the place is what gives them the sense of being. The feeling that we can stand on our land and say that since time immemorial, one of our ancestors has been there.
"So we have been very careful of the kind of development we do, we think of what this means to our children and grandchildren. They wanted to maintain the integrity of the land but they needed a revenue stream. There were years of discussion."
The intent of acquiring the land, said Mitre, had been to build homes for the Paiutes there. "But because we have a small population and a lot of land, we thought we wanted a community that would not be just a sea of red tile; we wanted a community that respected the land."
The decision was to build the Las Vegas Paiute Golf Resort, but build it in a way that did not violate the esthetics of the desert. "We decided not to import too much vegetation, except the grass. We collected the native seeds and reseeded the disturbed areas, hoping that in five years it would look like somebody had just dropped this golf course into the desert."
There was a water rights lawsuit with the Las Vegas Valley Water District, settled out of court in 1996, ending up with the Paiutes getting 2,000 acre-feet of water a year, enough to develop two of the four courses, a residential area, and a resort hotel.
Two courses, designed by the renowned Pete Dye, are open.
Mitre said the Paiute want to remain good neighbors to the growing city of Las Vegas. "If you look at what has happened in other areas, when human remains are unearthed — under the American Indian Repatriation Act, a tribe can put a stop to almost any kind of development, if they choose. But we don't do that. We have the philosophy to take only what you need, no more, and no less."
Part III: A City In Full