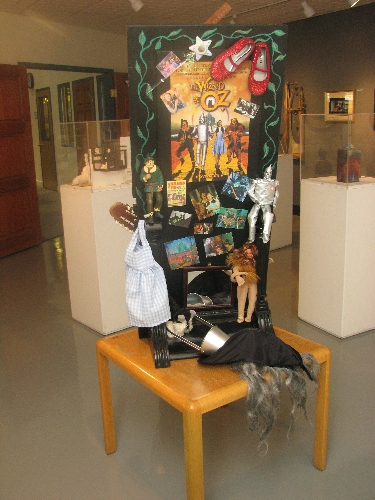 "The work didn't have to be about rainbows," said Denise Alvarado, gallery coordinator of Las Vegas-Clark County Library District, "a lthough a lot of rainbows ended up in the show."
The third annual Over the Rainbow juried art competition for adults and teens is on display through July 17 at the Sunrise Library, 5400 Harris Ave. The show and competition celebrates Gay, Lesbian, Bi-sexual and Transgender Month.
Any media was eligible for the show, but the work was required to communicate the theme of a celebration of diversity, individuality and creativity in Southern Nevada.
"It's all about how the media was handled," Alvarado said, "the winners' best use of their media in the judge's opinion."
This year, that judge was Jeanne Voltura, gallery director for the city of Las Vegas. There were more submissions this year than in years past, and of the 56 pieces submitted, 35 made it into the show. Cash prizes are set to be awarded to five of the artists at a reception scheduled for 5 p.m. June 2 at the Sunrise Library. In addition to first-, second- and third-place prizes of $100, $75 and $50, respectively, two Best of Show awards of $125, one for adults and one for teens, are planned. Three honorable mention winners are set to receive ribbons.
"We always like to pull teens into our libraries and our library art galleries," Alvarado said. "Around half our submissions this year were from teens, which I'm very excited about. Teens also took half the awards."
The show has a wide variety of styles and media, from colored pencil to ceramics to large mixed-media works.
"When we put the show together, we realized that three members of the same household, all with different surnames, had made it into the show," Alvarado said. "We didn't realize that until we noticed they were all using the same phone number on their forms."
Teen Slade Brenner took third place for his colored pencil drawing titled "Frankly Speaking," while his mother, Elizabeth Bryan, garnered an honorable mention for her mixed-media assemblage, "Windows of Hope." Byron Keith Byrd's work is featured in the show, too.
"I'm the boy's godfather," said Byrd, a Summerlin-area resident. "We couldn't talk the other boy into showing this time, but his work is good enough that I believe it would have made the show."
Slade Brenner, 15, attends Las Vegas Academy, where he is studying theater and art. He was recently in a production of "The Crucible."
"Both Elizabeth and I are professional artists and writers," Byrd said. "I just had a piece accepted in a show at the Boca (Raton) Museum in Florida. We have a very creative household."
The adult Best of Show Award went to G. Kim Franz, for her quilt titled "Red Rock." Franz and her husband moved to the valley from Oregon about a year ago for the weather.
"I'm happy to be out of the rain," Franz said. "I fell in love when I saw Red Rock and had to capture it. I started the quilt about a month ago and finished it for the show."
Franz has been sewing since she was 3 and competitively quilting for 11 years. Although she has won many awards for her quilts over the years, this is the first competition she has won in the valley.
Franz had an art studio in Oregon and is currently teaching a watercolor class for the city of Las Vegas at the Howard Lieburn Senior Center. She also has taught classes in several instruments and is a folk singer who opened for Joan Baez and Bob Dylan in the '60s and opened for and performed with magician Doug Henning.
"I was really impressed with the show," Franz said of the "Over the Rainbow" exhibit. "It's nice to win when the competition is good."
Contact Sunrise and Whitney View reporter F. Andrew Taylor at ataylor@viewnews.com or 380-4532.
'Over the Rainbow' Winners
Best of Show/Adult: G. Kim Franz, "Red Rock" quilt
Best of Show/Teen: Taylor Voss, "Natures Edge" photo
First Place: Shari Bray, "Shadow Snail Puppet" raku
Second Place: Sophia Akhtar, "Love Bug" photo
Third Place: Slade Brenner, "Frankly Speaking" colored pencil
Honorable Mentions:
Natasha Culbreth, "Through Jaded Eyes" Photoshop painting
Gary Wu, "Birds and Flowers" painting
Elizabeth Bryan, "Window of Hope" mixed-media assemblage