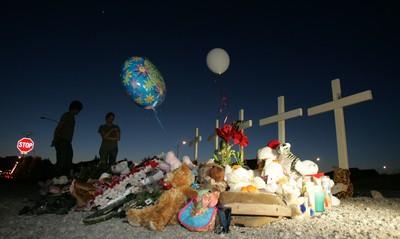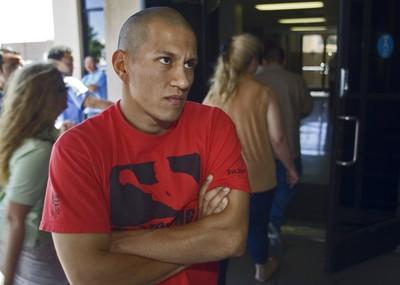 After her husband became a U.S. citizen a few weeks ago, Anabel Sevilla-Miranda came to Las Vegas from Mexico so they could pursue a better life together.
He had left her south of the border a few years ago to come work in the United States and had settled into a job at the Rampart Casino at the Resort in Summerlin. They had other relatives who were living in the valley and in California, and that extended family — in-laws, cousins, nieces, nephews — was finally getting to spend time with her and the couple's two young children.
Those budding hopes and bright prospects were crushed Saturday night when the children, their 35-year-old mother and five other family members were in a fiery traffic crash in the northwest valley.
"My brother came here trying to accomplish the American dream, and this happens," said Juan Luis Miranda, Sevilla-Miranda's brother-in-law, who rushed to Nevada from San Diego when he got the news.
His 2-year-old niece, Anna Itzelic Miranda, died from the injuries she suffered in the accident. Miranda choked up as he described her as a bundle of energy and curls who was just learning all her colors in English.
Her 7-year-old brother, Juan Pedro Miranda, suffered a traumatic chest injury and remained in critical condition at University Medical Center on Monday. His mother also was in critical condition at the hospital Monday.
Her cousin, 32-year-old Claudia Dominguez, had been driving a 1998 Mercedes-Benz ML320 sport utility vehicle filled with relatives to a family gathering about 9:35 p.m. Saturday, relatives said. They planned to watch movies together.
Luis Dominguez said he and other family members who were awaiting the SUV began to get worried when it hadn't arrived by 10:30 p.m. Their calls to his 20-year-old sister, Karla Dominguez, one of the SUV passengers, weren't going through.
A Las Vegas police officer called about 4 a.m. Sunday and told them about the wreck, sending family members scrambling to UMC. By late Monday morning, about a dozen of the relatives and friends of the family were at the hospital. One of little Anna's aunts had come all the way from Ensenada, Mexico. She, like several others in the group, wept while talking about the dead children. Some of the men were angry that so many of their loved ones' lives had been cut short by one young man's recklessness.
"Everything was so beautiful, and now this," Luis Dominguez said.
They SUV had been northbound on Tenaya Way at Farm Road when an eastbound 2004 GMC Sierra pickup driven by 19-year-old Ronald Jayne Jr. of Las Vegas slammed into the driver's side of the Mercedes.
Jayne was speeding down what is supposed to be a 35 mph street and had blown right through the four-way stop at the intersection, police said. His truck hit the SUV so hard that it ruptured the gas tank, causing the SUV to catch fire.
Claudia Dominguez, the driver of the SUV, was pronounced dead at the scene of the crash. So were 9-year-old Fernando Santa Cruz and Gustavo Dominguez, who family members said was about 12 years old. Seven-month-old Katherine Luna also suffered fatal injuries.
The third survivor from the SUV is Karla Dominguez, a cousin of the other two women who had been in vehicle. She remained in serious condition at UMC Monday night.
Jayne, an Army reservist, suffered minor injuries in the accident and was treated at a local hospital before being booked into the county jail.
Police said Jayne was driving under the influence at the time of the accident. He is now facing at least 20 charges, including multiple counts of driving under the influence involving a death, reckless driving involving a death and involuntary manslaughter.
Police were continuing to investigate the collision Monday, said Las Vegas police Detective Bill Redfairn.
Police, who didn't yet know Jayne's blood alcohol level, want to know who supplied the 19-year-old with alcohol. Redfairn said that person could face charges of furnishing alcohol to a minor.
Jayne was at an acquaintance's house with others prior to the crash, police said.
The wreck was being cited Monday as just the latest horrific example of the DUI problem in the valley and the senseless tragedy that driving after drinking causes.
Erin Breen, executive director of UNLV's Safe Community Partnership, said Jayne is "19 years old and basically, his life is over, too." There were 98 DUI-related fatal traffic accidents in Clark County in 2005. In 2006, there were 100, she said.
Jayne, who joined the Army reserve on March 22, 2006, serves with the 257th Transportation Company, according to the Army Reserve's 63rd Regional Readiness Command out of California.
Friends of Jayne posted messages of support for the 19-year-old on the social networking site Myspace.com.
"He doesn't deserve to get life. Having people die from this is bad enough for him," wrote one person.
"I can't even watch the news without bitching at the cops through the tv. We all know that this shouldn't have happened to Ron," wrote another.
Relatives of the victims had different opinions.
Pedro Rodriguez said that Jayne didn't have the right to drive under the influence and hurt or kill so many people.
Irma Rodriguez, an aunt to Anna Itzelic Miranda and Juan Pedro Miranda, said the family was suffering from too much pain to hold any ill will toward Jayne.
"We don't have any room in our hearts for anger," she said in Spanish. "We just hope nobody else dies."
Review-Journal writers Antonio Planas and Keith Rogers contributed to this report.