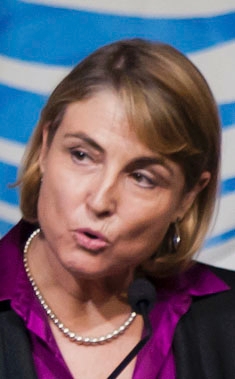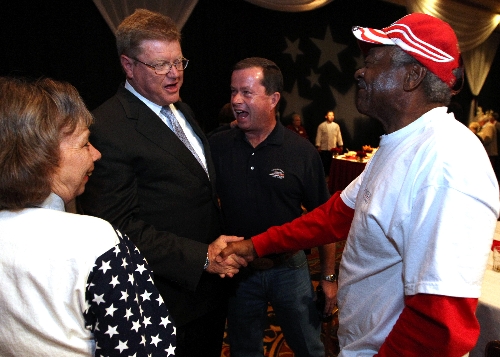 RENO — Fed-up Republican voters fueled Mark Amodei's special election blowout victory Tuesday over Democrat Kate Marshall, keeping the 2nd Congressional District in GOP hands while shaking up President Barack Obama's supporters.
"The voters of Nevada have sent a message. The message is, it is time to start a change," Amodei told 200 supporters at the Eldorado Hotel.
Republicans spent heavily to ensure a big Amodei win — up to $1 million from the national party and GOP groups — as national Democrats all but abandoned state Treasurer Marshall in a district that has voted Republican since the House seat was created in 1982.
On the same night Amodei stomped Marshall by a whopping 22-point margin, 58 percent to 36 percent, Republicans won a special election shocker across the country in New York, taking what until recently was thought to be a safe Democratic House seat, too.
The two special elections together suggest a deep discontent with Obama's economic policies as unemployment remains high — 12.9 percent in Nevada — and debt continues to grow. In 2008, Obama won Nevada handily but is considered vulnerable to defeat in the battleground state in 2012.
"People vote their pocketbooks," Amodei said, attributing his overwhelming win to the country's sour mood. "Anytime the economy is in trouble, people pay more attention. They vote their pocketbooks."
Amodei, a former state senator, said he would go to Washington today and could be sworn in as soon as Thursday, finishing the term of former U.S. Rep. Dean Heller, who was appointed to the U.S. Senate in May to replace disgraced Republican Sen. John Ensign. Amodei told reporters he wants to look immediately at cutting at least $1 trillion in federal spending.
"Voters are basing their choices more on frustration with President Obama than congressional Republicans," agreed David Wasserman of The Cook Political Report. "It's not as if Amodei is a perfect candidate and Marshall is terribly flawed. President Obama is a drag on the district."
Heading into Tuesday, Amodei was heavily favored over Marshall in the predominantly Republican district in the contest seen as a test of Obama's strength in Nevada amid an unsettled mood nationwide.
Amodei beat Marshall in all 17 counties, even in Marshall's home Washoe County. She lost in Washoe County 52 percent to 42 percent, a bad omen for other Democrats in Northern Nevada.
Nevada Democratic chairwoman Roberta Lange offered a subdued reaction to the results, saying, "Marshall fought tirelessly" to win the special election.
"While we are obviously disappointed in tonight's results, Kate Marshall will continue to serve Nevada well as state treasurer," Lange said.
Republicans hold an 8 percentage point advantage in voter registration in the district, with 43 percent of voters compared with Democrats' 35 percent. The seat rarely has been competitive, although Heller won it by only 5 points in 2006, the last time Democrats put up a strong challenge.
This election, Republicans have been more motivated to vote than Democrats, accounting for 54 percent of early voters compared with Democrats' 34 percent. All told, there are 396,000 registered voters in the district, which covers all of Northern and rural Nevada and parts of Clark County.
That energy was on display at voting booths across the state on Tuesday.
"I'm 72, and this country is in the worst shape I have ever seen," said David Schulman, a registered Independent American voter casting his ballot at Johnson Lane Fire Station in conservative Douglas County. "I voted to make sure the messiah in Washington doesn't get another ally."
Schulman said he backed Amodei to help make sure Marshall didn't win.
"This is no time for nitpicking," he said.
Democrats who came out for Marshall did so out of duty as overall party turnout appeared low.
"I'm here because Democrats need all the help they can get," said Suzanne David, 77, who rode her bike to the polls in Minden despite conceding that Marshall had little chance of winning.
Independent Helmuth Lehmann and Independent American Tim Fasano also were on the ballot.
During the summer-long campaign, Amodei and Marshall largely battled in TV ads that aired in Washoe County, where more than half the district's voters live and where the GOP holds a slim 2,000-voter advantage. Obama won Washoe County in 2008, and a poor showing by Marshall in that battleground county on Tuesday spells trouble for his re-election hopes in 2012.
The Medicare issue didn't seem to sway many voters as Marshall sought to portray Amodei as just another Republican who wants to end the program for younger workers. Amodei fought back by putting in his campaign commercials his 79-year-old mother , who said her son wouldn't hurt Medicare but help it.
Amodei said he would back a balanced budget amendment in Congress. He also signed a pledge not to raise taxes, moving to counter another Marshall line of attack because he once voted for the largest tax hike in Nevada history, an $800 million package that got bipartisan support in 2003.
In the end, Nevadans appeared to vote along mostly party lines with Republicans more energized, arriving at the polls in rural Nevada by bicycle, motorcycle, SUV and pickup.
Election workers said they were seeing a surprising number of voters at the Johnson Lane Fire Station, 12 miles south of Carson City. It's a heavily Republican area, with seven of 10 voters who would reveal how they voted casting ballots for Amodei, who represented them for 12 years in the state Senate.
One Republican didn't let the imminent birth of her baby keep her from the polls.
"Now that I have voted, she can arrive," joked 27-year-old Teresa Chamness, 38 weeks pregnant . "I voted for Mark Amodei. I am going to see my doctor now. I'm ready."
In Democrat-leaning Southern Nevada, rain and a lack of interest dampened turnout.
In Las Vegas, Rudell White said she voted for Amodei because she wanted to make sure the House seat stays in GOP control, as it has been since the district was first created in 1982.
"We've got to keep a Republican in there," White said at a voting station inside the multi-purpose room at Lowman Elementary School. "I'm a conservative. I'm a Republican. I think we absolutely have to stop the spending in Washington and run the government more like a business."
Also at Lowman, Kevin McCown said he voted for Amodei because he's so upset at the current crop of Washington politicians that he wanted to put fresh faces in office. McCown, a former Democrat, said he registered as a nonpartisan last year after being laid off for 18 months since CityCenter was completed. The construction worker said his union asked him to vote for Marshall, but he refused.
"This is the first time I've voted since 1988," McCown said. "I'm trying to get some change in Washington. We need to get rid of Obamacare. We need to get rid of them all."
He left the polling place shouting, "Vote against all the incumbents!"
Democrats who said they voted for Marshall seemed just as angry at the GOP, which took over majority control of the U.S. House after the 2010 election and has been pushing to cut spending.
"Republicans are destroying this country by supporting politicians who solely represent corporations that send jobs overseas," said Carolyn Jones, 63, in Minden. "They are destroying Medicare that helps the elderly and are trying to destroy Social Security that we all pay into."
In Las Vegas, Timothy Mancour pointed to Marshall's name on the ballot and said, "I voted for the Democrat, but if I thought Republicans would follow through on their promises I might vote for a Republican. I think she'll do a good job if she gets in."
Mancour, a Democrat, said he's been unemployed for 18 months and he isn't sure whether he'll vote for Obama in 2012 as he did in 2008. He said it depends on whether he finds a job.
"Right now I'm 80 percent sure I'll vote for Obama, but if he doesn't get his jobs plan passed and if I don't find work, I don't know what I'll do," said Mancour, a laid-off driver who's among the disenchanted class that Obama needs to keep in his column to win a second term.
Contact Ed Vogel at edvogel@reviewjournal.com or 775 687-3900. Contact Laura Myers at lmyers@reviewjournal.com or 702-387-2919. Follow @lmyerslvrj on Twitter.