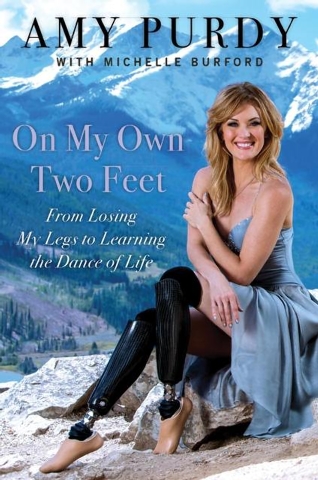 To hear Amy Purdy tell it, she might be the luckiest person alive. Lucky and blessed, too.
Faced with some of the worst cards life might deal an energetic young woman — bacterial meningitis that forced surgeons to amputate her legs below the knees — she continues to play the hand beautifully with a high-flying modeling and public-speaking career, a snowboarding medal in the 2014 Paralympics in Sochi, and even a wildly successful appearance on season 18 of "Dancing With the Stars."
Now she's written an inspiring memoir with Michelle Burford, "On My Own Two Feet: From Losing My Legs to Learning the Dance of Life." And what a dance it is.
Purdy's incredibly full life is enough to make most of us need a nap, but after listening to her entertain a recent gathering at the Flamingo Library, it's clear she's just hitting her stride.
But it's not the Olympic bronze or the pop celebrity that defines Purdy or makes her someone worth reading about. It's her appreciation of all the long and difficult days, too, that makes her more than just another pretty face.
"I feel like at this point every challenge, every obstacle, every failure, every single thing that I've ever gone through has led me to where I'm at today," she told her audience. "Because that's where we learn who we are. We learn who we are through all these challenges."
The Cimarron-Memorial High School graduate enjoyed what sounds like a pretty typical childhood, one that included an obsession with snowboarding despite being raised in the desert. After high school, she became a massage therapist and landed a lucrative position at an upscale spa inside a Strip resort. After working a long shift one day in 1999, a debilitating fatigue set in that at first she thought was the flu.
Her health declined so rapidly that a trip to the emergency room quickly became a fight to save her life. Bacterial meningitis sent her into septic shock. She lost her spleen, kidney function, partial hearing and her lower legs.
But she still had her life — and a sense of gratitude blossomed like a rose in her soul. From that staggering experience she eventually stood on prosthetic legs with a renewed sense of purpose and love for life.
Near the end of her moving memoir, Purdy writes, "The number one question people ask me is, 'What's the thing that has helped you through the darkest times?' My answer has always been the same: gratitude. Focusing on what I have versus focusing on what I don't have. Being thankful for everything, even in moments when it seems we have nothing. No matter how hard things have gotten, I've continued to move forward, and I am absolutely convinced that you can do the same."
During her talk, she had the audience, including a contingent of proud family members, laughing one minute and tearing up the next. One of the things that impressed me was the way she segued from answering questions about her medical condition, to aspects of her celebrity, to curious inquiries from the children in the crowd.
Returning from near death gave her fresh insight.
"I was aware when I came back this was my second chance at life, and how quickly it can change," she said. "And that I was going to live my second chance at life to the fullest."
Part of her new life includes operating her own nonprofit organization, Adaptive Action Sports, which helps those with physical disabilities get involved in athletic endeavors.
"My path has led me to the perfect place," she writes. "I truly believe that I'm standing exactly where I should be at this juncture of my life."
Amy Purdy is blessed and beaming and standing on her own two feet.
She's living an inspired life, and dancing all the way.
John L. Smith's column appears Sunday, Tuesday, Wednesday, Thursday and Friday. E-mail him at jsmith@reviewjournal.com