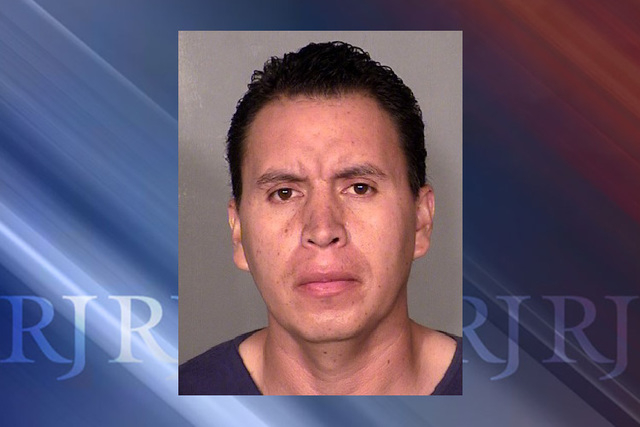 Iris Moran tried to get away, but her ex-husband tried to follow her every move until he killed her, prosecutors said Wednesday.
During opening statements in the murder trial of Marvin Moran, prosecutor Jeff Rogan showed the jury a picture of Iris Moran's bloody and bruised face.
Marvin Moran had turned his "devotion into anger, frustration and resentment in a moment's time," Rogan said. "And sometimes those emotions can turn an ordinary and kind man into a violent and tormented man."
Iris Moran, 37, was found beaten to death, lying face up in a pool of blood inside her apartment on June 13, her hands tied behind her back. Her dentures had been knocked out of her mouth and across the room. The contents of her purse had been emptied next to her on the bloodstained carpet.
While Iris Moran worked as a housekeeper at MGM Grand, Marvin Moran didn't have a job and pawned things to scrounge up cash. They lost their house in foreclosure and moved in with her mother. They argued over money constantly, Rogan said.
She had filed for divorce and moved into a new apartment with her children just months before she was killed. A friend had even given her a spare phone so she could make private calls without Marvin Moran listening in.
He had placed tracking software on her phone to observe her text messages, phone calls and location.
In 2013, Marvin Moran moved to Texas for a job, Rogan said, but he returned in early 2014, surprising Iris Moran.
But she wanted nothing more to do with him.
"His behavior began to escalate," Rogan said, and as Marvin Moran's suspicions about Iris Moran dating other men became "all-consuming," he grew abusive.
Defense lawyer Patricia Doyle told jurors, however, that no forensic evidence pointed to Marvin Moran as his ex-wife's killer.
They had been married for 13 years and only had two notable quarrels. Doyle acknowledged that Moran "placed his hands" on his wife but never punched or slapped her.
He returned to Las Vegas in an attempt to save his marriage, Doyle said.
Investigators pulled fingerprints, DNA and blood samples from the crime scene. Police even searched Marvin Moran's apartment and found no bloody clothes, weapons or rope that matched the one used to bind Iris Moran's hands behind her back.
"There is DNA in this case. There are fingerprints in this case," Doyle said. "They just don't come back to my client. Multiple pieces of the puzzle are missing."
Rogan argued that Moran had motive and opportunity.
Jurors also heard a recording of the call made the morning of the slaying, which prosecutors alleged Moran made from his ex-wife's phone.
"There's a (expletive) dying," the caller said. "Go help her out. Ain't no joke."
The caller said the woman was inside apartment 873 at an address on south Durango Drive. Police arrived at the scene and found Iris Moran in apartment 273. The complex does not have an apartment 873, Rogan said.
Several people recognized the voice as Marvin Moran, according to the prosecutor. During a police interrogation, he denied the killing.
"But the defendant made a crucial mistake during this interview," Rogan said.
A detective asked him where his ex-wife lived. Moran told the detective that she lived in apartment 873.
"The same wrong apartment number that the 911 caller had identified as the apartment of Iris Moran," Rogan said.
Contact reporter David Ferrara at dferrara@reviewjournal.com or 702-380-1039. Find him on Twitter: @randompoker