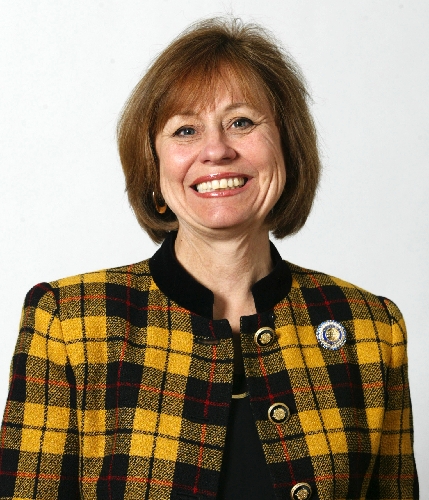 Republican Sharron Angle's new TV commercial against U.S. Sen. Harry Reid accuses him of helping illegal immigrants who are taking jobs from unemployed Nevadans, a hard-hitting spot that comes as the ad wars heat up and the stakes rise in the dead heat Senate race.
"Harry Reid, the best friend an illegal alien ever had," the narrator says in the 30-second spot.
The fresh TV strike came two days after Reid released a harsh ad criticizing Angle for voting against a bill to allow police to enforce out-of-state restraining orders in domestic violence cases.
"Sharron Angle sided with the abusers and not the abused," a cop says in the ad.
The stinging attacks are the latest in the multimillion dollar on-air battle between the Democratic incumbent and Angle just one month before early voting begins on Oct. 16 in Nevada. And they come as the Reid-Angle race takes on greater significance as a key test of the Tea Party movement.
Angle is scheduled to meet with Republican leaders today in Washington, D.C., to talk strategy and raise money as she and other Tea Party primary winners try to tamp down concerns that their conservative views could hurt the GOP's effort to reclaim control of the Senate.
Angle's visit to Capitol Hill follows Tea Party pick Christine O'Donnell's win in the GOP primary in Delaware, which stunned the Republican establishment and all but assured that the Senate seat will remain Democratic come Nov. 2, according to political analysts.
As a result, Republicans would have to win just about every other highly competitive Senate race in the country — or at least 10 including Nevada — to oust the Democrats from power. That could happen only if the anti-big government Tea Party movement expands beyond the conservative GOP base and sweeps up independents in an anti-incumbent, anti-Democratic wave.
"Nevada is a must win for the Tea Party," Jennifer Duffy of the Cook Political Report said Wednesday after moving the Delaware Senate seat from "lean Republican" to "lean Democrat." "If Angle loses, then that's two Senate seats. If Tea Party candidates cost Republicans too many races in November, it's fair to say that it will have a negative impact on their long-term viability."
Larry Sabato, director of the University of Virginia Center for Politics, considers five Senate seats now held by Democrats as toss-ups: Nevada, California, Illinois, Wisconsin and Washington.
"There were 13 competitive races, and now there are 12," Sabato said. "They have to win 10 of 12, so the implication is they have to get people like Sharron Angle elected."
Nathan Gonzales of the Rothenberg Political Report said it is "tough to see" how the Republicans could win the majority without knocking off Reid. He believes Angle has some advantages not shared by some of the other Tea Party-backed challengers across the nation.
"She has run before, and she is running against Harry Reid," Gonzales said of Angle, who nearly won a congressional GOP primary in 2006. "That should bring in campaign money on its own."
The Tea Party Express, the fundraising machine behind the movement, put out a fresh appeal Wednesday for donations to back Angle and O'Donnell, calling them "two important races to focus on."
The Republican Party hierarchy also seemed to suddenly fall in line on Wednesday behind O'Donnell despite a high-profile campaign before Tuesday's primary to back Rep. Mike Castle as the best bet to beat Democrat Chris Coons in the general election.
"Let there be no mistake: The National Republican Senatorial Committee — and I personally as the committee's chairman — strongly stand by all of our Republican nominees, including Christine O'Donnell in Delaware," NRSC Chairman John Cornyn, R-Texas, said in a statement.
Cornyn said he offered O'Donnell his congratulations and support, while the NRSC is cutting her a $42,000 check, or the maximum allowed donation the NRSC says it has provided to all of its nominees.
Angle, since winning the June 8 primary in Nevada, has had no trouble raising money and has received strong backing from GOP leaders, despite initial wariness that the grass-roots campaigner wasn't ready to take on the $25 million campaign of the powerful Senate majority leader.
Angle quickly raised more than $2 million in about six weeks or so after the primary, which matched Reid's fundraising for that same quarter. Recently, Angle set a $1 million online fundraising goal for September, and she's more than halfway there at about $620,000.
The Reid-Angle race remains a dead heat, according to a series of polls that show neither the 70-year-old incumbent nor his 61-year-old challenger taking a decisive lead. Reid, who is seeking a fourth Senate term, is vulnerable because of Nevada's worst-in-the-nation economy, including a record high unemployment rate of 14.3 percent.
Angle has focused all her recent advertising on blaming Reid for the economic hard times as surveys show more people blame Democrats than Republicans for the continuing recession. Her newest ad also focuses on the economy and how an estimated 130,000 illegal immigrant workers in Nevada are taking jobs away from U.S. citizens.
"Illegals sneaking across our border, putting Americans' safety and jobs at risk," the ad narrator says as images show people crossing the border.
The ad notes that Reid opposes Arizona's tough new law that cracks down on illegal immigrants. It gives police the right to ask about someone's legal status if stopped for another suspected offense, but it's mostly on hold while the federal government sues to stop its enforcement.
The ad also accuses Reid of voting for "special tax breaks" for illegal immigrants and to give them Social Security benefits "even for the time they were here illegally." Most of the votes happened in 2006 as lawmakers debated a massive immigration reform bill, according to the Angle campaign.
Reid campaign spokesman Jon Summers countered that it was "patently false to say that Senator Reid voted to give immigrants here illegally Social Security benefits." Summers said Reid even introduced a measure declaring that such "immigrants should not receive Social Security benefits and that this prohibition should be strictly enforced."
The new Angle ad taps into growing voter anxiety about illegal workers hurting the economy. A recent poll for the Las Vegas Review-Journal shows that 54 percent of Nevadans said they believe immigrants without legal status are taking jobs away from Nevada citizens, while 31 percent said such workers fill low-wage jobs most citizens wouldn't take. Fifteen percent were undecided.
The poll of registered likely voters was taken Sept. 7-9 by Mason-Dixon.
Angle has been spending as much as $500,000 some weeks on advertising, and plans to run her latest illegal immigration commercial for at least a week statewide, according to her campaign.
Reid also has stepped up his ads targeting Angle, continuing the theme that she is too "extreme" for Nevada.
In the ad released Monday, the Reid campaign criticizes Angle for voting against a bill in 2001 that would have allowed police to enforce domestic violence restraining orders across state lines.
The bill passed 31-9 with Angle, then a Reno assemblywoman, joining her fellow Republicans in rejecting the measure. Assembly Republicans voted no over concerns that police would have to determine whether a restraining order from another state was valid or not, according to hearing records.
Duffy of the Cook Political Report said the domestic violence spot could hurt Angle with women voters, who polls show already support Reid in larger numbers than Angle.
In a separate TV spot, the Reid campaign on Friday released an ad criticizing Angle for suggesting Yucca Mountain be developed into a nuclear fuel reprocessing site.
Reid has for years blocked the federal government from shipping the nation's nuclear waste to the Yucca site, about 100 miles from Las Vegas. But Angle and other Republicans argue that it's time to look into developing the site and creating thousands of jobs.
Reid, who has plenty of money to spend, must keep the focus off an economy that doesn't appear to be on the way to recovery any time soon.
His recent ad blaming the George W. Bush administration, Wall Street and high oil prices for the economic troubles didn't seem to resonate with voters, although most experts also point the finger at the GOP.
"There's no good argument on the economy, so why try," Cook said of Reid's ad strategy.
Stephens Washington Bureau reporter Peter Urban contributed to this report. Contact Laura Myers at lmyers@reviewjournal.com or 702-387-2919.
Sharron Angle ad
Harry Reid ad