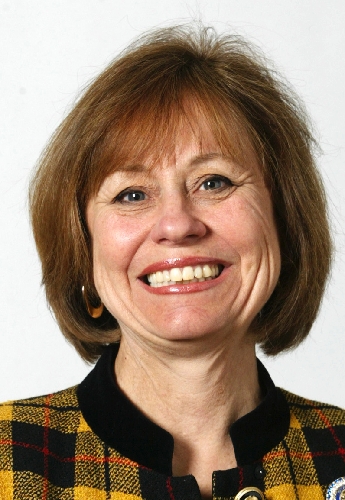 The Sharron Angle campaign has banned a local television station from the Republican Party's election party Tuesday and might ban another, saying reporters from the stations "showed up unannounced" and "ambushed" the Republican U.S. Senate candidate at McCarran International Airport on Friday, according to a campaign spokeswoman.
KLAS-TV Channel 8 will not be allowed into the event at The Venetian, spokeswoman Ciara Matthews said. A broadcast from KSNV Channel 3 is being reviewed.
Matthews complained that the reporters, Denise Spidle of Channel 3 and Channel 8's Nathan Baca, "literally ambushed her getting off an airplane."
They were wrong to approach Angle that way, Matthews said.
"We can't stop them from going there, but the responsible thing to do is to inform the campaign when you're looking to cover the candidate," she said. "They failed to do that.
"They behaved as if they were paparazzi … She is not a celebrity who is covered by paparazzi. She is a candidate for political office. The campaign reserves the right to manage the campaign in a way we deem appropriate."
Ron Comings, news director at Channel 8, said he has contacted the Clark County Republican Party to see if the Angle campaign's ban will stand.
He said the reporters "were not disrespectful. They were simply walking with her and asking questions."
Bob Stoldal, Channel 3's news director, said the airport incident was "no big deal." He predicted that "clearer heads will prevail" and that the ban will be lifted by Tuesday.
If it's not, he added, it will become a big deal to him.
"You're going to see steam coming from my ears and me walking around with a First Amendment sign," Stoldal said. "That would be outrageous, and improper, and we would see if there is a legal remedy."
Matthews insisted the campaign's main problem is with the accuracy of Channel 8's report, which she said characterized Angle as unresponsive. Baca repeatedly asked questions about the military and national security, and while Angle answered, the replies were short on detail.
Angle also said the stations should help her turn out voters.
The video is posted on the station's website.
"There are repercussions to not doing your job according to journalistic standards," Matthews said. "We're not the first people to be upset with inaccurate reporting … and then saying, as a result of this, you're not going to have access to the candidate. It happens all the time.
"Why would the campaign be expected to continue to allow people to cover the candidate when they clearly can't cover it in a truthful way?"
Angle has had a rocky relationship with the media during the campaign because of her strategy of keeping her schedule private and speaking almost exclusively at private events or to conservative-leaning media outlets.
Contact reporter Alan Choate at achoate@reviewjournal.com or 702-229-6435.
KLAS-TV News clip