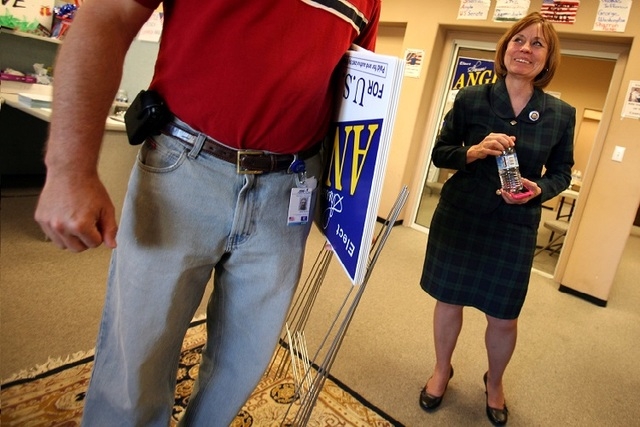 RENO, Nev. — Organizers of a pair of conservative Nevada ballot measures failed to deliver signature petitions needed to meet Tuesday's deadline to qualify either their health insurance or voter identification initiative for the November election.
Former Republican U.S. Senate hopeful and tea party activist Sharron Angle helped organize the proposed constitutional amendments — one seeking to require voters to present photo ID at the polls and the other to ban a state health insurance exchange in Nevada.
Voter registrars in Nevada's two most populated counties, Clark and Washoe, confirmed they had received no petitions by 5 p.m. Tuesday. That was the deadline for ballot backers to present at least 101,667 total signatures, including a minimum of 25,417 from each of Nevada's four congressional districts.
Because two of the districts are contained wholly within Clark County, that means neither measure can qualify for the November general election.
The petition drive for the voter ID hit a snag last month when a federal judge granted a request by the American Civil Liberties Union to change the formal description of the initiative and threw out all the signatures gathered up to that point.
If either constitutional measure had won in the fall, voters would have had to approve it again in 2016 to become law.