Angle takes lead in GOP primary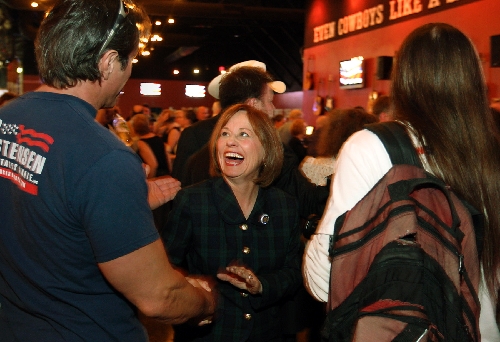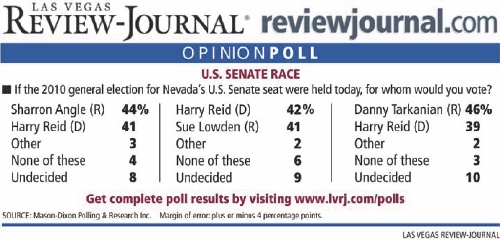 Continuing her stunning rise, Sharron Angle has shot into a clear lead in the U.S. Senate Republican primary, according to a new poll for the Las Vegas Review-Journal that shows the Tea Party favorite heading toward likely victory Tuesday.
But the survey also found that if the general election were held today, Danny Tarkanian would have a slightly better chance than Angle to beat Democratic incumbent Harry Reid. Meanwhile, the fortunes of former front-runner and establishment pick Sue Lowden have fallen so far she now is in a statistical tie with Tarkanian and in a dead heat with the Senate majority leader.
Heading into Election Day, the primary remains so volatile that the number of undecided voters has climbed from 8 percent to 13 percent in the past week, according to the Mason-Dixon Polling & Research survey, meaning the candidate who wins this uncertain group wins the GOP nomination.
"Angle is the favorite at this point, but I wouldn't say it's a done deal," said pollster Brad Coker. "She's got the momentum, but there's still 13 percent on the table."
Tarkanian could still pull off a surprising slim victory, but only if undecided voters come his way in force and potential Lowden voters abandon her sinking campaign ship and join him, Coker said.
The only way Lowden can make a comeback, Coker said, is if she gets her voters to the polls from a pool of 150,000 potential backers her campaign says it has identified.
"Angle is benefiting from Lowden's demise," Coker said. "Can Lowden win? I have my doubts. At this point my money is on Angle. But if Tark pulls a rabbit out of his hat, I won't be shocked."
According to the Republican primary poll taken Tuesday through Thursday:
■ 32 percent said they would vote for Angle, a former Reno assemblywoman.
■ 24 percent for Tarkanian, a Las Vegas businessman.
■ 23 percent for Lowden, a Las Vegas casino executive and former state senator.
■ 3 percent for Chad Christensen, a Las Vegas assemblyman.
■ 2 percent for John Chachas, a Wall Street banker and Ely native.
■ 2 percent for none of these candidates, an option on Nevada ballots.
■ 1 percent for other contenders in the crowded field of a dozen Republicans on the ballot.
■ And 13 percent were undecided, twice as many women as men (18 percent to 9 percent).
The survey of 500 registered GOP primary voters who said they were likely to go to the polls had a margin of error of plus or minus 4.5 percentage points.
Two weeks ago, Lowden and Angle were in a statistical tie at 30 percent and 29 percent respectively, followed by Tarkanian at 23 percent, according to a Mason-Dixon poll taken May 24-26.
The two recent polls are a far cry from an April 5-7 Mason-Dixon survey that showed Lowden, a former Nevada Republican Party chairwoman and the GOP establishment pick, with a far-in-front lead at 45 percent, followed by Tarkanian at 27 percent and Angle at 5 percent.
That was before Angle won the endorsement of the national Tea Party Express, which poured $500,000 into campaign ads to promote her as the most conservative Republican in the race, and before three dozen other groups backed Angle, including the Club for Growth that spent $400,000-plus on ads.
And it came before Lowden made a much-publicized gaffe, suggesting at a town hall meeting in rural Mesquite that people could barter for health care, and then defending herself by saying people even traded chickens in the old days. She was endlessly mocked on late-night television, by the Reid campaign and by the Democratic Party, and a Democratic front group launched a TV ad making fun of her.
"Lowden's made mistake after mistake after mistake," Coker said.
"If I were an undecided voter, Lowden wouldn't give me confidence that she would be able to hold up to the pressure. There's a perception she's cracked under the pressure and Harry Reid's gonna bring it on in the general."
That perception is reflected in the latest poll. In the broad statewide survey of 625 registered voters who said they were likely to vote, here's how the GOP candidates fared against Reid:
■ Tarkanian 46 percent to 39 percent for Reid.
■ Angle 44 percent to 41 percent for Reid.
■ Lowden 41 percent to 42 percent for Reid.
The survey had a margin of error of plus or minus 4 percentage points, which means only Tarkanian finished ahead of Reid outside the margins.
In all previous Mason-Dixon polls, Lowden had finished ahead of Reid.
All three top GOP candidates have dropped from double-digit leads they once enjoyed over Reid, whose re-election chances seem to have improved because of the brutal and highly competitive Republican primary.
The poll findings are contrary to the end-game argument the Lowden campaign is making, saying she is the only Republican who can beat Reid because Angle is too conservative and Tarkanian has never won an election, losing his two previous bids for public office.
"Sharron has never proven she has the ability to get a single independent or Democratic vote," Lowden campaign manager Robert Uithoven said.
He noted that Angle's Reno Assembly district was heavily Republican and Lowden once beat a Democratic leader of the state Senate.
"If we can get our supporters to the polls we can win," Uithoven said. "If we can't, then the November election may be decided next Tuesday. And if Angle's opening champagne in Nevada, then Reid will be opening champagne in Washington."
The Angle campaign dismissed the argument that she can't beat Reid and said she's the best candidate in a year in which there's a movement beyond conservatives to get rid of incumbents.
"They've been saying that conservatives have too narrow a base to win since Ronald Reagan," said Larry Hart, a spokesman for Angle's campaign. "So it's never been true. Primaries are supposed to show who has the best campaign. And the best candidate is the one who wins."
Angle, known to be a tireless and relentless campaigner, has shown mettle before, although she fell just short in her two previous GOP primaries, including her 2006 loss to Rep. Dean Heller.
Coker said Tarkanian is doing better against Reid because Lowden and Angle have been damaged by constant attacks and sloppy — and possibly illegal — campaign finance irregularities, while he has escaped scrutiny as he coasted behind the leaders.
Tarkanian also picks up a few more crossover Democrats than Angle, 16 percent compared with 12 percent, while Lowden has slipped to 9 percent. Among independents, Tarkanian also outpaces Angle, 44 percent to 41 percent, while Lowden has fallen behind to 37 percent.
In the Republican primary race, Angle supporters are the most loyal, with 69 percent saying they will definitely vote for her. She is followed by 61 percent for Lowden and 46 percent for Tarkanian, suggesting Angle might be able to pick up more conservatives who think she has a better chance to win.
As for vote rich Clark County, both the Lowden and Tarkanian campaigns claim they have picked up the larger share of early voting, but Angle clearly has become far more competitive in Southern Nevada.
The poll shows Lowden with 29 percent of support of the GOP primary voters in Clark County, followed by Angle at 26 percent and Tarkanian at 24 percent.
Not surprisingly, Angle is picking up the largest share of Republicans who identify themselves as part of the Tea Party movement. It began last year as an outcry against too much government spending, taxes and regulation and a call for a constitutional return of power back to the states.
Among Angle voters, 56 percent said they are Tea Party members compared with 11 percent for Tarkanian and 19 percent for Lowden.
But very few Tea Party folks remain undecided, Coker said, and the real primary electoral prize will come down to who wins undecided voters.
The survey showed that 14 percent of non-Tea Party Republicans said they still are undecided. However, only 90 of the 500 GOP primary voters surveyed described themselves as Tea Party members.
"That means an overwhelming majority of the undecided voters do not identify themselves as Tea Party members," the pollster said, adding he didn't know which candidate they would pick.
Angle's campaign argues her strength goes beyond the Tea Party and includes grass-roots Republicans she has spent years training as precinct workers so she knows how to turn out voters.
Lowden's campaign contends it has the best machine to get out and grab the vote.
Meanwhile, Tarkanian campaign consultant Jamie Fisfis said the former University of Nevada, Las Vegas basketball player is going to compete with Angle on her own home court, Northern and rural Nevada, and plans to focus much of its late TV and radio advertising there.
"Angle will go into Election Day on the defensive," Fisfis said, noting Lowden has focused her attacks on Angle. "If she can hold up, she can win. If she can't hold up, then we can win."
Contact reporter Laura Myers at lmyers@reviewjournal.com or 702-387-2919.