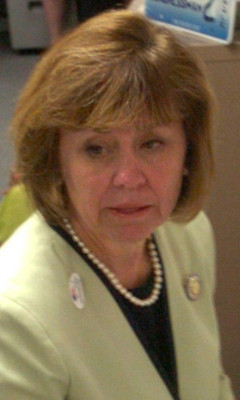 CARSON CITY — Former Assemblywoman Sharron Angle won't guarantee a big drop in property taxes if people sign her Proposition 13-style petition, but she will promise that those taxes no longer would be increased at the whim of the Legislature.
The Reno Republican plans today to begin for the third time since 2004 to circulate petitions amending the state constitution and limit increases on all types of property to 2 percent per year. Her petition is similar to one approved by California voters as Proposition 13 in 1978, and to her two tax cap measures that failed in Nevada in 2004 and 2006.
"I have never promised your property taxes will drop," Angle said about her petition Monday. "But you can budget for them. And it is constitutional."
Angle filed her petition Sept. 4 with the secretary of state's office, but has waited until now to circulate it.
State petition laws gave opponents 15 days, excluding weekends and holidays, to challenge language in the petition. That deadline expired at 5 p.m. Monday with no challenges.
Angle intends initially to use volunteers to circulate petitions. She hopes people who download copies of petitions from the Internet will circulate them among their friends and neighbors.
But she added she is in negotiations with several companies that would provide paid circulators for the petition drive. Their circulators would receive $2 to $4 for each valid signature they collect.
While she so far has promises of $250,000 in donations to use to collect signatures, $200,000 comes from a private donor who intends the donation as a matching grant.
If she raises $200,000 from other donors, then he will give the $200,000 to Angle for the petition drive. If not, then she receives nothing.
Angle said she has been receiving several hundred dollars a day in donations.
She said the identity of the private donor will be released in 2008 when by law she must report the sources of her donations. She said only that he is a Nevadan.
According to the formula in Angle's petition, property taxes paid on one actual Douglas County home — selected as an example — would be $1,414 in 2011-12, or $85 less than the rate that would apply under the current law. The 2011-12 year is when the limitations in her petition first would go into effect.
A law passed by the Legislature in 2005 now limits property tax increases on owner-occupied residences to 3 percent a year and also provides for an 8 percent annual limit for increases on commercial and other types of property.
Since two different tax rates apply, Angle said the law violates a state constitutional provision requiring equal and fair taxation. Legislative lawyers, however, contend the law does not violate the constitution. So far, no one has filed a lawsuit challenging it.
"The caps have not been challenged for fear of something worse (being adopted)," Angle said. "This is legal extortion."
She was the only legislator to vote against the state law limiting property taxes.
More importantly, Angle said the law can be amended at any time and in a cost-prohibitive manner by the Legislature.
In contrast, if voters approve her petition, then it becomes part of the state constitution. Once that happens, the 2 percent limit could be changed only by an affirmative vote of the people.
But there is one requirement in Angle's petition that could cost her signatures.
People who buy existing homes and property would fare better under the existing tax cap than under the tax cap in her petition.
Under Angle's petition, the 2 percent annual tax increase allowed applies to the home or business as long as it remains in the hands of the current owner.
Once the home or business is sold, the property would be assessed and taxed at the current market value, which is usually higher than the original market value.
But under the 2005 tax cap that is now in effect, the caps remain with the property, regardless of the owner.
Angle downplays this difference, saying that every state but Nevada bases property taxes on the full cash value of the property.
"Over time, all buyers will enjoy the benefits of predictable, stable taxes and market values determined by supply and demand," she said.
In part because of this difference, legislators have expressed confidence that Angle's petition will be rejected by residents.
State Sen. Randolph Townsend, R-Reno, said in an interview earlier this month that he has not been "getting any calls from people about high property taxes."
Angle's organization must secure 58,628 valid signatures on the petitions by May 20 to qualify the tax measure for the 2008 election.
Under a complex formula, petitions must be circulated in every county. A minimum of 40,364 signatures must be collected in Clark County, the most populous county in the state, but only 122 in sparsely populated Lincoln County.
If the petition drive is successful, then the proposal would be placed on the 2008 general election ballot. If approved by state voters, the question would appear on the 2010 ballot. If voters pass it a second time, the limits would be placed in the state constitution beginning with the 2011-12 fiscal year.
ON THE WEB
People who want to sign Sharron Angle's property tax cap petition can download copies from her Internet Web site:
www.wethepeople nevada.org
And return them to:
We the People NevadaPost Office Box 33331Reno, NV 89533