Angry elephant helped Las Vegas auto shop make its mark
January 11, 2015 - 8:19 pm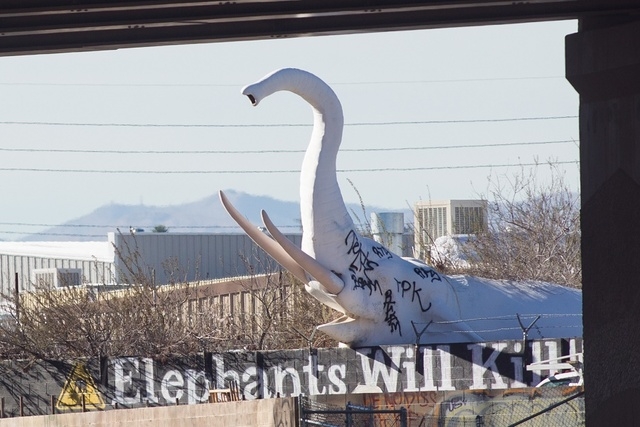 As white elephants go, this one hasn't been much of a burden.
For more than 30 years now, a North Las Vegas auto body shop has housed the full-scale model of a giant, angry-looking elephant at the corner of its yard on the west side of Interstate 15 north of Carey Avenue. Both the business and its unofficial mascot are still going strong.
Francis Connell, who owns the C&S Body and Fender Shop with her husband, Guy, said the elephant came to them from a man who hoped to sell it to Circus Circus. The deal never happened, so in 1983 the fiberglass statue was hauled in three pieces to the back of C&S' property and assembled facing the west side of the interstate. It's been frozen there in midcharge ever since.
"Probably if someone tried to move him now he'd disintegrate," Connell said.
The elephant's slogan is a more recent edition. In the past year or so, some enterprising graffiti tagger painted the words "Elephants Will Kill" on the wall directly under the statue's trunk and flared tusks. Connell said she found out about it from her grandson, who spotted the graffiti from I-15.
"Just look at what these taggers will do to a poor elephant just standing there minding his own business," she said in mock outrage.
Connell said she has no immediate plans to paint over the graffiti, which is nicely lettered and, she has to admit, does seem to fit the animal's aggressive posture.
The statue used to be more obvious, before bushes in C&S's back lot grew up around it and the interstate was widened, landscaped and crisscrossed with overpasses. Connell said they would use the elephant as a landmark to help guide customers to the body shop.
For a while, it even attracted people who didn't need their fenders fixed. Connell said a British fellow once asked if he could put some girls on the elephant's back for a photo shoot, but her husband rejected the idea because of the liability involved.
The statue now spends most days hidden in the shadow of the nearby Fifth Street bridge over I-15, which the Connells jokingly refer to as the "bridge to nowhere" on account of it literally not going anywhere. There are commuters who drive by the elephant every day and scarcely notice it's there.
A drawing of an elephant riding in a car still appears on C&S' business cards, but that's about the extent of its marketing value. Connell said they used to feature it in their phone book ad, back when people used phone books.
This year will mark C&S' 50th anniversary in the Las Vegas Valley, roughly 35 years of it at its present location on Losee Road.
Asked how they plan to celebrate, Connell laughed and said she'd like to mark the occasion by closing the place.
Needless to say, the white elephant was not amused.
Contact Henry Brean at hbrean@reviewjournal.com or 702-383-0350. Follow @RefriedBrean on Twitter.