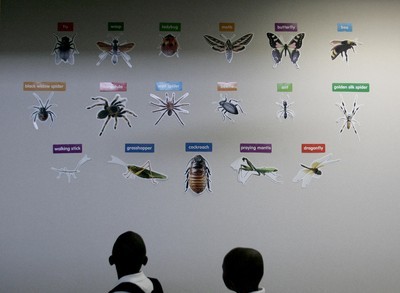 A 10-year-old boy probably would be uncomfortable walking into a fourth-grade classroom decorated with Tinker Bell cutouts.
He also probably wouldn't want to be surrounded by girls in pink backpacks.
Those aren't things fourth-grade boys at Ruben Diaz Elementary School have to worry about. The new school offers single-sex education for grades one through five. Kindergarten is still co-ed.
Diaz, in North Las Vegas, opened to the applause of many parents Monday, the first day of classes for 2008-09. Altogether, the district welcomed more than 300,000 students to school without any major problems.
At the ribbon cutting for Diaz — named after a pediatric pulmonologist whose wife, Anne Diaz, is a school nurse for the district — Doug Starr was happy his daughters, ages 7 and 10, would get the opportunity to learn without the distraction of boys.
He recalled Heather and Kylea coming home from school many times complaining the boys are "so ewey, they're driving us nuts!"
Girls, like boys, also are less inhibited in a single-sex classroom, Principal Maribel McAdory said. A girl might not answer very many questions for fear a boy "will think she's too smart," McAdory said.
And when there are no girls in the classroom, there's less need for boys "to show off," the principal said. Separating boys and girls also can lead to less bullying, with boys becoming more empathetic and kinder to each other, McAdory said.
Within single-sex classrooms, Northeast Region Superintendent Marsha Irvin emphasized, the boys and girls receive the same education. The style of teaching may differ because boys and girls learn differently, she said.
To prepare staff, Leonard Sax, executive director for the National Association for Single Sex Public Education, gave a seminar this summer to the new teachers at Diaz.
Jodi Kirkpatrick, a first-grade teacher, said she preferred to teach boys because they're more active and want more "hands-on" education.
Under the guidelines of the U.S. Department of Education, single-sex education must be equitable and voluntary, local officials said. So both Diaz and its sister school, Cortez, which serve the same attendance area, offer co-ed classrooms as an alternative.
Single-sex education is not new in Clark County. Cheyenne High School began offering some single-sex classes in 2002, Irvin said. Today, 11 schools across the district have some single-sex classrooms.
The approach has become popular with parents, McAdory added.
When she was principal at Cortez, single-sex education classes were offered in fourth and fifth grades. When she told the parents she was interested in expanding it to third grade, parents said it should be offered for all grades.
District Superintendent Walt Rulffes also said single-sex education and school uniforms, which are mandatory at Diaz, are hardly revolutionary in concept but are actually an old-school "throwback."
Also, high school officials are hoping for a more traditional, community-oriented approach this year by offering freshman academies intended to create better cohesion between students and staff, said Karen Stanley, the principal at Cimarron-Memorial High School.
"They will see those common faces," Stanley said. The goal is to reduce the high school dropout rate, which is highest among ninth-graders, by making freshmen feel more invested.
"It's all about commitment," Stanley said.
Contact reporter James Haug at jhaug@reviewjournal.com or 702-799-2922.