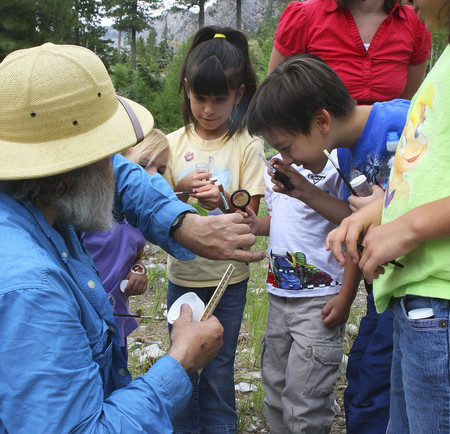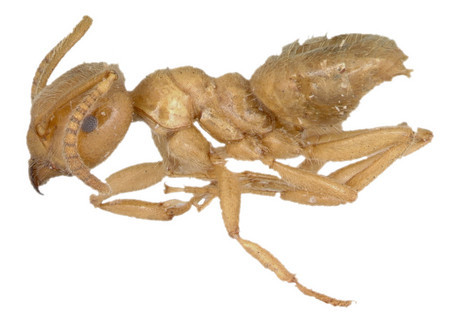 The kids search for ants, and they find many.
"Hey! I found an ant!" declares Sarah Trupp, a 4-year-old in a purple shirt. They aren't yet 50 feet from the parking lot.
"Guys, I found an ant!" says another little girl, this one in a yellow Tinkerbell shirt.
"I saw flying ants!" says another.
"I saw a jumping ant!"
"I found another ant! It just goed away."
This, ladies and gentlemen, happened Friday at the official Charleston Ant Safari, a hunting-scouting-rustling party consisting mostly of highly educated federal government scientists and a bunch of little kids.
They're looking for Lasius nevadensis, the Charleston Ant, a species discovered on Mount Charleston 55 years ago this week. They've been in a box in a museum since then. Live specimens have not been seen since.
This particular ant species measures up to 5 millimeters long and has six hairy legs, three body segments colored orangish red, two beady eyes and a couple of antennas. In all, it pretty much looks like every other ant you've ever seen. Experts suspect it has gone underground.
They really, really want to find it. "They" mostly being Burton Pendleton, a research ecologist with the U.S. Forest Service's Rocky Mountain Research Station, based in New Mexico.
"It's just a matter of being here at the right time," said Pendleton, who wore his pith helmet to make the ant safari seem like a real one.
He explains the point of it all this way: Ants are really important to the ecosystem. By monitoring them, you can get a sense for how healthy a place is, generally. They're good scavengers, meaning they clean up natural messes. They're predators, which means they help keep things running like they're supposed to. They aerate the soil, which is good for plants. They're also good at moving seeds around, which is also nice for the plants. So, there's that.
There's also the science of it, which is how Pendleton eventually ends up on the side of a mountain late on Friday morning with that gaggle of kids hanging on his every word.
The Forest Service had sent out a call for volunteers for three days of ant safaris, the first being Friday. About a dozen people showed up at this one, and two more are scheduled. Lots of people brought their kids.
Erin Trupp did. She's the mother of the 4-year-old in the purple shirt. She heard about the ant safari through her sister, who heard about it through her husband, who heard about it from the Forest Service. Trupp figured it would be great fun for her little girl, a way to get out of the house without venturing into the monstrous heat of the valley. Plus, her daughter loves science and animals, she said.
The ant hunt got started because the scientists are in the middle of a huge project wherein they're gathering data on a bunch of species from this general area. They've compiled a list of about 60 of them that they know very little about. A few butterflies, plants, a rodent, etc. One ant: Lasius nevadensis.
This ant was discovered during the week of July 19, 1954, by A.C. Cole, a scientist who was pretty good with ants. It seems that the ant lives underground and comes out just once a year for mating, in late July and August. It seems that it is also isolated and lives only on Mount Charleston.
Pendleton, born and raised in Boulder City, knew the area well. He decided to see if the ant was still there. And how do you do that? You get a bunch of people together and walk around, looking at the ground.
There's also stuff like satellite photos, and a scientific literature review, knowing which areas are most likely to hold the ants, knowing what they might like to eat, and the lifting of rocks and such. But mostly, it's just walking around looking at the ground.
The kids loved it.
They scampered and climbed and moved rocks and let the ants crawl on them. They asked, "What kind of bug is that?" and "What kind of plant is that?" and if this is the right ant or if that is the right ant.
One researcher found one flying ant that might be the right species, but it will have to be analyzed in a lab with a microscope to know for sure, Pendleton said.
"Maybe we'll get lucky," he had said at the start of Friday's festivities, "and we'll see it."
But probably not, he'd said. The search will likely last two or three years. The scientists will come back next year and plant some traps. They'll figure out, first, if the ant is still around. If it is, they'll figure out where it lives, what it eats, how it survives.
And then they'll know just a tiny bit more about how our world works, how things fit together.
And they'll have an ant safari conducted by a bunch of little kids to thank.
Contact reporter Richard Lake at rlake@reviewjournal.com or 702-383-0307.
TWO MORE HUNTS
Two more Charleston Ant Safaris are scheduled at the Old Ski Tow historic site on Mount Charleston.
11 a.m. Saturday July 25, with a picnic for volunteers at 11:30
11 a.m. Saturday Aug. 15