Anti-online gaming group circulates FBI letter warning of Web wagering
January 15, 2014 - 1:55 pm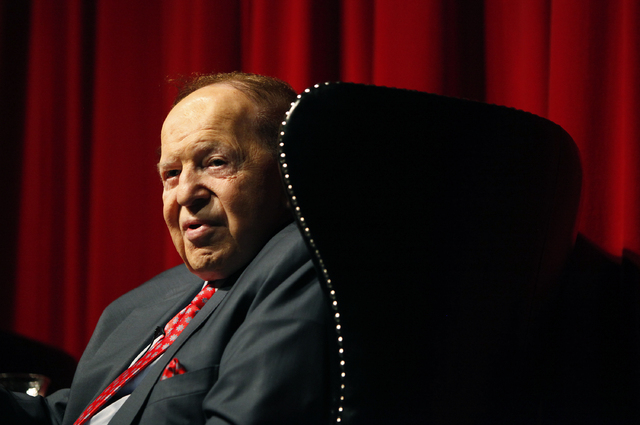 An anti-online gaming group is distributing a letter from the Federal Bureau of Investigation that warns Internet wagering can be used by criminals to conduct money-laundering activities.
The effort by the Coalition to Stop Internet Gambling, a Washington, D.C., grassroots organization funded by Las Vegas Sands Corp. Chairman Sheldon Adelson, is part of the group's overall push to restore a federal ban on Internet gaming.
Meanwhile, opponents of online gambling are promoting draft legislation that would reverse the U.S. Department of Justice's 2011 determination that overturned the Federal Wire Act, allowing individual states to adopt Internet gaming. The three-page bill, first made public by poker blogger Marco Valerio, has been floating around Congress since December but has yet to attract a sponsor.
Congressional sources said the bill came from Adelson's group. It includes provisions for a two-year FBI study of various Internet gaming issues, including money-laundering, fraud, terrorism financing, cyber-crimes and underage gambling.
Last week, the coalition circulated a September 2013 letter from the FBI to the late Rep. Bill Young, R-Fla., who asked the agency if Internet gaming technologies could be used for criminal activities. Young died in October.
J. Britt Johnson, the deputy assistant director for the FBI's Criminal Investigative Division, wrote that online casinos "are vulnerable to a wide array of criminal schemes." Johnson cited a few examples, including ways online players could launder money through Internet poker games.
Former New York Gov. George Pataki, one of three former elected officials hired by Adelson to act as co-chairmen of the coalition, said in a statement that the FBI's letter is "part of a growing body of evidence" that demonstrates the dangers of Internet gambling.
"The FBI has said definitively that sophisticated technologies can be employed by terrorist groups and criminal organizations to move money undetected, conceal their physical locations, and entangle unwitting online players," Pataki said.
The FBI also warned that money launderers "are resourceful and find innovative ways to exploit any medium available to launder illicit funds."
American Gaming Association President Geoff Freeman said aggressive regulation of online gaming is the best way to police money laundering.
"Pretend prohibition of online gaming is a free ticket for shady foreign businesses and criminals to exploit the United States," Freeman said.
Johnson wrote that U.S. banks, "physical casinos" and other well-regulated entities can become "unwitting conduits for money laundering."
In a speech at the Global Gaming Expo in September, Jennifer Shasky Calvery, director of the Department of Treasury's Financial Crimes Enforcement Network (FinCEN), warned the casino industry to be vigilant in protecting itself against money laundering.
"Every financial institution, casinos included, should be concerned about its reputation," she said "Integrity goes a long way."
In August, Las Vegas Sands paid $47.4 million to settle a federal money-laundering investigation and avoid criminal charges. The inquiry looked at casino play between 2006 and 2007 by Chinese-Mexican businessman Zhenli Ye Gon, who was linked to international drug trafficking. According to the government, he wagered $84 million.
The company admitted it had failed to sufficiently scrutinize Zhenli Ye Gon's suspicious cash transactions.
In October, Caesars Entertainment Corp. said Caesars Palace is being investigated for possible money-laundering violations.
Adelson has said he'll spend whatever it takes to kill Internet gaming proposals on Capitol Hill and in individual states.
Justice Department prosecutors in late 2011 said the Wire Act only pertains to sports wagering, which opened the doors for states to legalize Internet gaming. Nevada, New Jersey and Delaware have all legalized some form of the activity for in-state play only.
Meanwhile, Rep. Frank Wolf, R-Va., a longtime opponent of casino gaming expansion, entered the fray on Monday. Wolf sent a letter to all members of Congress, repeating the FBI concerns. He wants Congress to block any expansion of Internet gaming.
"Millions of Americans suffer from pathological gambling and addiction that can destroy lives and lead to bankruptcy, suicides, corruption and the breakup of families," Wolf wrote. "Bringing gambling to every computer, iPhone, and iPad in America will only exasperate this problem and, as we have recently learned, compromise our national security."
Contact reporter Howard Stutz at hstutz@reviewjournal.com or 702-477-3871. Follow @howardstutz on Twitter.