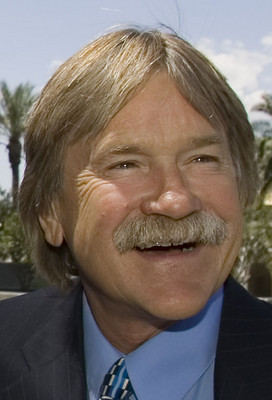 Should Nevada Nuclear Projects Agency chief Bob Loux step down in the wake of questions about pay raises swirling around his long-held post, former U.S. Sen. Richard Bryan said Thursday the state's sights will remain on defeating federal plans to bury nuclear waste at Yucca Mountain.
"That's the paramount issue," said Bryan, chairman of the Nevada Commission on Nuclear Projects.
The issue of defeating "the dump," as opponents refer to the proposed repository 100 miles northwest of Las Vegas, "is bigger than the commission and certainly bigger than Bob Loux," Bryan said.
"It's overarching. Whatever happens in the controversy (with Loux), nothing should happen to affect the ability of that office" to counter the Yucca Mountain Project.
Loux has led the state's opposition to Yucca Mountain under six governors, including Bryan's tenure from 1983 through 1989. That was a period when Nevada amplified its objections to being singled out as the state to host the disposal site for the nation's highly radioactive used nuclear fuel and defense wastes.
On Thursday, Loux said he won't comment on questionable pay raises he allotted himself and his staff until he has time to consult with members of Bryan's commission.
"That will probably take several days or longer," Loux said by telephone from Carson City.
The matter, which could result in the commission firing Loux, will be put on the commission's Sept. 23 agenda, Bryan said.
Gov. Jim Gibbons called for Loux to resign Wednesday after a preliminary audit found Loux had drawn a $151,542 yearly salary, nearly one-third more than he is authorized to receive and $10,000 more than the governor's salary.
Also Thursday, Assembly Minority Leader Heidi Gansert, R-Reno, filed an ethics complaint against Loux. The complaint alleges that Loux improperly used his position to "grant unwarranted privileges" to himself in violation of state ethics laws.
"Mr. Loux's unauthorized salary increases for himself and staff should not be swept under the rug," Gansert said.
In another action aimed at Loux, Carson City political activist Chuck Muth filed a complaint in Carson District Court seeking his removal from office.
"Such malfeasance cannot or should not be excused simply by Mr. Loux saying he's sorry and returning the money," the complaint says. "Had Mr. Loux not exceeded his budget, his unlawful actions would have remained hidden from the public."
Loux has said money that would have been paid to an employee who left was spread among his staff as pay raises. The departure of the employee increased the rest of the staff's workload by 15 percent to 20 percent, he said.
Loux had asked the Legislature's Interim Finance Committee permission Tuesday to transfer money from the agency's current budget to cover $500,000 he had overspent beyond authorized levels.
The request included $72,000 for additional retirement and other benefit expenses for himself and his staff that had not been factored in when he changed payroll records to increase their salaries beyond legal limits.
The salary increases had predated Gibbons' term as governor.
Loux has been the only executive director of the Agency for Nuclear Projects since it was created by state lawmakers in 1985.
Before that, he worked in a similar capacity as an employee of the governor's office since 1981, after holding a yearlong contract to conduct anti-Yucca Mountain work for Nevada.
He did the same type of work for the agency's forerunner, the Nevada Department of Energy, from 1978 to 1980 as an appointee of then-Gov. Mike O'Callaghan.
Bryan, the commission's chairman for seven years, described the seven-member commission as a policy group that doesn't get involved in personnel or budget issues although the commission does have authority to fire the agency's executive director.
The director's salary and tracking the staff's salaries is handled by the state budget office and the governor's office.
Hiring a new director, should Loux resign, retire or be fired, would be up to the governor, Bryan said. Loux was one of three candidates when he was selected for the post.
In Washington on Thursday, Sen. John Ensign, R-Nev., said through a spokesman that Loux's situation was "regrettable … especially considering all the work (Loux) has done on behalf of the state of Nevada and our fight to stop Yucca Mountain.
But, he added, "All public officials have a duty to the taxpayers to ensure that their money is spent both wisely and responsibly."
Sen. Harry Reid, D-Nev., will stand by the decision that Bryan and other state nuclear commissioners will make regarding Loux's fate, an aide said.
"Whatever decision they make, he will support," said spokesman Jon Summers.
Summers said he could not say whether Reid believes Loux should be fired.
"He feels Loux has done a great job on behalf of Nevada and fighting the dump," Summers said. "He spent much of his career in this endeavor, and (Reid) hopes the commission will keep all that information in mind as it weighs its decision."
Stephens Washington Bureau Chief Steve Tetreault and Review-Journal Capital Bureau reporter Sean Whaley contributed to this report. Contact reporter Keith Rogers at krogers@reviewjournal.com or 702-383-0308.