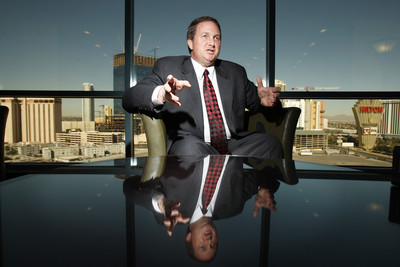 Bruce Breslow is getting his feet wet.
He just hopes the water won't be laced with radioactive remnants from nuclear waste that the Department of Energy plans to entomb in Yucca Mountain.
Breslow, who turns 53 today, took over for Bob Loux on Jan. 12 as Nevada's chief strategist on defeating the project.
After having been executive director of the Nevada Agency for Nuclear Projects since the agency's inception in 1985, Loux stepped down Sept. 29 amid controversy that he gave himself and his staff large, unauthorized pay raises.
Gov. Jim Gibbons chose Breslow to fill the post from a field of three candidates narrowed down by the state Nuclear Projects Commission.
After a dozen days on the job, and while attending his first meeting last week with federal scientists who were trying to convince an independent panel that the project is safe, Breslow acknowledged that he's got a lot of brushing up to do.
Besides the technical issues, he faces a challenging task in keeping his agency afloat with budget cuts and staff reductions looming.
After all, Breslow is not a geologist or an economist. Rather, he's a journalist by education who has made a career as a television sports broadcaster. He has dabbled in the baseball card trading business and also was the mayor of Sparks from 1991 to 1999.
"It's been a sharp learning curve," he said during a break in Wednesday's Nuclear Waste Technical Review Board meeting.
"It's fascinating and informative. The more I learn, it's easy to understand the state's long position against Yucca Mountain," Breslow said.
If licensed by nuclear regulators and built in the volcanic-rock ridge about 100 miles northwest of Las Vegas, the burial site would hold 77,000 tons of spent fuel from nuclear reactors and highly radioactive defense waste.
"It's going to be a nuclear cemetery," Breslow said, and not a boon for high-paying jobs in science and university programs.
Part of his job is to educate the "highly uninformed mass of people living in Nevada who have heard the myth of a large pot of money in exchange for this hole in the ground."
As for his large pot of money, Breslow does not have one to run his agency of what has been seven staff members plus expert advisers. With two vacancies, the agency consists of five, including himself.
With the nearly $2 million the agency usually receives from Nevada's general fund expected to be cut significantly, the agency could be whittled down to just him and another staff member.
Breslow is going to try to work things out with governor's staff next week to keep more people on board.
"They've shown a willingness to be flexible on the matter," he said.
In addition, the state receives $5 million yearly in federal funds for being a unit of government affected by the project. That money goes largely for project oversight and the state's effort to thwart the Energy Department's attempt to obtain a repository license.
Nevada is precluded from using that money to pay Breslow's $104,000 salary.
Sen. Harry Reid, D-Nev., has proclaimed the DOE project "dead" or at least bleeding to death from the lack of federal funds.
Reid has vowed to watch it fail as he continues to use his leverage as Senate majority leader to slash its purse strings.
So, why does Nevada need an Agency for Nuclear Projects?
"Because the beast is not dead yet," Breslow said.
"The agency sets the strategy. The agency hires the consultants to counter what DOE is proposing. The agency coordinates the fight," he said.
"Nevada has waited 25 years for a crack so they could actually participate in the court, in a trial where they can present evidence and cross-examine witnesses. Now the moment has arrived; so if it is not defeated politically, we believe Nevada has an excellent chance to prove how unsafe this is.
"So to abandon that and everything the state has worked for the last 25 years just because we're hoping that the president kills the project would not do justice to the state of Nevada."
Among the things Breslow has learned on the job is that Yucca Mountain is a flawed site where surface water can trickle through fractured rock, corrode waste canisters and contaminate Nevada's groundwater with deadly, radioactive materials.
He has learned that the Department of Energy's scientists and consultants are paid to deliver the right answers from DOE's perspective "based partially on reality and academic guesses."
"There are other sites that aren't in earthquake areas. There are other sites that aren't in volcanic areas. This one has them all," he said.
"Also, they're basing their conclusions on technology that doesn't yet exist, like titanium drip shields put in by robots 300 years from now, 200 years from now. How can you base science on technology that you hope exists in the future?"
Breslow said he met with Gibbons on Jan. 23, and the governor "confirmed what I wanted to hear, which was, 'Yes, I'm absolutely against Yucca Mountain.' And basically, 'Go get 'em.' "
At Wednesday's meeting with the technical review panel, Breslow sat next to Steve Frishman, a geologist who is a technical consultant for the state's effort.
While a DOE subcontractor presented a slide show on stability of "lithophysal rock" inside Yucca Mountain, Breslow was busy using his BlackBerry.
Like Loux, his predecessor who faces the Ethics Commission over the pay raise matter, Breslow once appeared before the state ethics panel for making personal calls on a city-owned cell phone while he was mayor of Sparks.
As the self-proclaimed "poster boy for not using the cell phone for personal calls," Breslow assured that he was not text-messaging somebody while the presenter was enlightening listeners about lithophysal rock, rock cavities formed by expanding gases.
That's what DOE scientists argue is evidence that earthquakes since 13 million years ago haven't been powerful enough to crack the bubblelike cavities.
So what was Breslow doing with his BlackBerry?
"I was Googling," he said, to find out what lithophysal means.
"The state phone is only for state business. I learned that the hard way," he said.
Contact reporter Keith Rogers at krogers@reviewjournal.com or 702-383-0308.