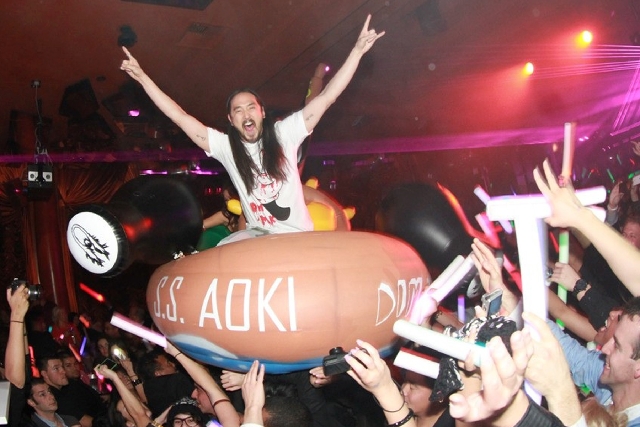 Would you like Steve Aoki to throw a cake in your face? Because he will throw a cake in your face. In public. He's good at it.
Aoki tells me people hold "cake me" signs at concerts lately. So he complies.
"Right in the face!"
He hopes to continue this creamy theme tonight, when he starts a DJ residency at MGM's new Hakkasan nightclub.
"I definitely plan on bringing the cakes to Las Vegas, party people, so that's gonna happen," he says.
Aoki — one of the most iconic and fun-loving hitmakers in all of dance music — throws a lot of "direct hits and total misses."
"I look at their face, and it automatically becomes a target. Sometimes I'm good. Sometimes, I can get them at like 40 feet. We've actually measured it from where I was standing, after the show. I couldn't believe the aim that I had," he says.
Aoki baked this cake idea after he saw "cakings" happen in slow-motion in a music video for a band on his music label, Dim Mak Records.
If you have seen crazy Aoki in person, none of this surprises you. I mean, this is the guy who crowd-surfed at the Wynn-Encore nightclubs while riding on top of a raft.
He says it is harder than you would think to persuade nightclub executives to let you crowd-surf atop a raft. But that is kind of legally understandable, he suggests.
"I was surprised they even let me do it. Vegas might be wild, but it's pretty conservative."
Throwing cakes isn't a cakewalk, either.
"I'll be honest, it was a bit of a challenge to bring out the cake," Aoki says. "It never fully fruitioned the way it was supposed to" in the past. "But I'll be able to do that more" at MGM.
He just wants to do Vegas the way Vegas gets done.
"I want to maximize entertaining and showmanship," he says.
Right on.
Aoki also has a friend in Olympic swimming hero Michael Phelps, who has DJ'd and partied with Aoki in Vegas a good deal.
Is Phelps any good as a DJ? Hmm, let's see how Aoki delicately answers this sensitive question.
"Michael Phelps has a love of music, and he has a connection to what's playing. That's why we became good friends. He's really a fan of (music)," Aoki says. "With everything, it takes time and experience, you know."
Anyway, if you go see Aoki tonight at Hakkasan, or on Sunday at MGM's Wet Republic dayclub, stay as alert as possible.
"At my show, I absolutely need all the attention of the people on the dance floor," Aoki says.
"During certain moments of my show, if I don't get all the attention, then there's gonna be a certain view they're gonna miss … like holding Michael Phelps up in a boat so he doesn't fall or whatever."
"Whatever," in this case, includes a cake to the face.
PRINCELY REMINDERS
If you read my column on Tuesday, you got a pretty great story about Prince getting arrested in 1979 after stealing a plane's bullhorn.
That story came from Matt "Doctor" Fink, who played keyboards with Prince from 1978 to 1990. Fink is now in a Prince cover band looking to get booked in Vegas.
Fink asked me to give you the best website for his group, The Purple Xperience (Purple ExperienceBand.com).
And since Tuesday's column came out, tickets are going faster for Prince's shows Friday-Saturday at the Hard Rock Hotel.
Doug Elfman's column appears Mondays, Tuesdays, Thursdays and Saturdays. He also writes for Neon on Fridays. Email him at delfman@reviewjournal.com. He blogs at reviewjournal.com/elfman.