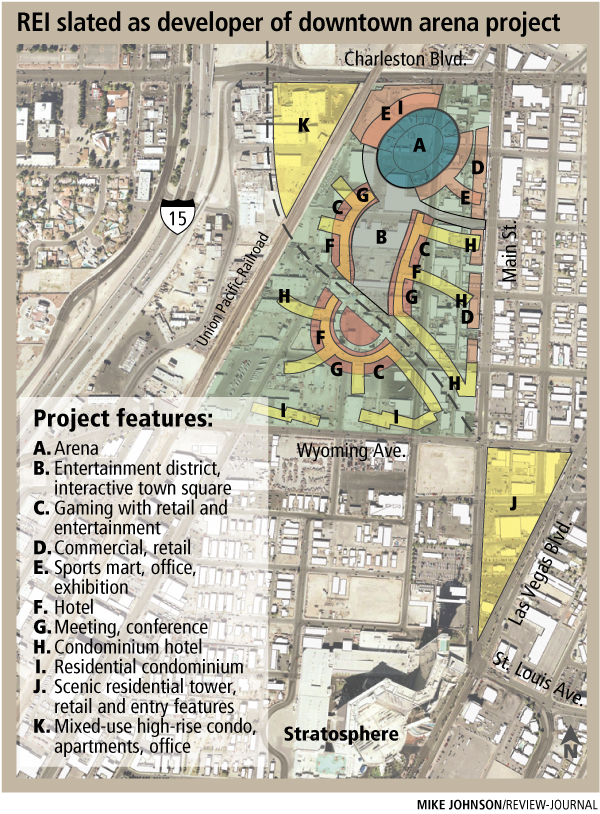 It's time to see if the city's faith in the developer promising a $9.5 billion project that would reshape downtown Las Vegas is well placed.
The Las Vegas City Council accepted a task force's recommendation Wednesday to move forward with a proposed arena development at Main Street and Charleston Boulevard, officially picking Michigan-based REI Neon group over three competitors.
The city and development team will now start hammering out details of timelines for progress on the project and tax rebates the developer wants from the city.
REI has rights to purchase 85 acres downtown, officials said.
The first phase of the eventual $9.5 billion plan would be a $500 million arena and surrounding retail space in what is a corner of the Arts District. Later phases would include casinos and thousands of hotel rooms and condos.
"This is one of the biggest steps I've been involved in since I came to City Hall," said Councilman Gary Reese, whose ward includes the project. "This will be a connector" between the Strip and the city's 61-acre Union Park and downtown.
George Postolos, former president and CEO of the NBA's Houston Rockets, has joined REI's team. REI will meet with NBA executives on Friday about their plans, he said. Postolos was a special assistant to David Stern in the late 1990s.
A preliminary agreement between Las Vegas and REI will be voted on Aug. 1 by the Las Vegas City Council. That will be followed by a 60-day negotiating period for a final agreement on the project.
Postolos believes the project can happen with a combination of property tax rebates and bonds against future sales tax revenue created by the project.
REI will be required to put down a $1 million deposit with the city once the development agreement is executed.
Mayor Oscar Goodman laid out a number of issues yet to be resolved. The agreement will set deadlines for:
• Proof of financing for the project.
• Closing on the purchase of land for the project.
• The beginning of construction.
• A more specific definition of the project's first phase.
REI says it is under contract to buy the 85 acres from scores of property owners. Escrow is scheduled to close as early as September. It has also brought in private equity firm Warburg Pincus.
On Wednesday, a state board will hear a challenge to the council's decision last month to allow gaming on that land.
Chuck Gardner, an attorney representing the plaintiff, a resident, said REI and the city fell far short when it came to presenting "clear and convincing" justification for expanding the gaming district.
"Of all the things downtown needs, is it one more huge casino?" Gardner said in an interview.
The Culinary union also has challenged the project. A union representative would not comment on pending litigation.
REI representative Todd Fink would only say, "We're confident we will prevail on the merits."
Another potential stumbling block is competition from an arena-development heavyweight, AEG, which owns and operates a number of arenas internationally, including the Staples Center.
AEG has said they are moving forward with their plans for an arena outside of the city's downtown.
Goodman called that project a "threat" to REI's during the council meeting, though he later backed away from that statement.
"Either one would be great for the valley," he said. "I would, of course, prefer one downtown for the redevelopment benefits it would provide."
Councilman Steve Wolfson pressed REI representatives for a timeline at the council meeting.
Fink said a stadium could be open in the fall of 2011.