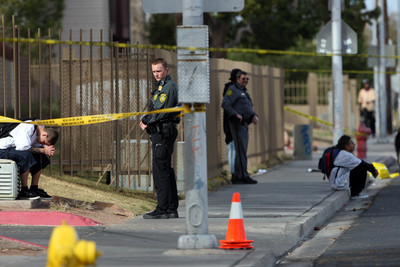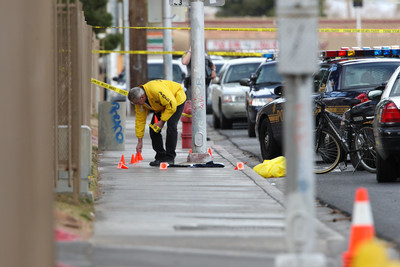 A shooting Thursday half a block from Bonanza High School 15 minutes after classes had let out for the day sent a man to the hospital and dozens of students scrambling for cover.
The shooting occurred just before 1:30 p.m. in front of the Lantana Apartment Homes in the 1200 block of Torrey Pines Drive just south of Charleston Boulevard as students trekked home from school.
Police said the victim was 19 or 20 years old.
An argument between the victim and his assailant, both adults, escalated into a physical confrontation, police said.
During the fight, one of the men produced a handgun and fired several shots.
One witness said many students appeared to be in close proximity to the altercation.
"Really, honestly, I thought it was kids fighting," said Dave Berns, senior producer and program host for KNPR-FM, 89.3, which has offices at the College of Southern Nevada directly across the street from the shooting.
"I saw 100, maybe 150, kids running scared," he said about the scene after shots were fired, two of which he said struck the station's building.
Las Vegas and Clark County School District police swarmed the area in search of the assailant but to no avail.
Metropolitan Police Capt. Jim Dixon said neither the victim nor the shooter were students at Bonanza High School, but some students had witnessed the crime.
The bloodshed came less than a week after a Palo Verde High School freshman was killed in a drive-by shooting as he walked home after school with other students. It also came hours before funeral services for that student, Christopher Privett.
The victim in Thursday's shooting was taken to University Medical Center and was undergoing emergency surgery late Thursday afternoon, Dixon said.
Police described his condition as "serious" upon being brought to the hospital; an updated condition was unavailable later in the day.
Cut-up, blood-stained clothes were strewn on Torrey Pines where medical personnel worked on the victim.
Police had lined up 10 or so witnesses for interviews.
Berns, formerly a reporter for the Review-Journal, said he watched the incident unfold from his office window.
"The kids started moving toward a vehicle that was pulling out of the apartment complex," Berns said.
He said a man got out of the vehicle and fired a handgun three to four times.
The gunman "jumped back into the vehicle, and it pulled out onto Torrey Pines heading north" toward Charleston, Berns said.
He said fistfights are routine after school lets out.
"People have to start speaking out," Berns said of violence in Las Vegas Valley streets.
Bonanza sophomore Travis Tyler said, "On the way home we were just talking about the (Palo Verde) shooting, and about (how) that never happens here."
Bonanza students who knew Privett have not been at school since classes resumed Tuesday, Bonanza freshman Faith Barlow said.
While students have been talking about the Palo Verde shooting, Barlow said she felt safe at school.
"It wasn't at the school," she said. "It's not really a matter of school safety."
Berns saw it differently.
"I don't know if the shooter or the victim was a student," he said. "But if one of the hundred or so students who were being scattered, ducking and running for cover when the shooting started, would have been killed, how would you tell parents that wasn't a school-related shooting?"
Other students said they were affected by the Palo Verde incident.
"It was sad," Bonanza junior Dalize Straghman said. "I saw his (Privett's) picture and thought, 'That could be any one of us.'"
Bonanza was not placed on lockdown status, as the shooting occurred after school.
Warren Elementary School, north of Charleston Boulevard, was placed on lockdown for about a half-hour at the principal's discretion, but students were not delayed in returning home.
The College of Southern Nevada briefly locked down its on-campus child care center and posted a campus police officer outside the door, college spokeswoman K.C. Howard said. Classes were unaffected.
Review Journal writers Brian Haynes, Michael Squires and Lisa Kim Bach contributed to this report. Contact reporter Francis McCabe at fmccabe@reviewjournal.com or (702) 387-2904.