Arizona sheriff urges crowd to vote for Angle
October 19, 2010 - 11:10 pm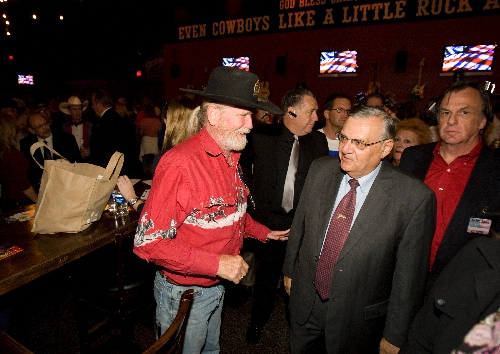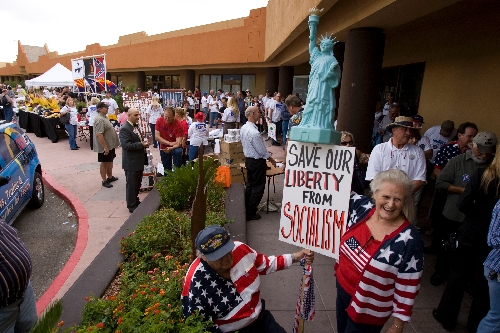 Sheriff Joe Arpaio rode back into town Tuesday, this time to fire up voters and to stump for Republican U.S. Senate candidate Sharron Angle in her bid to unseat Democratic Sen. Harry Reid.
But the polarizing sheriff of Maricopa County, Ariz., only briefly mentioned the GOP candidate during his 13-minute speech to a friendly crowd of Angle and Tea Party supporters at Stoney's Rockin' Country bar and dance hall on Las Vegas Boulevard South.
During that brief mention, the septuagenarian sheriff mispronounced Angle's last name, calling her what sounded like "Sharron Anglund."
A few people in the crowd tried to correct him, yelling out, "Angle! Angle!"
Angle has "said some nice things about me," Arpaio said. "It's very nice."
The rest of his speech focused mainly on his controversial approach to immigration enforcement in Maricopa County, and elicited cheers of support from the crowd. Tea Party entertainers even sang Arpaio a song afterward about standing with Arizona.
Arpaio, who is known for conducting controversial immigration sweeps, along with putting inmates in pink underwear and tent cities, has, along with Angle, come out in favor of a new Arizona immigration law that has been criticized as racial profiling. Reid, on the other hand, backed a federal government lawsuit to stop the law.
On Tuesday Arpaio said he has the "solution" to illegal immigration and "it's very simple."
"First of all, everybody talks about 'secure the border,'" he said. "That's a cop-out. Why don't they say 'secure the United States of America and lock up the illegals that are already here?'"
When Arpaio spoke at the same venue in May, he drew a crowd of about 200 protesters who were angry about the passage of the Arizona law.
At one point during that appearance, Las Vegas police officers stepped between Arpaio and the protesters and moved the crowd back.
Arpaio said he was disappointed the protesters hadn't shown up this time around.
"I came here for them and they're not out here tonight," he said. "They're probably afraid of you guys."
Arpaio appeared Tuesday as part of the last pre-election Tea Party Express multi-state bus tour. Sarah Palin kicked off the tour Monday in Reno, rallying about 1,000 people in support of Angle. The tour is set to wrap up in New Hampshire on Nov. 1.
The sheriff, who often speaks at Tea Party events around the nation, endorsed Angle last month .
People began lining up outside hours before Arpaio took the stage Tuesday, many carrying signs and clad in red, white and blue. Vendors set up tables to hawk T-shirts, caps and buttons that read, "Man up, Harry Reid" and "Is it 2012 yet?"
David Chessik and a friend were selling individual rolls of "Bankster Bailout" toilet paper — which included caricatures of Reid, President Barack Obama and others — for $5 apiece.
"I'm protesting but trying to have some fun," Chessik said.
When asked how he feels about Angle, Chessik said, "Harry Reid earned a spot on my toilet paper and Sharron Angle did not. That should tell you where my vote is going."
Bill and Jody Black, who have been married 45 years, toted a 3 -foot-high plastic Statue of Liberty atop a sign that read, "Save our liberty from socialism."
"My husband fought in three wars for freedom, not socialism," Jody, 72, said.
Bill, 83, blamed the current administration for the lousy economy and high unemployment.
"It's because of Congress throwing money away," he said. "Look at the debt — it's pathetic."
Dave Wood, who had stuck a miniature American flag into his cap and gave his age as "pushing 90," said he only came to the event because he happened to be in town on vacation from San Diego.
But he supports Angle, he said.
"She wants to repeal health care while the rest of them want to repeal the constitution."
Organizers estimated the crowd at about 2,000.
Angle did not participate in the event because federal law prevents her from coordinating with the Tea Party Express. The group endorsed Angle and has spent more than $1 million to oppose Reid.
Both Angle and Reid are counting on big-name surrogates this week to help them get out the vote by firing up Republicans and Democrats. Early voting began Saturday in Nevada and ends Oct. 29, four days before Election Day.
Former House Speaker Newt Gingrich plans to appear in Las Vegas with Angle on Thursday.
Vice President Joe Biden will hold a rally with Reid on Wednesday at the University of Nevada, Reno. And on Friday, President Barack Obama will visit Las Vegas for Reid for the third time this year, holding an outdoor event at Orr Middle School Park.
"We need new blood in Washington to straighten things out," Arpaio said Tuesday. "The only thing I ask — keep going, don't stop."
The sheriff also made mention of some of the troubles he's facing back home, specifically a Justice Department investigation into his office for allegations of discriminatory police practices.
"A year and a half they've been after me," he said, adding that meanwhile, "my polls go higher and higher."
Arpaio's Maricopa County sheriff's office also is the subject of a racial-profiling lawsuit, and the U.S. Attorney's Office and the FBI are examining allegations of wrongdoing by his second-in-command and others in the office.
Arpaio recently lost an appeal of a 2008 U.S. District Court ruling that found Maricopa County jails do not meet constitutional minimums when it comes to food quality and other conditions.
And the sheriff is facing allegations by county budget officials that his office may have misspent as much as $80 million in detention funds over the past five years. Maricopa County sheriff's officials have disputed the allegations.
Contact reporter Lynnette Curtis at lcurtis@reviewjournal.com or 702-383-0285.
Sheriff Joe Arpaio stumps in Vegas for Sharron Angle
Sheriff Joe Arpaio makes stop in Vegas as party of Tea Party Express tour