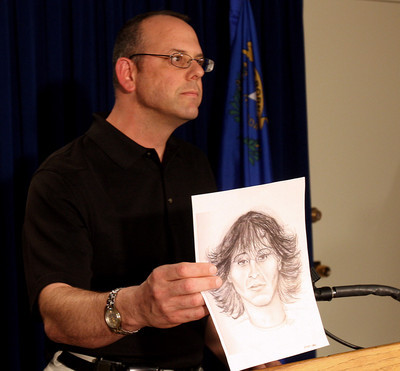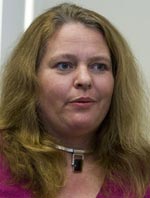 The mother of one of the Las Vegas girls Chester Stiles is alleged to have molested was disappointed that he was arrested Monday night.
She had hoped that when police caught up with him, the encounter would end with Stiles' death, her lawyer, Jerry Donohue, said Tuesday.
Given the chance, she would kill Stiles herself, Donohue said of the mother of a girl who was filmed being sexually abused in 2003 when she was not yet 3 years old.
"She's angry enough that, if we had the death penalty for this kind of offense, she'd volunteer to pull the switch or pull the trigger," Donohue said.
Donohue's client, who is soon to give birth to another daughter, has refused reporters' requests for interviews. But Tina Allen, an ex-girlfriend of Stiles, has spoken repeatedly of the revulsion and guilt that she now feels. She was the one who introduced him to the families of the two girls he is charged with abusing.
Allen said Tuesday that authorities probably should get a restraining order against her because she, too, wants to hurt Stiles.
When asked what she would say to Stiles if she had a chance to confront him, she said, "I'd scratch his eyes out."
Henderson police arrested Stiles about 7 p.m. Monday on Green Valley Parkway just south of Sunset Road.
An officer pulled Stiles over because the white Buick Century that Stiles was driving had no license plates. Stiles, with shaking hands, gave the officer an expired California driver's license bearing the photograph of some other man. When asked his Social Security number, Stiles said he could not remember it.
After further questioning, Stiles broke down and gave police his real name. He said that he was the man authorities were looking for and that he was tired of running.
The fugitive, who police had been warned would not be captured without a fight, then vomited.
While Stiles was taken to the Clark County jail, the car he had been driving was left overnight in the parking lot of the Subway restaurant at 2620 N. Green Valley Parkway. Several people peered into the vehicle late Monday, speculating about the cardboard box in the front seat and trash strewn on the floor.
The word "sorry" appeared to have been smudged with a finger onto the driver's side window. The onlookers figured Stiles must have written it.
Police said the Buick belonged to an acquaintance of Stiles. The original owner had given Stiles the Buick and was "unaware of Stiles' activities," Las Vegas police Capt. Vincent Cannito said.
Allen said the original owner of the car was a friend of hers from Massachusetts who had given the car to Stiles long before he went on the lam.
Cannito said police had a description of the vehicle Stiles was driving but had withheld that information from the public. Police also had withheld a sketch of Stiles that they had possessed since Oct. 2. The sketch depicted Stiles with longer hair and no mustache. It was a different look from the mug shots that were placed on billboards, in newspapers and on television, and it turned out to be much closer to what Stiles looked like when he was arrested.
The Henderson police officer who pulled Stiles over said he did not immediately recognize the driver of the Buick as the fugitive who had been profiled on "America's Most Wanted."
Cannito said the sketch and the description of the car were not publicized because that could have caused him to change his look and his vehicle.
Police on Tuesday also said they were still investigating where Stiles had been and whether anyone had helped him hide during the two and a half weeks since authorities identified him as the man seen sexually abusing the toddler in the videotape.
"Mr. Stiles was keeping himself fairly isolated during this time," Cannito said.
Stiles was booked into the county jail on 21 felonies in connection with the videotape. The charges include nine counts of lewdness with a minor, 10 counts of sexually assaulting a minor, one count of attempted assault of a minor and one count of using a minor to make pornography.
He is expected to make his first court appearance in connection with the charges today.
On Tuesday, the U.S. attorney's office announced that a federal indictment had been unsealed charging Stiles with producing child pornography, a crime punishable with a federal prison sentence of 15 to 30 years.
Stiles had been wanted by federal and local authorities for a couple of years before he was identified as the assailant on the videotape, which surfaced in Pahrump a few months ago.
In December 2003, a Las Vegas couple complained to police that Stiles had molested their 6-year-old daughter. Police questioned Stiles the next month. He denied acting improperly with the girl and was released.
Police continued to build their case, and Stiles agreed to take a polygraph test but delayed it several times and then told police he would not take one. Then he disappeared.
Authorities obtained an arrest warrant in that case in April 2004.
Elaine Thomas, another one of Stiles' ex-girlfriends, said Tuesday that police called her in December 2003 during the molestation investigation. She said the allegation caught her by surprise.
"It blew me away," Thomas said.
She said she had never known him to have prurient interests in children. She had figured Stiles was attracted to older, heavy-set women like her.
She confronted him about the police allegation. "He got upset," she said, explaining that he acted indignant. "Like 'Oh my God, they're accusing me,'" she said.
Thomas broke up with Stiles in November 2003, but he lived with her until March 2004, and they had remained friends, she said.
Thomas later identified Stiles for authorities after she saw photos of him on television on Sept. 26.
Thomas said she was afraid that Stiles — a 6-foot 2-inch, 175-pound former animal trainer for Siegfried & Roy — would retaliate against her for giving his name to authorities.
She was relieved when she learned that police arrested him Monday night, and by Tuesday morning, she was being interviewed about the case on "Good Morning America."
"I feel like I've been living in the twilight zone," Thomas said.
Contact reporter David Kihara at dkihara@reviewjournal.com or (702) 383-4638.