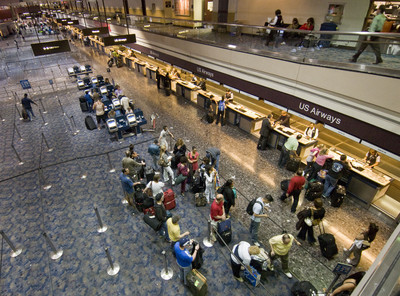 The Transportation Security Administration is retracing the steps of a passenger who departed McCarran International Airport on Saturday with luggage that included explosives, weapons and ammunition.
Justin W. Reed, a 22-year-old Marine corporal, was arrested after his baggage was scanned a second time during a layover at Boston-Logan International Airport on Sunday morning. Reed was arrested on charges of possessing a concealed weapon and possessing an infernal machine. He is being held on $50,000 bail.
Reed declared his firearm with the airline before boarding the flight, said Salt Lake City-based TSA spokesman Dwayne Baird. But Reed's checked luggage contained materials that are illegal to carry onto an airplane.
In addition to the locked gun box with the semiautomatic handgun, Reed's luggage contained a hand grenade fuse assembly with detonator, model rocket engines that contained explosive materials, a loaded gun magazine and several boxes of 9 mm and 7.62 mm ammunition.
"While the items found in the passenger's checked luggage were prohibited and illegal, they did not pose an imminent threat to aviation," Baird said.
The question raised by frequent fliers is how the explosives cleared McCarran's security process unnoticed.
"How is that possible?" asked 21-year-old Fabien Mathieu as he headed toward McCarran's security gates Monday afternoon. "It's scary."
A $1.25 million in-line baggage screening system designed to detect explosives was installed at McCarran within the past year.
McCarran representatives declined to comment on airport security, referring all calls to the TSA. Representatives with the U.S. Bureau of Alcohol, Tobacco, Firearms and Explosives referred calls to the Boston office, which was closed Monday afternoon.
Selby Marks, an administrator with Nevada's Homeland Security division, said Monday that his office was told of the violations at McCarran and that the federal government is handling the incident.
Reed's planned destination was Charlotte, N.C. During a layover in Boston, airport crews accidentally placed his luggage on the baggage carousel. Once they realized the mistake, they collected Reed's bags but had to re-screen them because they had been left in an open public area.
Once the explosives were discovered, TSA employees contacted local law enforcement. Two other bags that Reed had checked onto the flight were pulled from the US Airways aircraft and screened. No explosives or weapons were found in those bags, the TSA said.
The incident rattled passengers traveling through McCarran on Monday.
Chicago native Kristan Jiggetts, like Mathieu, had to board a US Airways flight from McCarran, the same airline Reed flew.
"I find that highly disturbing," Jiggetts said. "Obviously, TSA has a lot of work to do."
Jiggetts did not absolve US Airways.
"The airline has to have some accountability," Jiggetts said. "They have a bunch of people flying on the same plane."
Mathieu and Jiggetts were incredulous that Reed's weapons had cleared security, especially during heightened awareness at airports because of terrorism concerns, but 24-year-old Elizabeth Perez of New Jersey was more pragmatic.
"Reality is reality," she said. "You can die anywhere. I think it's a rare occurrence."
Reed's mother, Sandra Reed of Missouri, did not return a call to her home Monday. She told the Boston Globe that her son would never attempt to harm anyone.
"This is just a big misunderstanding," she told the Globe. "I know I'm his mother, but he's got a heart of gold."
Sandra Reed told the newspaper that her son, who is stationed at Camp Lejeune, N.C., was in explosives training at California's Twentynine Palms military base, about 200 miles southwest of Las Vegas.
Her son was traveling to Jacksonville, N.C., to surprise his wife on their two-year anniversary, she told the newspaper.
He is scheduled to be arraigned today.
Contact reporter Adrienne Packer at apacker@reviewjournal.com or 702-384-8710.