Artist's legacy continues in exhibit at Rainbow Library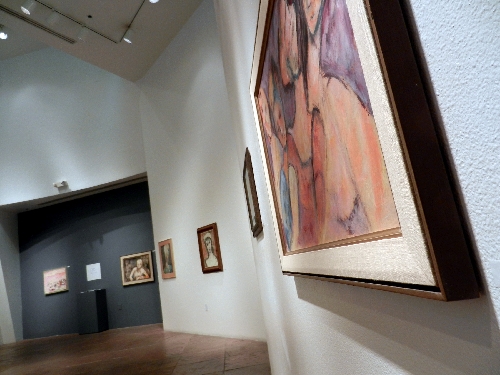 Her last major art show was in Santa Barbara, Calif., in 1983. She didn't live to see the one now on display at the Rainbow Library, 3150 N. Buffalo Drive.
Gertrude Stern, 95, broke her hip on April 1. She died 12 days later. Her art exhibit, "A Life in the Arts: A Retrospective," opened about a week later and is scheduled to run through July 12.
"The last thing we did together was go through all the paintings, name them, number them," said Linda Addington, Stern's caregiver. "She usually didn't name them."
Addington described Stern as a gracious lady who always dressed well. She also was known for her great sense of humor and had a feisty side to her.
Addington said Stern liked to paint at her easel until shortly before the fall that sent her to the hospital. It was tough for the woman in her 90s to be on her feet for hours at a time. To help combat that, Addington began taking Stern with her to yoga classes at the Montecito Dahn Yoga Center, 6720 N. Durango Drive, Suite 240.
"She was barely able to get up off the floor when she began," said Danielle Yang, yoga instructor.
That soon changed as Stern toned her muscles through gentle stretching, and she was able to get up unassisted. Her fellow classmates would sit with Stern after class to drink tea together, a fellowship ritual at the yoga center. Saddened by the unexpected death, classmates went to see the art exhibit as soon as it opened.
Stern was not a professional artist who made her living from her paintings and sculpture, but she was someone who felt the need to create … a lot. As soon as she finished one piece of artwork, she was working on the next.
"She painted every day for 40 or 50 years … and her sculpting … she said the clay would tell her what it wanted to be," Addington said.
Stern grew up in the Bronx. She met her husband, Herb, when she was 16. They married in their 20s, and Herb Stern became a successful layer who worked for Lew Wasserman , owner of Universal Studios. The Sterns had two children.
Their lifestyle allowed Gertrude Stern the freedom to indulge in the arts — expressing herself through painting and sculpting. The walls of their home in Beverly Hills were filled with her works, and their world travels further inspired her.
Gertrude Stern moved to Las Vegas about three years ago, soon after becoming a widow. Her paint brushes and canvasses came with her. Many of her old works came with her, too.
"She'd look through her paintings, and she'd be amused that she didn't remember them," Addington said. "She was tickled that they were hers."
Joe S. signed the gallery's book at Stern's show and called it "the best exhibit yet." Another viewer named Shannon, wrote, "I wish I could stay here and never leave."
Library hours are 10 a.m. to 7 p.m. Monday through Thursday and 10 a.m. to 6 p.m. Friday through Sunday. For more information, call 507-3710.
Contact Summerlin and Summerlin South View reporter Jan Hogan at jhogan@viewnews.com or 387-2949.