As Nevada braces, Sandoval urges GOP to pass homeland security bill
February 23, 2015 - 6:50 pm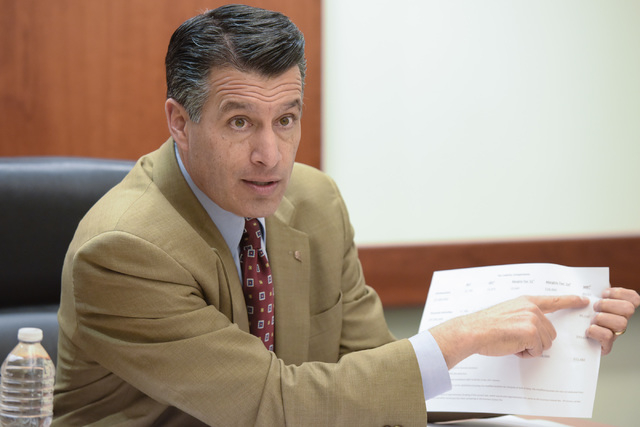 WASHINGTON — Gov. Brian Sandoval on Monday urged Republicans in Congress to pass a homeland security bill by deadline this week and avert a shutdown that could disrupt millions of dollars in grants to Nevada and more than 1,500 government workers.
Sandoval said a federal judge's ruling in Texas last week that shelved President Obama's executive actions on immigration "for me provides a pathway" for fellow Republicans to set aside controversial riders at the root of the impasse and complete the $40 billion legislation.
The riders would defund Obama programs offering temporary legal status to up to 5 million undocumented immigrants, actions that Republicans argue are unconstitutional. In response, Democratic senators have mounted a filibuster that the GOP has been unable to overcome.
Funding for the Department of Homeland Security expires Friday. While the department would be in "shutdown" without new money, more than 80 percent of its workers – such as airport security screeners, border agents and cyber-security sleuths — would be deemed "essential personnel" and would continue to work without an immediate prospect of pay.
Homeland Security Secretary Jeh Johnson told governors at a weekend conference in Washington the stalemate would furlough 30,000 workers and could disrupt funding and distributing grants that states and cities count on for emergency preparedness.
"Every governor, mayor, police chief, sheriff and police commissioner should be concerned about this," Johnson said. Nevada received $9.6 million in fiscal 2014, according to a Federal Emergency Management Agency grant summary for the state.
In an interview as the conference wrapped up, Sandoval said he has asked Chris Smith, director of the Nevada Division of Emergency Management/Homeland Security, for a "game plan" if the funding is halted.
"When I get back (to Carson City) the first conversation I am going to have is with my homeland security adviser to where those grants are spread out and what it means to us," Sandoval said.
Sandoval said money already drawn down from grant accounts would keep security programs going for 45 days. "But beyond 45 days it could be pretty difficult in terms of undermining our ability to protect the safety and welfare of our citizens.
"Given that Nevada is a tourism-based economy we really rely on these homeland security grants throughout both rural and urban Nevada," he said. "Defunding the DHS could have some profound impacts on the state. I'd like to see certainty there. I'd like to see passage and funding of the DHS."
"The other thing for Nevadans, think of those folks employed by DHS," Sandoval said. "They are going to go to work and not earn any pay. They still have to go whether they get paid or not and that has an impact whether they make their house payments and contribute to the economy and provide for their families."
The Department of Homeland Security employs 1,701 people in Nevada, including 1,411 who work for the Transportation Security Administration, according to the Office of Personnel Management.
On other topics:
 Sandoval said he was satisfied so far with security concessions the Department of Energy has made as it seeks to ship highly radioactive uranium waste from the Oak Ridge National Laboratory in Tennessee for burial at the Nevada National Security Site.
Sandoval said he remains opposed to shipping the material into Nevada but contends the state's ability to stop it is limited. Sandoval and Energy Secretary Ernest Moniz signed a memorandum of understanding in December that is guiding talks on operations at the site.
 An agreement Sandoval signed last February with Delaware Gov. Jack Markell for their states to share online poker players should go live in four to six weeks. Sandoval said "technical glitches" delayed the rollout that was expected last summer, but he has been told by Nevada gaming regulators it now is "imminent."
 Sandoval said calls for Congress to expand legalized sports betting beyond Nevada "is on our radar." He said it is unclear what impact such a move would have and he may talk it over with casinos in the state. "I think people will still want to come to Las Vegas," he said.