Ashley's future uncertain despite positive evaluation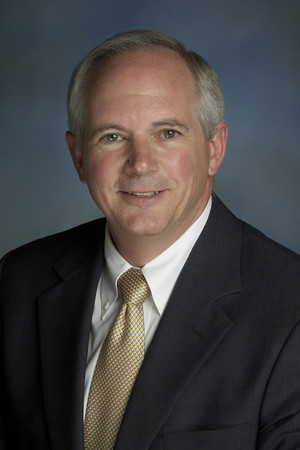 UNLV President David Ashley has been a solid leader who has the support of the vast majority of faculty, has a good relationship with the higher education system's governing board and has generated few serious complaints from students, according to his official performance evaluation.
And yet Ashley, who has been the university's president for three years, faces possible nonrenewal of his contract, demotion or even dismissal at a meeting Friday of the system's Board of Regents.
"There is very good data, there's strong evidence on how this process should go forward," Ashley said Tuesday. "That's what should be used in making this decision."
Higher education officials have criticized the evaluation as incomplete. The Review-Journal obtained a copy of the evaluation this week. It was completed in late June.
System Chancellor Dan Klaich said that after preliminary results of the evaluation were announced, "some folks who had been talked to didn't see the concerns they had raised with the evaluator in the report."
Regent Cedric Crear, chairman of the evaluation committee, echoed that. "A lot of what was told to the evaluator was not included in his initial report," he said.
The previous chancellor, Jim Rogers, who retired at the end of last month, has recommended that the board fire Ashley.
"The evaluation is inadequate," Rogers said Tuesday. "I don't think it's thorough."
He said the evaluator, John Welty, president of California State University, Fresno, did not talk to him during the evaluation. Rogers was at the time Ashley's boss.
In addition, Regent Mark Alden, somewhat of an Ashley critic of late, said he was not contacted.
Ashley's contract runs through next June. A special meeting has been set for 10 a.m. Friday at Desert Research Institute to go over Ashley's evaluation. The board could renew his contract for another three years, keep him on through the end of his contract, demote him to the faculty or fire him and pay the salary remaining on his contract, about $220,000.
Klaich said he has not decided on what to recommend to the regents, though he expects that he will make a recommendation of some kind.
The evaluation concludes that Ashley is a "quiet, brilliant leader" who could do more to publicize all the work he does behind the scenes for the university.
An accompanying survey of the university's faculty notes that 72 percent of the faculty members who responded were in favor of keeping Ashley.
Nasser Daneshvary, who was president of the Faculty Senate when the survey was done, said he was surprised when controversy about Ashley began to surface in the media. He said he stood by the methodology of the faculty survey and its results.
The system typically chooses the president of a similar institution to evaluate its presidents. Presidents are asked to submit a list of potential evaluators, one of which is chosen by the chancellor.
In this case, Rogers delegated the choosing to Klaich, who was then vice chancellor.
It turns out that Ashley and Welty know each other. Ashley used to serve in the administration of the University of California, Merced, which is near UC Fresno and within the same system.
Klaich said he expects that the board will take a look at changing how presidential evaluators are chosen. He did point out, however, that it probably would be impossible to choose an evaluator who had never had contact with the president to be evaluated. The population of university presidents at similar institutions in a nearby area is not unlimited.
Problems with Ashley began to surface after preliminary results of the largely positive evaluation were made public in May. Some faculty, staff and students have complained that Ashley has been disengaged from the university.
"It brought people out of the woodwork, people who have had a negative experience" said Regent Kevin Page.
Ashley laid the blame for the controversy on Rogers, but would not expand on why he thought that.
"This has been a pretty traumatic experience," he said.
Some have also complained that Ashley failed to stop his wife, Bonnie, from treating staff harshly.
Rogers said the initial copy of the evaluation that he saw made no mention of the alleged problems with Bonnie Ashley.
The final copy does, briefly.
"In the course of my review, I became aware that a few staff members had expressed concern about communications they had received from Mrs. Bonnie Ashley," the evaluator wrote. "Some staff reported feeling threatened by these communications and these issues were reported to President Ashley. Rather than intervening, he advised staff to work the issues out with Mrs. Ashley. It does not appear as though these issues have been resolved."
In his recommendations, the evaluator wrote that "it is important to address the issue of the role of the presidential spouse and what is the appropriate interaction with the President's staff."
Ashley noted that his wife wrote an apology after her role became controversial. He said she should be kept out of his evaluation entirely.
He said he and his staff "have a lot to be proud of," and that he was looking forward to continuing as UNLV's president.
None of the regents reached Tuesday would go on the record about how they would vote Friday.
"I haven't made up my mind," Regent Bill Cobb said. He believed the evaluation was incomplete — most notably that it did not reference former Chancellor Rogers' call for Ashley's firing.
"I find that puzzling," he said.
"Who knows what's going to happen?" said Regent Thalia Dondero.
"After it's voted on, you'll all know about it," said Regent Dorothy Gallagher.
"We'll see," said Crear.
Said Regent Jason Geddes, the vice chairman of the board: "I won't know until Friday."
Contact reporter Richard Lake at rlake@reviewjournal.com or 702-383-0307.
David Ashley self-evaluation and official evaluation