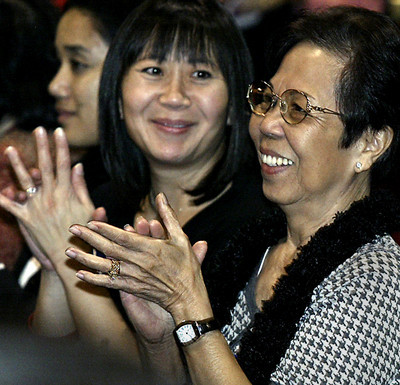 Three generations of the Koh family were at a Chinatown rally Monday afternoon meant to encourage more Asian American and Pacific Islander Democrats to participate in the upcoming presidential caucus.
But the Kohs didn't need any encouragement. Even 4-year-old Jordan, the youngest of the clan, knows something about politics.
When asked whom he supports in the caucus, the youngster, who was clad in a red, white and blue sweatshirt, answered: "Obama or Hillary."
Though Jordan remained undecided, his grandparents, Zaida and Ambrocio Koh, are staunch Hillary Clinton supporters.
"It's about time we had a woman president," Zaida Koh, 73, said.
"I think she's more frank, more sincere" than Obama, Ambrocio Koh, 76, said.
Jordan's mom, Katrina Koh, 41, said the concerns of Asian Americans and Pacific Islanders mirror those of the rest of the community.
"The economy, affordable health care, education, the housing market," she said.
But some members of the group may have stronger feelings about immigration than other minorities because they haven't been able to bring their families legally to the United States, while people coming over the border illegally get in right away.
Ambrocio Koh, for example, said he's been waiting years to bring his mother and sister over from the Philippines.
"It's not fair," he said.
Still, he favors a sympathetic approach to immigration reform.
"It's important to give people a chance if they're already here."
Monday's event may have been arranged partly in response to complaints to the Democrats that Asians were not being included in today's debate focusing on issues that concern minorities.
Asians comprise about 7 percent of Clark County residents, according to the U.S. Census Bureau.
But the Kohs and others among the crowd of more than 100 people said Asian Americans and Pacific Islanders, in order to get noticed, need to be more politically active than they have in the past.
"We have to come up, to push more like we're doing now," said Leddie Garcia, a 42-year-old entertainer who was sporting a mohawk and who identified himself as having "this whole Chinese, Pacific Islander thing going on."
Garcia said he's supporting Obama because of the candidate's ability to "pull everybody together."
Nevada's Sen. Harry Reid and Rep. Shelley Berkley attended the rally, along with Rep. Mike Honda, D-Calif., Rep. Eni Faleomavaega, D-American Samoa, and Rep. Neil Abercrombie, D-Hawaii.
Contact reporter Lynnette Curtis at lcurtis@reviewjournal.com or (702) 383-0285.