Assemblywoman Flores enters Nevada lieutenant governors race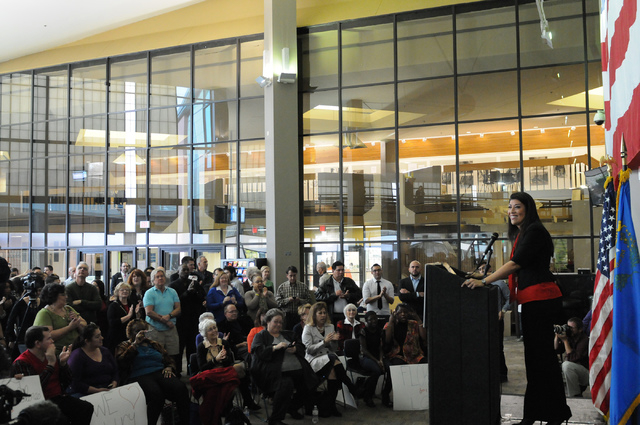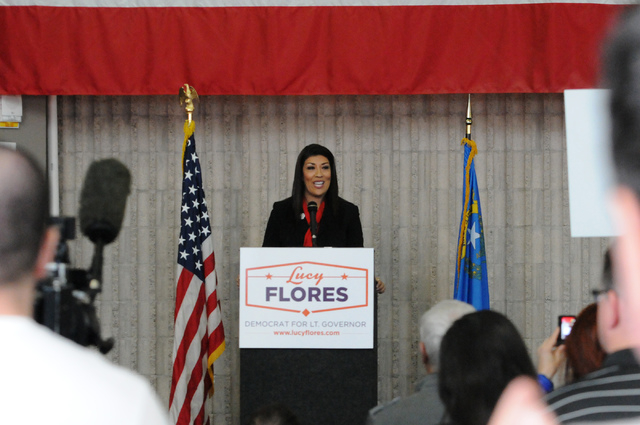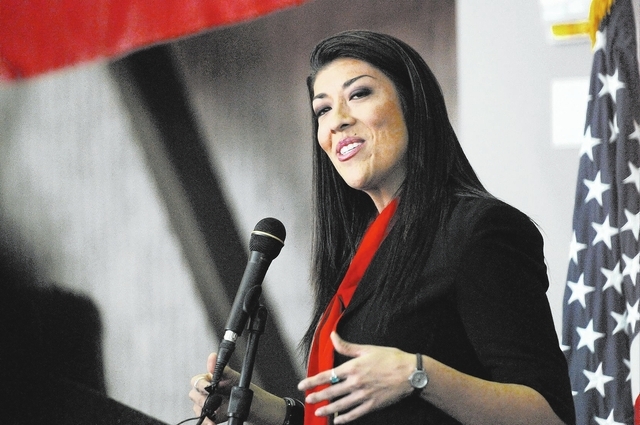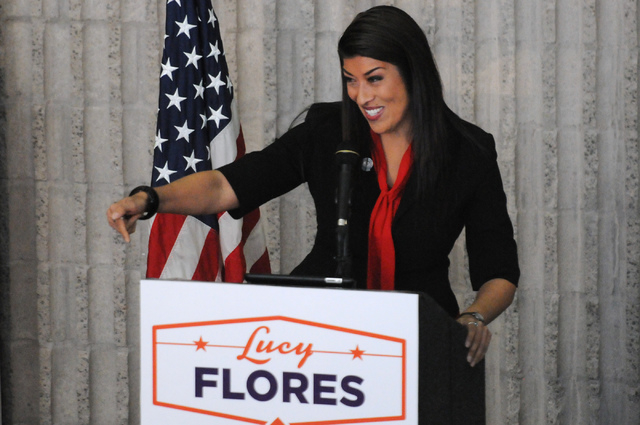 Two-term Democratic Assembly­woman Lucy Flores, a former Las Vegas teenage gang member who turned her life around, graduated from law school and won a seat in the Nevada Legislature, on Saturday announced she's running for lieutenant governor.
Although the official duties of the lieutenant governor are limited to tourism, transportation, economic development and presiding over the state Senate, Flores said she has greater ambitions if she wins the job. She said she would like to work on issues such as education, job training, consumer protection and domestic violence as she did while a lawmaker.
"I see it as an incredible opportunity to bring my fresh perspective to Nevada," Flores said in an interview. "Tourism and economic development are very important, but that's a narrow view of the job."
Flores noted that the lieutenant governor is allowed to introduce three pieces of legislation when the Legislature meets every two years. In addition, as the No. 2 official in the state, she said she would work to broaden her portfolio just as she has worked in the community and outside the Legislature on issues she cares about.
"Education has never been a priority for Nevada," said Flores, one of the first Latinas in the Legislature. "And it's tied to economic development. You can't attract businesses if you don't have an educated workforce."
If successful, Flores, 34, would be Nevada's first Latina lieutenant governor and would be in line to become governor if Gov. Brian Sandoval is re-elected but doesn't finish his term. Sandoval, a former federal judge, has said he plans to complete all four years, but he could run for the U.S. Senate in 2016 or win a judicial appointment.
Flores is getting some heavy-duty campaign help. Her acting campaign manager, Addisu Demissie, worked for U.S. Sen. Cory Booker, D-N.J., and for President Barack Obama's team. She also is being advised by Brandon Hall, campaign manager for U.S. Sen. Harry Reid, D-Nev., in 2010.
Reid immediately endorsed Flores, as did the state's top Democrats, including U.S. Reps. Dina Titus and Steven Horsford and Nevada Senate Majority Leader Mo Denis, D-Las Vegas, who introduced Flores.
"Lucy has experienced firsthand the challenges so many Nevadans face today," Denis said before nearly 200 people who turned out at the College of Southern Nevada Cheyenne campus, which she attended.
More than half of the audience was Hispanic, including a woman who held a sign saying: "Lucy Flores, One of Us."
If elected, Flores said she would have no trouble working with Sandoval, whom she described as "solution-oriented."
"We actually agree more than we disagree," Flores said, noting Sandoval signed each of her bills except one dealing with nutrition labels. "I think we have a great working relationship."
It's unclear whether Flores will face a primary opponent. Candidate filing opens Monday and closes March 14.
Former state Sen. Sue Lowden and state Sen. Mark Hutchison, Sandoval's choice, are running for the Republican nomination. Lowden and Hutchison have been campaigning and raising money for months, and a Republican in the No. 2 job would remove an issue for Sandoval if he chooses to leave office early.
Flores said she isn't worried about a late start. Although she's not well-known outside of Clark County, Flores said she plans to campaign in Washoe County and conduct rural tours. Growing up, she said she hunted and fished in rural Nevada, which is heavily Republican.
"I plan to communicate with every single Nevadan in Nevada," Flores said. "I'm not going to focus just on Las Vegas."
Flores said her personal story — two of her older brothers were killed because of drug violence — will help Nevadans identify with her because they have had their own struggles. Flores, who has a dozen siblings, moved to Las Vegas when she was 2 years old. Her mother left when she was 9. Flores joined a gang, stole cars, dropped out of high school, became pregnant and had an abortion.
Flores said a female juvenile probation officer helped her see she could overcome adversity.
Flores said one of her accomplishments as a legislator was changing the law so high school students take end-of-course tests to graduate instead of standardized tests that didn't cover subjects they had learned. She also helped pass a law to allow domestic violence victims to get out of their leases early if they feel threatened.
Flores said Nevada has needed to reform its tax system for decades, perhaps considering a broader tax on services that would allow sales taxes to fall. She said she hasn't taken a position on a proposed 2 percent margins tax on businesses, saying it's flawed, although she favors raising more revenue to fund education.
Contact reporter Laura Myers at lmyers@reviewjournal.com or 702-387-2919. Follow her on Twitter @lmyerslvrj.