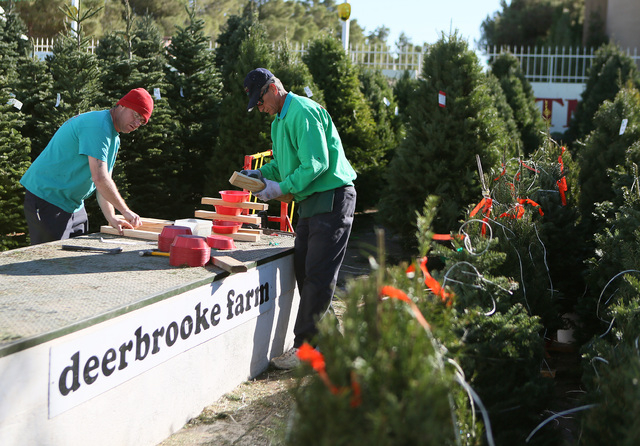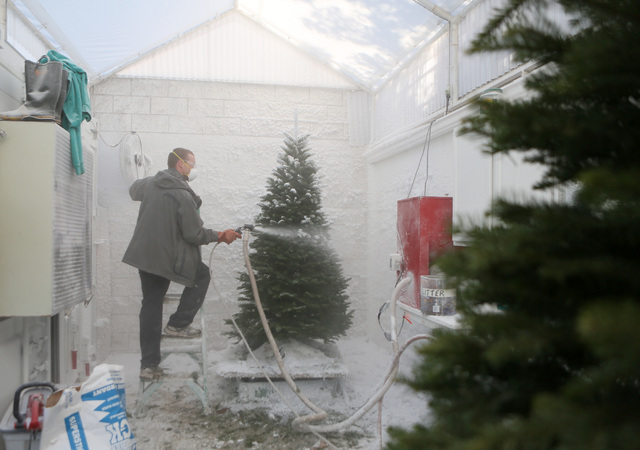 'Tis the season for seasonal jobs, seasonal businesses and seasonal drinks — like the eggnog latte.
But David Carter, 25, isn't an eggnog latte kinda guy.
When he's not shimmying up palm trees in the summer, risking his life to cut its fronds, he's "flocking" at one of the oldest Christmas tree lots around.
That would be Deerbrooke Farm on Charleston Boulevard just west of Torrey Pines Drive, owned by Capt. Steve Phillips, a Clark County firefighter.
Carter spray-paints the trees with a snowy white material. It feels a lot like papier-mache and is actually flame retardant,
although he suspects not many customers realize this.
"They just want to make the tree look nice and white and Christmasy, and that's where my job comes in," said Carter, a Las Vegas native and aspiring firefighter. "This takes a lot of finesse, believe it or not. You don't want to go too heavy or too light, depending on the customer, and they've all got their preferences."
This has been Carter's winter job for the past five years.
Phillips, his 51-year-old boss, has been running the farm as long as he's been fighting fires: 23 years.
Phillips handpicks the evergreens, which come from Oregon and Washington state. He makes the trip as early as July when it's too hot to even think about Christmas. That's when he makes sure they're disease-free, weed-free, and even spider-free.
Then he has the first batch of trees shipped by 18-wheeler by the day after Thanksgiving. This year, there will be 2,400 of them, all arriving at different times, depending on the species.
Phillips, who branched out on his own after selling Christmas trees with a buddy years ago, jokingly questioned why he does it with all the work involved. Fellow firefighters who work there describe him as meticulous, noting that if water isn't in a particular tree stand, they'll be the first ones to know.
Earlier this week, when strong winds descended on the valley along with a cold front that burst pipes and froze fingers, Phillips pointed out that not one of his trees toppled.
"That's because they're secured," he said.
Krista Benites, his daughter, serves as the cashier. She knows the trees well.
There's the Grand fir, which is the most pine-smelling of the bunch. If you punch a small hole in the trunk, the sap explodes with pine scent. Unfortunately, it's also the quickest to turn brittle, which is why the shipment is due in next week and not earlier.
Then, there's the Douglas fir and the Noble fir, two of the most popular trees and the most hearty of the bunch, and the Nordman fir, which has little pine scent but is the longest lasting.
Because Phillips is a firefighter, most of his employees are firefighters, too. Some helped secure subdivisions on Mount Charleston threatened by burning pines earlier this year.
As a firefighter in downtown Las Vegas at Station 14 for 14 years before moving to Station 66 at Blue Diamond Road and Buffalo Drive, Phillips has extinguished a few Christmas trees that have caught fire in people's homes.
He offered this safety tip: Keep your trees watered. All the time. Hot water is usually the best.
Contact reporter Tom Ragan at tragan@reviewjournal.com or 702-224-5512.