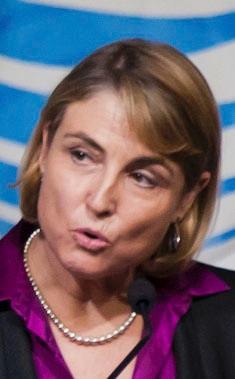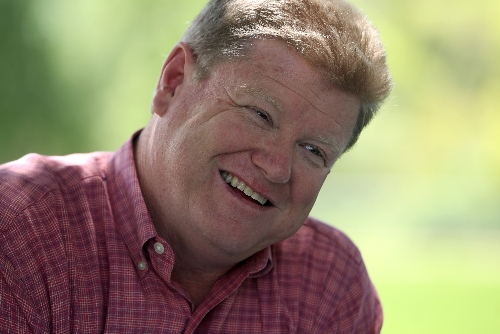 CARSON CITY — Ninety-year-old Republican matriarch Barbara Vucanovich used one word to describe the television attack ads of 2nd Congressional District candidates Mark Amodei and Kate Marshall.
"Disgraceful," she said following a debate in Reno between the candidates, who are vying to replace Republican Dean Heller, who moved to the U.S. Senate in May after the resignation of John Ensign.
Early voting for the contest, which will be decided in a Sept. 13 special election, began this weekend in the sprawling, 105,000-square-mile district that covers the entire state except the urban part of Clark County.
If you judge Democrat Marshall, 52, from the ads by Republican Amodei and his friends, then she is an incompetent state treasurer responsible for the state's 12.9 percent unemployment rate, one who needlessly lost $50 million on investments and backed a $500 million tax on state businesses. What's more, she favors a federal law that cuts $500 billion in Medicare payments.
If you listen to the ads that Marshall runs against Amodei, he comes across as the guy most responsible for an $833 million state tax increase that included a despicable job-killing payroll tax. That makes Amodei, 53, a former Republican state senator, responsible for the state's high unemployment rate. And Amodei also wants to destroy both Medicare and Social Security.
Baloney.
The campaigning in this race, one that has captured national attention, has been characterized by distortions.
So, who are Kate Marshall and Mark Amodei, really?
WHO IS KATE MARSHALL?
Marshall was reared in San Francisco and now lives in Reno. She is the divorced mother of two daughters, ages 12 and 15.
Marshall served in the Peace Corps and then became a lawyer, working on anti-trust cases for the U.S. Department of Justice.
Then-state Attorney General Frankie Sue Del Papa brought her to Nevada in 1997 to head her new anti-trust unit.
"Kate is very personable," Del Papa said. "She is very down to earth, very enthusiastic."
After Del Papa left office, Marshall became a lobbyist in 2003, representing telecommunications companies before the Legislature.
Despite what Amodei's camp alleges, Marshall said she did not lobby on any tax matters that session, although her employer, longtime lobbyist Sam McMullen, did.
Marshall then worked as a private lawyer in Reno before winning the state treasurer's seat in the 2006 election.
As state treasurer, Marshall has been praised by both parties, including former Republican Gov. Jim Gibbons, for finding extra unclaimed property funds that alleviated some budget cuts during two special legislative sessions.
State treasurers also have nothing to do with unemployment rates.
Contrary to the attack ads, the state Employment Security Division administrator, not Marshall, authorized a higher unemployment tax last December on businesses. Marshall only proposed a financing plan to reduce the blow.
She lost money on a Lehman Brothers investment, but almost everyone did during the stock market crash in 2008. The actual loss is more like $25 million, not $50 million, and could be less, as Lehman Brothers is recovering.
She also was not a member of Congress last year when the Affordable Care Act, called "Obamacare" by critics, was approved. Democrats contend the plan will save about $500 billion in Medicare costs, while Republicans contend it decreases benefits by that amount.
Marshall asserts her work in finances over the last 4½ years as treasurer gives her the advantage in the race and should be a key reason for people to vote for her.
"This is the time for someone with financial expertise. We have huge financial issues, and that is my area of expertise."
WHO IS MARK AMODEI?
A native Nevadan, and Carson City resident, Amodei has been a private lawyer for 24 years. He is the divorced father of two adult daughters.
He served two years in the Assembly and 12 years as a state senator before being termed out after the 2009 session. He also served as state Republican Party chairman until June. He is a former member of the Colorado River Commission and former president of the Nevada Mining Association.
State Sen. Barbara Cegavske, R-Las Vegas, said Amodei was known for his "wit" and brains during his legislative career. He was a leader in the Republican caucus and frequently served as chairman of the Senate Judiciary Committee.
More than any legislator, he was known to joke with his colleagues.
The attack ads are truthful in bringing up that Amodei did vote for payroll and other tax increases as a legislator. But so did every member of Marshall's party as well as Republican leaders in the state Senate. Amodei said the $833 million tax plan they approved in 2003 was far better for business than a proposed tax on all business income. And he said the tax increases were needed to fund education.
Then in 2009, Amodei voted against a $780 million tax increase, arguing against more taxes during a recession.
For his efforts working with Democrats toward compromises in 2003, Amodei was named the best state senator in a Review-Journal poll of legislators, lobbyists and the media.
In May, he did praise a plan by Rep. Paul Ryan, R-Wis., that would cut Medicare and Social Security benefits, but Amodei insists he made those comments when the Ryan plan was the only budget-cutting plan under consideration. Now he says he would vote against the Ryan plan and opposes any Medicare or Social Security cuts for current recipients, or anyone within 10 years of retirement.
Amodei contends he is a better candidate because he is a lifelong resident of the district who served a long legislative career, once headed the Mining Association and the state Republican Party, and has worked 24 years as a private lawyer.
"I know the community, I know the issues, and I have a proven track record of serving people and taking on tough political issues and voting the way I feel I should, regardless of whether it is a political thing," he said.
HOT TOPIC: MEDICARE
The biggest worry for 2nd Congressional District voters is that their Social Security and Medicare will be reduced just as they enter what should be their golden years. Several national and state polls since May have found more than 70 percent of respondents say they rely or will rely on Medicare and Social Security and they oppose any cuts now or in the future.
Fred Lokken, a political science professor at Truckee Meadows Community College, said Democrats have seized upon the public fear that Republicans will cut Medicare. This strategy helped Democrats win two congressional seats earlier this year. In the coming U.S. Senate race, Rep. Shelley Berkley, D-Nev., already is charging that Heller would destroy Medicare, although he says that is not true.
"The Democrats think their Medicare strategy has a lot of traction," said Lokken, who nonetheless expects a decided Amodei victory. "Most of our voters are over 50, and the older you are the more likely you vote."
If elected, Marshall said she will work to fence off Medicare and Social Security so their funds are not raided by Congress to pay other bills. Social Security has a $2.2 trillion surplus and will "be fine" as long as Congress doesn't get its "grubby hands" on it, she said.
Amodei has pledged not to reduce any benefits for people receiving Social Security or Medicare now, or for those within 10 years of retirement.
But he believes these programs eventually will go into default unless their benefit plans are amended for people at least 15 years away from retirement. Congress should consider changes such as increasing the age for eligibility and a means test for future retirees, he said.
"I will do nothing to people on Social Security and Medicare now," said Amodei who has resorted to using his 79-year-old mother, Joy, in ads to tell people he won't cut these programs. "I don't know how many times I can say that."
CREATING JOBS
Creating jobs and potentially cutting federal spending are other top issues in the race.
Marshall favors giving tax breaks to companies that hire more workers.
"For every person you hire, I will give you a tax break," she said. "Nevada has high unemployment because we have the opposite tax policy. We have a payroll tax and one of the fathers of that policy was my opponent. That is the dumbest tax policy you can have."
If cuts must be made, Marshall said, Congress first must look at ending subsidies for businesses and the wealthy. Subsidies to yacht owners, horse breeders and auto companies should be cut.
"Now we give subsidies to companies, even to companies that create jobs overseas," she said.
Amodei said he would create more jobs for the district by working to free public land for the development of ranches, mining and renewable energy projects. Eighty-five percent of Nevada is federally controlled land.
"I will help business through the regulatory process," he said. "I will ask: What's the problem? What can we do? What's the holdup?"
While offering no specifics, Amodei favors 4 percent federal spending cuts each year for the next five years.
He blames both parties for the annual $1 trillion-plus-a-year federal budget deficits.
"The Democrats did it; the Republicans voted for it, too. They never had a discussion on how to pay for all the increases."
A REPUBLICAN DISTRICT
There is little buzz on the street about the election, and few campaign signs have been placed in front of homes and businesses for either candidate. The race has attracted considerable attention at the national level, however.
The National Republican Congressional Committee has spent $537,800 on ads attacking Marshall. House Speaker John Boehner raised funds for Amodei in a private Reno appearance.
Former President Bill Clinton emailed residents asking them to contribute to Marshall's campaign; the campaign has not released how much those pleas raised in contributions.
Lokken said he doesn't believe the national Democratic Party has contributed much to her campaign because they don't think she can win the race in such a heavily Republican district. The 2nd Congressional District has 30,000 more registered Republicans than Democrats.
The winner will take office in early October, which means that although they might miss votes in September to extend the federal gasoline tax, the winner will cast votes on proposed tax increases and budget cuts, which are likely to come up just before Christmas.
University of Nevada, Reno political science professor Eric Herzik said Marshall has gone to the right in order to pick up votes in the district, which might hurt her among Democrats. He said the district is "safely Republican," and that Amodei likely wins unless Marshall can come up with some earth-shattering revelations about him.
Republicans have triumphed in every 2nd Congressional District election since Vucanovich first won the seat in 1982.
Contact Capital Bureau Chief Ed Vogel at evogel@reviewjournal.com or 775-687-3901.
WHERE TO VOTE EARLY
If you are one of the 33,727 Clark County registered voters who live in Nevada's sprawling 2nd Congressional District, then you can vote in the Sept. 13 special election.
The district covers all of the state except for the Las Vegas metropolitan area.
Voters in Mesquite, Moapa Valley, near Nellis Air Force Base, Jean, Goodsprings and other outlying areas will receive sample ballots from the Clark County Election Department.
If you want to vote early, then visit one of these locations:
• Clark County Election Center, 965 Trade Drive, North Las Vegas. Office will be open for early voting from 8 a.m. to 5 p.m. on Monday through Sept. 3, and Sept. 6 through Sept. 9.
• Mesquite, Deuce 2 Building, 150 N. Yucca St., 8 a.m. to 5 p.m. Monday through Wednesday.
• Sun City Anthem Community Center, 2450 Hampton Road, 8 a.m. to 5 p.m., Sept. 1-2.
• Smith's, South Highlands Marketplace, 1066 S. Highlands Parkway, 9 a.m. to 6 p.m. Sept. 6-7.
• Solera Anthem, 2401 Somersworth Drive, 8 a.m. to 5 p.m., Sept. 8-9.
SOURCE: Clark County Election Department