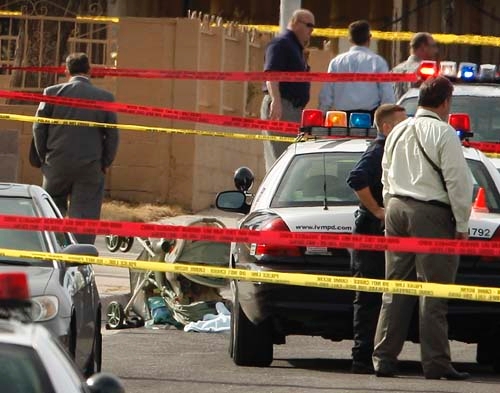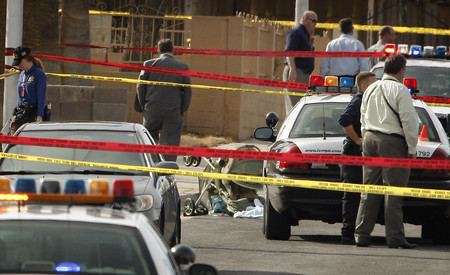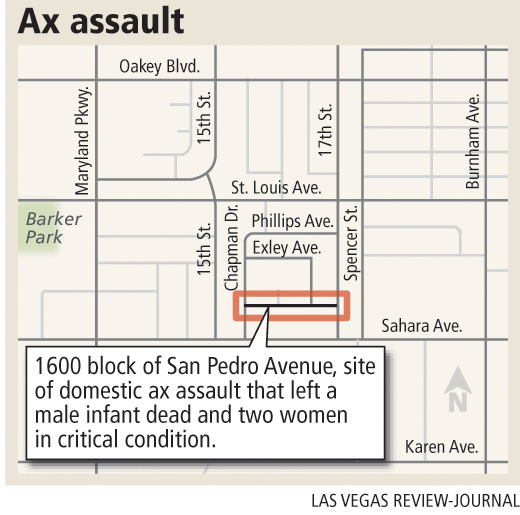 Police say an ax-wielding man on a rampage in a central valley neighborhood critically wounded his disabled sister-in-law Thursday before severely injuring a woman and killing her 4-month-old son.
The attacks occurred in an older neighborhood within view of the Stratosphere, where police believe 33-year-old Harold E. Montague first took a hatchet to his sister-in-law in a rear bedroom of their single-story home.
Montague was supposed to be the caregiver for the disabled woman while his wife, the woman's sister, was at work, Las Vegas police Lt. Lew Roberts said.
Police believe Montague then ran outside, where a woman was pushing her 4-month-old son in a stroller. Montague attacked them both with the hatchet, killing the infant and critically wounding the mother, Roberts said.
Montague did not know the woman or her son, and police believe the attack was random.
"She may or may not live, and if she does live, she's going to be disfigured for the rest of her life," Roberts said of the mother.
Detectives have not identified a motive for the 11:51 a.m. attack. Montague told police he doesn't remember what happened, Roberts said. If Montague is mentally ill, investigators aren't aware if he has been formally diagnosed, Roberts said.
Officers arrived at the home, at 1609 San Pedro Ave., near Sahara Avenue and Maryland Parkway, to find the infant under an overturned stroller and the mother lying next to him in the street. Both had wounds on their heads and bodies, police said.
A witness told officers that Montague had fled inside, and as they approached the house, Montague came outside without the ax and attacked one of them, according to police. The officer received minor injuries.
Inside the home, the sister-in-law was found with multiple stab wounds. She was taken to University Medical Center in critical condition. She was unconscious Thursday night but was expected to survive, Roberts said.
The infant's mother was taken to Sunrise Hospital and Medical Center in "extremely critical" condition, police said.
Two of Montague's young children were home when the attack took place, Roberts said. They, along with a third child who was in school at the time, were taken into care by Child Protective Services.
Roberts called the attack "terrible" and "very sad."
"This is the worst nightmare that can happen to someone who is minding their own business," he said.
The attack left neighbors shaken in the community of older, ranch-style homes.
Jack Webb III, who has lived in the neighborhood for nearly 30 years, said he walked outside and saw the dead child in the street and a woman being carried on a stretcher into an ambulance.
"She was pretty cut up from head to toe, to tell you the truth," he said.
An overturned stroller was in the street hours after the attack, while investigators canvassed the area.
A 25-year resident of the neighborhood was driving home from a tile store when he had to swerve to avoid two bodies in the middle of San Pedro.
The man, who asked that his name not be used, said one victim appeared to be a baby and was under a stroller. The other victim was a bloodstained adult. He went home and called 911. By the time the dispatcher asked him for the address, two police cars came down the street with sirens blaring. He said he wasn't frightened at first because he believed it to be a domestic violence situation.
"The neighborhood has been real safe," he said.
Neighbors said the people who live at the home were relatively new to the area. No one seemed to know them well.
Luis Arzate, who has lived in the neighborhood for 12 years, said the family seemed to be a quiet one. He said three adults and three children inhabited the home.
Montague is being held at the Clark County Detention Center without bail on one count of murder with a deadly weapon, two counts of attempted murder with a deadly weapon and one count of attempted murder on a police officer.
Review-Journal writer Mike Blasky contributed to this report. Contact reporter Lawrence Mower at lmower@reviewjournal.com or 702-383-0440. Contact reporter Antonio Planas at aplanas@reviewjournal.com or 702-383-4638.