Attorney pleads guilty in Las Vegas court counseling scheme
December 11, 2013 - 5:24 pm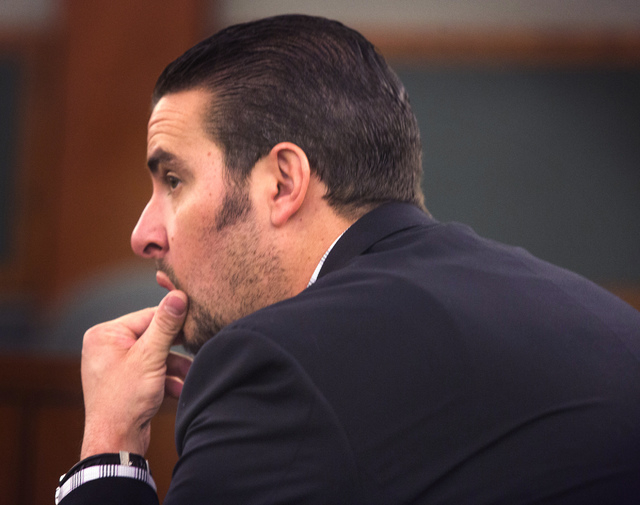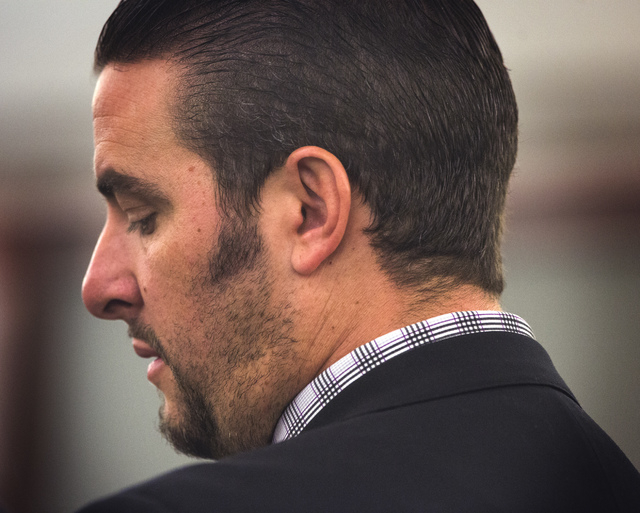 Defense lawyer Brian Bloomfield pleaded guilty in District Court Wednesday to several felony and gross misdemeanor charges in a sweeping courthouse counseling scheme.
As part of his deal, Bloomfield will cooperate against at least three other defendants charged in the high-profile scheme, which unfolded between February 2008 and May 2010.
A fifth defendant, Bloomfield's wife, Amber McDearmon, has been negotiating a plea agreement with prosecutors.
Bloomfield, 38, former counseling service owner Steven Brox, 48, and juvenile probation officer Robert Chiodini, 43, were first charged in a 52-count indictment in December 2011. They were accused of providing prostitutes and other defendants with phony certificates of completion for court-ordered counseling and community service to resolve misdemeanor cases in Las Vegas Justice Court.
Later, McDearmon, 30, and former bail bondsman Thomas Jaskol, 34, were charged in a superseding indictment that included new allegations they conspired with Bloomfield to destroy evidence.
All of the defendants are free on bail in a case, first reported by the Las Vegas Review-Journal, that has dragged through the court system the past two years.
Bloomfield, who appeared before District Judge Jessie Walsh with his lawyer William Terry, pleaded guilty to two felony charges, forgery and offering a false instrument for filing or record, and two gross misdemeanors, conspiring to commit a crime and destruction of evidence.
He faces a maximum of 11 years behind bars at his April 16 sentencing, but also is eligible for probation. He also faces an automatic temporary suspension of his bar license after his sentencing, as well as possible additional disciplinary action.
Bloomfield admitted to Walsh that he knowingly filed forged documents with the courts and destroyed evidence during the criminal investigation.
He declined comment afterward. So did Terry and Chief Deputy District Attorney Michael Staudaher, who is prosecuting the case.
The destruction of evidence allegations revolved around the testimony of Brandon Snowden, a now-imprisoned felon and former Bloomfield employee. Snowden, 30, told the indicting grand jury that he helped Bloomfield, McDearmon and Jaskol destroy office records linked to the investigation during a late-night rendezvous following a police raid in April 2010.
At the time, Bloomfield and McDearmon were not married, but were living together. The couple later had twins and were married in January 2012.
McDearmon has a gross misdemeanor conviction for conspiracy to commit burglary, and her case is one of those identified in the superseding indictment as including phony certificates of completion.
Bloomfield represented McDearmon, who never showed up for dozens of hours of court-ordered community service, but ended up getting certificates of completion for the hours, according to grand jury transcripts
Jaskol co-owned Downtown Bail Bonds, 608 S. Third St., in April 2010 when the law office records were destroyed, the transcripts show. The company's corporate license was later revoked.
Snowden, who was an office runner until he was fired in the middle of the criminal investigation, gave police three bags of shredded documents from Bloomfield's office at 810 S. Casino Blvd.
A police forensic scientist spent 2½ months assembling — piece by shredded piece — a pile of documents that played a role in helping prosecutors obtain Bloomfield's indictment.
Brox's former company, United States Justice Associates, was well-known at the Regional Justice Center, especially at Las Vegas Justice Court, where its counseling services were offered at the time of sentencing in mainly misdemeanor cases.
Bloomfield, who represented the prostitutes and other defendants, was considered by Las Vegas police to be the central figure in the counseling scam.
Bloomfield was alleged to have carried out three separate schemes:
— He had an employee complete online AIDS awareness and other counseling programs for clients through a court-approved educational service.
— He obtained certificates of completion from Brox's company for clients, knowing the clients never fulfilled the counseling obligations.
— He bought phony certificates for clients from Chiodini that stated the clients had completed court-ordered community service with a nonprofit organization affiliated with boxing gyms Chiodini ran.
Investigators alleged that Bloomfield's clients likely never even knew about the schemes. In some cases, the certificates were filed in court. Some were presented to the prosecutors to falsely show the clients had fulfilled the sentencing requirements. And in other cases, judges simply took Bloomfield's word that the requirements had been met, investigators alleged.
Contact reporter Jeff German at jgerman@reviewjournal.com or 702-380-8135. Follow him on Twitter @JGermanRJ.