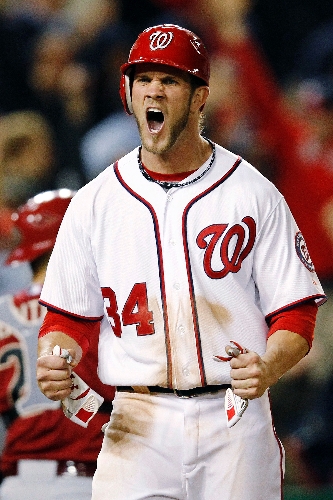 Deadline had passed, and I was without a lead, again.
It was 6 p.m. Wednesday, and I was hoping my best shot, Rob Miech, author of the Bryce Harper book "The Last Natural," might call in time.
Down to my final pitches, I was frantically leafing through the book, hoping an anecdote would leap off a page. The phone rang. It was Miech, calling from his car after taking in UNLV's baseball game.
Had he heard the news? No.
Last I checked, I told him, Harper had two hits and put the host Washington Nationals ahead 3-2 in the fourth, but the team trailed the Arizona Diamondbacks 4-3 going into the ninth.
Typical baseball nuts, we agreed that the idea that Harper might do something dramatic while we were on the telephone was just too cool.
Meantime, my deadline had gone deep into extra innings, and I needed something fast.
Like any author, Miech made a quick promotion pitch. The book comes out June 5, he said, and his first book signing is June 9, at Barnes & Noble in Henderson, corner of Stephanie and Sunset, from 1-4 p.m.
I had to run, but I checked ESPN.com for an update for Miech, who had stopped at Casa di Amore for dinner.
Harper had doubled to lead off the ninth, I told him. Gotta go. As I was rushing to finish this item, I checked again and called Miech. His first beer had arrived as he had walked outside to take the call, he said.
The Nationals had just won, 5-4, on a two-run, two-out home run by leadoff hitter Ian Desmond after Harper, all of 19, ignited the rally.
"No-o-o-o-o!" Miech said, in disbelief. "The prince of Las Vegas. That's incredible."
The legend grows.
ANOTHER 'EXCLUSIVE'
A local celebrity blogger who is crowing about "another blockbuster exclusive" needs to fire one of his sources or hire a fact checker.
Or learn how to Google.
He began his Monday blog in typical blowhard fashion, saying his latest report will probably "be denied and dismissed as speculation, and I will be under fire for yet another supposed exclusive."
He got that last part right.
He added, "Now I am reliably hearing" that Treasure Island owner and billionaire Phil Ruffin has purchased a 92-room "megacompound" previously owned by Prince Jefri of Brunei."
He concluded, "I am reliably told that construction work on the Ruffin remodel has started."
Google those names, and you will find the Ruffin purchase was reported here on May 9, a YEAR ago.
And the home described by the super scooper is on Tomiyasu Lane and was owned by a businessman Eric Peterson, who bought it from the Sultan of Brunei. Ruffin and his family moved in shortly after the $16 million purchase and began remodeling.
As for the "megacompound," also owned by the sultan, that's located at Spanish Trail, where the confused blogger resides.
THE SCENE AND HEARD
Correction: SK+G public relations, mentioned here on Wednesday in connection with the premiere Monday of AMC's "The Pitch," is based in Las Vegas. Its satellite office in New York was also involved in the opening episode.
SIGHTINGS
Carson Kressley and Dmitry Chaplin of "Dancing with the Stars: Live in Las Vegas" (Tropicana), taking in "Viva Elvis" (Aria) on Tuesday night. … Entertainer Steve Lawrence, actor Dennis Farina, entertainer Dennis Bono and restaurateur Dennis Mastro, teaming up as a golf foursome Tuesday at Las Vegas Country Club.
THE PUNCH LINE
"Did you see who President Obama brought along with him to keep an eye on the Secret Service on his latest trip? Tim Tebow." – Jay Leno
Norm Clarke can be reached at 702-383-0244 or norm@reviewjournal.com. Find additional sightings and more online at www.normclarke.com. Follow Norm on Twitter @Norm_Clarke.