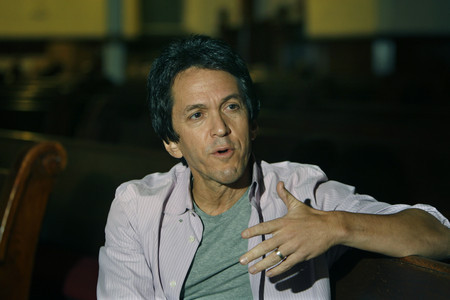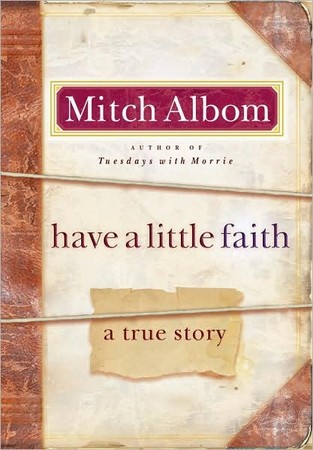 Mitch Albom, 51, grew up in the warmth of a fortunate childhood in New Jersey. Not poor. Not struggling. He was just another kid saturated in religion in Hebrew academy, absorbing every book of the Bible in English and Aramaic.
"And then I walked away from it," he says. "Not because I was mad at it, or anything. I just thought, 'I've had enough of that,' and I started to get into life and doing things, and succeeding, and ambition."
He spent his days in prosperity, and his years in pleasures.
After earning degrees in sociology, journalism and business, he became America's most award-winning sports columnist, in Detroit, penning best-sellers on college football and basketball. He still appears on ESPN's "The Sports Reporters."
But one night in 1995, Albom was struck with a heavy moral emotion: guilt. His reaction to it would catapult him to broader fame outside of sports, while also putting him in a position to start four charities for homeless shelters and needy kids, seniors and handicapped people in Detroit.
"To be honest," he says of his charitable focus, "I think it began with guilt — with Morrie."
That night in 1995, Albom saw a TV interview with Morrie Schwartz, a professor he knew while studying at Brandeis University. Morrie was dying of ALS, Lou Gehrig's disease.
Until that point, Albom was no philanthropist.
"I was well known and pretty successful in my field," he says, "and I didn't think a whole lot about what life was.
"But I felt guilty when I saw him on TV. And I hadn't kept in touch with him. I went to see him once, and he said, 'Will you come back again?' And I said, 'OK.' And one (visit) led to another. When he said he couldn't pay his medical bills … I felt like I needed to do something, not just walk away from it."
Albom wrote about his conversations with Morrie in what became the wildly popular book, "Tuesdays with Morrie." He used money from the book to pay Morrie's medical bills.
Albom continues to give in many ways. Ten percent of profits from his new book, "Have a Little Faith," goes to homeless shelters.
To research "Faith," he slept on shelter floors with homeless people, raising money for the shelter, and getting to know a minister who shepherds them. (He speaks about the book on Sunday at Temple Beth Sholom, 10700 Havenwood Lane.)
Albom doesn't see anything remarkable about his potential.
"I'm not any better than anybody else. Left to my own devices — and if nothing had ever came in my path that tugged at my heart — I probably would have just pursued my own personal interests."
But as Albom will tell you (as people in charity often say), helping people begets helping people, because the needy seek those who already aid others.
"Pretty much every day of my life, I'm meeting somebody who's lost somebody, or dying themselves and wants to tell me their story. So a day doesn't go by that I'm not made aware of the sadness of the world, or the grief, or the preciousness of life.
"And you realize you can't walk away from that moment."
Albom imagines his parents instilled into him that inability to turn away.
"A lot of kids are raised with religion and raised the right way to do the right thing. And then we become adults and get caught up in stuff. It's a hard thing, being an adult in America. Your head is spinning all the time. Just to get it straight, as to what's important, is a rare thing."
Albom doesn't think of himself as a pious man. If anyone else thinks that, that's their problem, he says.
"I'd rather they think I was pious than they think I was a fall-down drunk, partier, reality-TV star," he says. "If people are going to make assumptions about you, let them make assumptions that you're trying to be good."
There are difficult nights. Sometimes, he gives a speaking engagement, and people swarm him to tell him about somebody who is dying or who has died.
Then he'll drive home, and his wife, Janine, will start to tell him a friend is sick.
"And I'll say, 'I can't hear anymore sad stories today. Let's talk about it tomorrow. I can't hear one more sad story. Life can't be just everybody's sad story."
So he tries to lead a joyful life, hanging with friends, or playing piano in an occasional band called the Rock Bottom Remainders with Stephen King, Amy Tan, Dave Barry and other authors. (The band donates to charities, and asks fans to do the same.)
"You have to have a balance in life," Albom says. "Any of these people I admired — who I think are really good, special righteous people — none of them ever said to me, 'Spend every minute of your day in sorrow and woe for the people who have it bad.'
"That's not celebrating life either.
"I actually joke around more than the average guy, which sometimes throws people, because if they just read your book, they think you must be very solemn. But I'm not a solemn person.
"You can still do (charity) while living a regular American life. That's one of the reasons I don't quit 'The Sports Reporters,' or quit doing a column, or playing with a band," he says.
"I want to show you can also live deeply in the moment. I think that's a good example, too."
For all the suffering he sees, he does not cry himself to sleep. Instead, he feels gratitude.
"I get up in the morning here in Michigan," he says. "I drive into the city, and I'm in a blown-apart city. I mean, Detroit is just blown apart. It's got (18) percent unemployment.
"I go to the area where the church is, which is just devastated.
"They had to build a tent inside the church, and pray under a tent, because the heat was shut off, and the snow was coming into a hole," he says.
"Every time it rains, I know the whole front vestibule is soaked … and people are sleeping on the floor.
"And I drive back home and I sleep in my nice bed in the suburbs.
"And I find the reaction I have is: overwhelming gratitude. And I mean overwhelming in that physical sense — like, I don't know what to do with it.
"I was never a big prayer person, or a big ritual person. But I do find myself saying, 'God … thanks for giving me a warm bed, and a nice life, and walls that don't leak, because a half-hour ago I was in a place where I was watching men fall asleep on mats on floors, and now I'm in my own bed. How can that be? Why is there such a difference between me and them?'
"I'll never complain about anything."
His hope is for me, and you, to find something that draws us to give. He's certain it's within us.
"All you have to do is spend five minutes" among less fortunate people "to say, 'I gotta do something,'" he says.
"I don't even know you, and I know you wouldn't walk away from that."
Doug Elfman's column appears on Mondays, Tuesdays and Fridays. Contact him at 702-383-0391 or e-mail him at delfman@reviewjournal.com. He also blogs at reviewjournal.com/elfman.
Speaking engagement
Mitch Albom speaks about his new novel, "Have a Little Faith," starting at 6 p.m. Sunday at Temple Beth Sholom, 10700 Havenwood Lane, co-sponsored by the Jewish Community Center of Southern Nevada and Temple Beth Sholom. Tickets and donations list from $25 to $100. For more information, call 702-794-0090 or 702-804-1333.