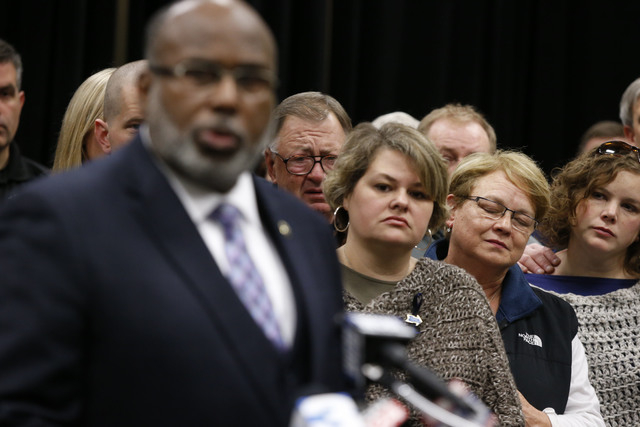 PHOENIX — Investigators on Monday tried to piece together how a man connected to two bank robberies in the Southeast ended up 1,500 miles away in Phoenix, where he died in a police shootout after another heist.
Mario Edward Garnett, 40, was fatally wounded Saturday morning as he fired a pistol at a police officer while trying to flee the Compass Bank branch he held up in west Phoenix, police said.
Authorities have connected Garnett to a Dec. 23 bank robbery attempt in Atlanta, a bank robbery later that same day in Tupelo, Miss., and the shooting death of Tupelo Officer Gale Stauffer and the wounding of Officer Joseph Maher.
The robberies came about five months after his release from federal custody. He served nearly two years in prison after pleading guilty to threatening to kill President Barack Obama in 2010.
Authorities tied Garnett to the cross-country robbery spree through his cellphone. Records showed his phone was in Atlanta, Phoenix and Tupelo at the time of each incident, said the FBI's special agent in charge in Jackson, Miss.
The agent, Daniel McMullen, said there were "numerous similarities" between the three bank robberies, including the clothing worn by the suspect and statements he made during the incidents.
A 12-second clip of surveillance video released Monday by Phoenix police shows the man walking into the bank wearing a dark ski cap and a bandanna over his face.
He first stops to place something on the floor to keep the door from closing behind him, then moves briskly into the bank pointing a handgun.
Another video clip shows the robber, still holding a gun, pulling a bag from his back pocket. On the last few seconds of the video, the man walks to the exit holding the bag and picks up the doorstop before dashing outside.
But many questions still remain about the robberies and Garnett's trip from Mississippi to Arizona.
The Phoenix Police Department said Garnett had no known family, friends or other connections to Arizona. It was unclear where Garnett had been and what he had been doing while in Arizona. He drove a rental car, but Phoenix police said it wasn't rented in Phoenix. They aren't revealing where it was rented.
The FBI offices in Mississippi and Arizona declined to comment Monday on the robberies.
Rick Rains, a spokesman for the FBI office in Oklahoma City, where Garnett once lived, said it's rare for bank robbers to target locations in multiple states so far apart and suggested it would require additional planning by the suspect.
"Most of the robberies we have are local or regional, and so it's a little bit unusual," Rains said. "I think a lot of times bank robberies are just desperate people that are looking for money. It takes a little bit of planning to travel and move from place to place like that."
In 2010, Garnett pleaded guilty in Oklahoma to a federal charge of threatening to kill and inflict bodily harm on the president. The Secret Service said in court documents that Garnett posted threatening comments about Obama and Israeli Prime Minister Benjamin Netanyahu on the official White House website in August 2010.
During a search of his Oklahoma City apartment, investigators said they found files on his computer containing a purchase list for pistols, rifles, ammunition and explosive devices.
Garnett served his sentence from November 2011 until July 2013 at the low-security Federal Correctional Institution in Fort Worth, Texas.
The judge in his case had recommended that Garnett be put in a facility to let prison authorities evaluate and address his mental health. U.S. Bureau of Prisons spokesman Chris Burke declined to say whether Garnett received mental health treatment while at the Texas prison.
The FBI hasn't named Garnett as robber in Atlanta and Tupelo but has said the suspect killed after the Phoenix robbery is believed to be the same man suspected in the other two heists. Phoenix police identified Garnett in Saturday's robbery.
Police said that after getting an unspecified amount of cash, he left the bank and opened fire on a responding officer. A detective then shot and killed Garnett. No officers, bank customers or employees were injured.
Five days earlier in Atlanta, an armed man wearing a ski mask tried to rob a Bank of America branch, authorities said. After failing to get any money from a teller, the man demanded and received an undisclosed amount from an ATM user in the bank's lobby.
Later that day, someone stole an undisclosed amount of money from the BancorpSouth in Tupelo, Miss., before fleeing, the FBI said. The suspect ambushed two officers responding to a bank alarm, killing one and wounding the other, McMullen said.
———Sean Murphy reported from Oklahoma City. Michael Kunzelman in New Orleans, Holbrook Mohr in Jackson, Miss., and researcher Rhonda Shafner contributed to this report.