Aviation buffs mourn bomber that had visited Las Vegas valley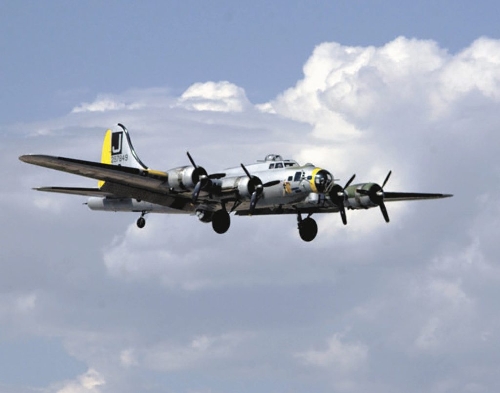 Like many of the World War II bombers before her, the B-17 Flying Fortress known as Liberty Belle burned up this week — not in an attack over France or Germany but in an Illinois cornfield.
News that the restored 1944 warplane went down in flames Monday saddened at least one aviation buff at the North Las Vegas Airport, a traditional stop on the historic bomber's annual cross-country tour.
"If you're an aircraft nut like I am, any aircraft crash is a loss," said Nevada Wing Commemorative Air Force Col. C.W. "Bill" Burr, a B-29 mechanic during the Korean War.
"I'm sure glad none of the people on board were hurt," said Burr, 79, who toured the Liberty Foundation's "flying museum" a few years ago in North Las Vegas.
"Any vintage aircraft has a romanticism around it, one for the 'oohs-and-ahhs' of the public. The aircraft thrill comes if you ever get to ride in one."
The nonprofit Liberty Foundation offered tours of the $4 million Liberty Belle and half-hour flights aboard it for more than $400 apiece when the B-17 made public appearances at the North Las Vegas Airport in September 2007 and 2008. The flight fee reflected the cost of its four engines consuming aviation fuel at a rate of 200 gallons per hour.
Liberty Belle also flew as part of Aviation Nation in 2007 at Nellis Air Force Base. The aircraft was used during a World War II re-enactment.
At the time, it was one of only 14 B-17s in the world that could still fly.
All seven people on board the Liberty Belle on Monday escaped without injuries before the plane was consumed by fire after an emergency landing in a field near Oswego, Ill., according to the Federal Aviation Administration.
An FAA spokeswoman said the bomber's pilot had reported a fire shortly after departing from Aurora Municipal Airport near Chicago. The National Transportation Safety Board is investigating the incident.
Burr said he couldn't speculate on what caused the fire, but he was "surprised all people got out."
"Engine fire is not unavoidable in any aircraft with high-octane fuel and electricity floating around. The hazard is there. They try to keep it to a minimum."
Calls by the Review-Journal to a spokesman for the Miami-based Liberty Foundation were not returned Tuesday.
According to the foundation's website, the Liberty Belle had dodged a number of bullets and flak in World War II, including an explosion on Sept. 9, 1944, that destroyed or knocked nine of 12 planes in its squadron out of formation as the 390th Bomb Group attacked a target in Dusseldorf, Germany.
"Six of the nine went down over the target. One flew two hours on a single engine and landed in Paris. Another 'crippled plane' landed in Belgium and the other struggled back to its home base," the website said.
"The one that came home was 'Liberty Belle.' She went on to complete 64 combat missions before being salvaged on February 18, 1945."
Liberty Belle had first been sold as scrap to an Oklahoma mining company but later was sold for $2,700 to engine manufacturer Pratt & Whitney as a test bed.
Decades later, in 1979, it survived a tornado at a museum in Connecticut before its 15-year restoration that put it back in flight.
Burr knows firsthand about the labor and patience involved with restoring World War II aircraft for the sake of preserving history.
The Nevada Wing of what was called the Confederate Air Force before its name was changed for political correctness to Commemorative Air Force restored a Douglas A-26C Invader in 1994.
The twin-engine Invader, dubbed, Vegas Vixen, could carry up to 8,000 pounds of bombs and was flown by the 9th Air Force in western Europe. It is now based in Oklahoma City under the name Lady Liberty.
Burr said the Nevada Wing is currently restoring a fabric-skin Stinson AT-19 that flew over India in World War II.
Contact reporter Keith Rogers at krogers@reviewjournal.com or 702-383-0308.