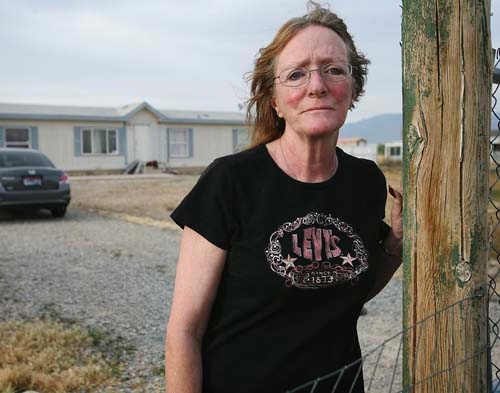 In Afghanistan, Staff Sgt. Ian Michael Deutch survived nine months of enemy combat as a fire support specialist with Nevada's 221st Cavalry Wildhorse Squadron.
On the second day after his return to the Nye County Sheriff's Office, the 27-year-old deputy was shot and killed in the line of duty.
"It's horrible," said his mother, Suzy Deutch. "He was finally safe. In our country. And somebody here kills him."
The Nye County Sheriff's Office identified the shooting suspect as 30-year-old James Chaffin. Chaffin was shot and killed by another deputy, whose name has yet to be released.
Lt. Col. Scott Cunningham, Deutch's squadron leader in Afghanistan, added his sentiments of disappointment.
"The greatest feeling I have is frustration, and a little bit of anger about the whole thing," Cunningham said. All 730 soldiers in Cunningham's squadron returned alive from their tour of duty.
"This was a great soldier, a great police officer and just an all-around fantastic guy. It's just a waste."
Deutch died after undergoing emergency surgery at University Medical Center on Monday night.
On Tuesday, Nye County Sheriff Tony DeMeo revealed new information about what led to the shooting, including statements that Deutch and his partner received incorrect information that might have contributed to the deputy's death.
The incident started when Chaffin's girlfriend, whose name was not released, went to his house a short distance from Terrible's Lakeside Casino & RV Park in Pahrump. Police said Monday that Chaffin began firing at her car at the house.
DeMeo said in a news conference Tuesday that the girlfriend called 911 at 3:41 p.m. from her vehicle. She told dispatchers that she was in a car and Chaffin was in a pickup, following her and firing at her. She told dispatchers that she was going to the casino to escape him.
Dispatchers told her not to do that because she would be heading away from sheriff's deputies who were going to try to pull Chaffin's truck over, DeMeo said.
She chose to park her vehicle and flee inside the casino anyway, with Chaffin following her. A short time later, Chaffin went back outside the casino, got into his vehicle and began driving around the parking lot.
As Deutch and his field training officer were pulling up to the scene, they saw a parked, empty pickup in the parking lot, DeMeo said. A white car pulled up in front of them.
Because the girlfriend told dispatchers that Chaffin was driving a pickup and that she was driving a car, they got out of their department-issued pickup to look for the suspect inside the casino.
But Chaffin was in the car, and in less than two seconds, he fired at least 11 rounds from an SKS semi-automatic rifle, which had a 30-round clip, striking Deutch five times — three times in the chest and once each in the knee and pelvic area, DeMeo said. Deutch's protective vest did not stop the rounds. A deputy in a second vehicle who pulled up behind Chaffin's car quickly fired four rounds, killing Chaffin at the scene.
DeMeo said after viewing surveillance video of the incident that there was little that could have been done to protect Deutch.
"They believed the suspect was still inside the casino," he said. "If they had known that (the car) was the suspect vehicle, they would have approached that vehicle a lot differently. They were not aware."
According to Chaffin's friend Keith Recktenwald, the disturbance began after Chaffin's ex-girlfriend, "Sabrina," refused to talk with Chaffin about the status of their relationship.
She had been temporarily staying with Recktenwald and his wife. About 3:30 p.m. she drove to Recktenwald's house on Cajon Lane, a block from the casino, to pick up the rest of her belongings.
She was about to move to Arizona to stay with different friends, Recktenwald said. A "calm, reasonable" Chaffin was waiting for Sabrina in Recktenwald's living room.
Chaffin was under the impression that Sabrina was willing to talk, Recktenwald said. When she refused, Chaffin took her keys and purse and refused to let her leave until she agreed to discuss their situation.
"He didn't want to screw her over or anything. He wanted to split everything down the middle. They'd been together 12 years," Recktenwald said. "She didn't want to give him a straight answer about if it was over or not, and started yelling and screaming and pushing his buttons."
Sabrina finally called police and fled in a co-worker's car, he said. An enraged Chaffin pursued her with a handgun, shooting out a tire and firing multiple shots through the vehicle's back window, Recktenwald said.
Although Recktenwald tried to calm Chaffin, it was too late, he said. Chaffin followed her to the casino, and before Recktenwald knew it, he heard automatic gunfire crack through the air, he said.
DeMeo on Tuesday lashed out at Chaffin.
"I don't have any sympathy for that man," he said. "I'm angry at him. He took away something from us that's precious to all of us."
Chaffin set out "to kill a deputy," he said. "That was the focus of his attack. There's no excuse to do evil."
Suzy Deutch, 57, said hospital staff called the family into the hallway outside the operating room at 9 p.m. Monday to explain the extent of his injuries.
It would take a miracle for her son to recover, doctors said.
"We stood in the hallway, watching the doctors jumping on his chest, trying to get him to come back," she said, crying as she recalled the event. "And he couldn't come back. He couldn't come back. They tried so hard."
More than 100 friends, family and fellow soldiers were stationed outside UMC on Monday night awaiting updates on the fallen deputy's condition.
One of those was his brother, Nye County Sheriff's Deputy Richard Jason Deutch, who served alongside his sibling in Pahrump and Afghanistan — one of nine sets of brothers who served together in Nevada's squadron.
Suzy Deutch said Richard wasn't involved in the casino shootout Monday because he hadn't yet returned to work.
"His brother is devastated," she said. "They'd been together as deputies and as soldiers."
Cunningham described Ian Deutch as a soldier who never shied away from risk.
"He put himself right up front. His whole personality was, 'If somebody has to do it, it'll be me, I'll do it,' " he said. "For a guy like that to end up getting killed is tragic."
DeMeo last spoke to Deutch last week.
"I asked him last week when I saw him … I said, do you want another week off?" DeMeo said. "And he said, 'No, I want to go back to work. I can't wait to get back to work.'"
He left behind a wife, Vicky; a 5-year-old daughter, Savonya; and an 18-year-old stepson, Jon. Ian and Vicky wed in March 2009, shortly before his deployment to Afghanistan, Suzy Deutch said.
"He wanted everything to be set, so that if something happened to him, she was OK," Suzy Deutch said.
He was a 2001 graduate of Chaparral High School who signed up for the National Guard when he was 17, between his junior and senior years, Deutch said.
He loved his family, he loved law enforcement, and he loved his police dog, Chico, she said.
She said she wished she'd been able to spend more time with her son, especially after his safe return from Afghanistan.
"We only had him home for 27 days," she said. "And then he was gone."
Cunningham said injury or death is part of the job description for soldiers and police officers.
"He was just out doing his job, and he was shot by this guy who was just out having a bad day," he said. "I hate to say it's just one of those things that happens, but sometimes it does."
Review-Journal writers Keith Rogers and Henry Brean contributed to this report. Contact reporter Mike Blasky at mblasky@reviewjournal.com or 702-383-0283. Contact reporter Lawrence Mower at lmower@reviewjournal.com or 702-383-0440.
Nye County deputy killed in the line of duty
RELATED STORY
Funeral set for Nye County deputy
2008 ATTACK AT TERRIBLE'S
The gunbattle that claimed the lives of a Nye County sheriff's deputy and his reported gunman was the second within two years for deputies at Terrible's Lakeside Casino & RV Park in Pahrump.
On Sept. 19, 2008, a deputy was ambushed by an Iraq war veteran in the casino's RV park.
Deputy Eric Murphy was shot twice by Joseph Patrick Lamoureux and recovered. Deputy Ian Deutch, who was shot five times and killed Monday, also was one of the first deputies to respond to the 2008 gunbattle, according to police reports. Lamoureux fired multiple rounds at Deutch, but the deputy was unharmed.
Lamoureux's trial had been postponed so Deutch, who was in Afghanistan, could testify. Lamoureux's lawyers intend to argue that the 47-year-old Army Reserve sergeant's shooting spree was triggered by post-traumatic stress disorder.
Deutch was the first Nye County law enforcement officer to die in the line of duty since 1992, when Deputy Gary Raymond Downs, 47, suffered a fatal heart attack during a struggle with a suspect in Tonopah.
The last time a Nye County deputy was shot to death on duty was in 1952, when William Maroon was killed by a prisoner who stole his gun during an escape attempt.
Eight Nye County officers have died on the job since 1867, according to several websites dedicated to fallen law enforcement personnel.
LAS VEGAS REVIEW-JOURNAL