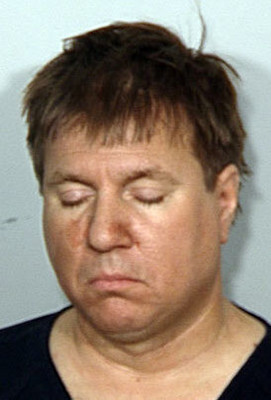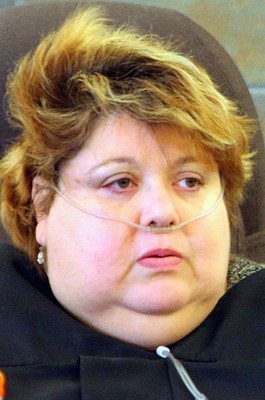 Saying he was concerned about the safety of suspended District Judge Elizabeth Halverson, a judge on Wednesday ruled that her husband, a suspect in the attack on her last week, will not be released from jail and allowed to stay with a relative.
Justice of the Peace Doug Smith called the attack "pretty brutal."
Elizabeth Halverson remains in the hospital after being beaten repeatedly in the head Sept. 4 with what an acquaintance said was a cast iron skillet.
She had "100 stitches or staples," Smith said. "She is basically a defenseless woman."
Smith set bail at $113,000 and told Edward Halverson that if he comes up with the money, he must stay at least a half-mile away from his wife.
Smith said he saw no need for an outside judge to preside over Halverson's preliminary hearing, scheduled for Sept. 25, to avoid a conflict of interest. He had little contact with Halverson during her time on the bench.
"I don't know Judge Halverson other than I crossed paths with her," Smith said. "I have no feelings either way toward her."
Edward Halverson said he could not afford an attorney; a public defender will be assigned to him.
It is up to Chief District Judge Kathy Hardcastle — who was Elizabeth Halverson's greatest nemesis in the dispute over whether she should remain a judge — to determine whether an outside judge should handle the trial.
Public defender Bita Khamsi unsuccessfully argued that Edward Halverson be released to his cousin, who lives about eight miles from the Halversons' Oxnard Circle home.
She said Edward Halverson's criminal record, which spans three states and includes such convictions as an ex-felon in possession of a firearm and cocaine possession, is 16 years old. Smith denied her request for house arrest with close supervision.
Edward Halverson currently faces charges of attempted murder with use of a deadly weapon and battery constituting domestic violence with use of a deadly weapon resulting in substantial bodily harm. If convicted, he would face three to 40 years in prison.
Smith noted the extent of Elizabeth Halverson's injuries in denying the request for house arrest.
"One hundred staples is a lot of staples in someone's head," he said.
Elizabeth Halverson remains in severe pain inside the trauma unit at Sunrise Hospital and Medical Center, her friend Bobbi Tackett said Wednesday.
She has been suspended from the bench since summer 2007 following complaints of falling asleep on the bench, mistreating her staff and improperly communicating with jurors. Last month, she appeared before the Nevada Commission on Judicial Discipline. On Wednesday, the commission extended a deadline to submit final arguments in the case. The filings were originally expected to submitted Sept. 18; the new deadline is Sept. 30.
Attorney Michael Schwartz requested the continuance so that Halverson could review his arguments before they are filed.
"The additional time is intended to provide Judge Halverson the opportunity to gain sufficient physical and mental ability to review the draft of the written document," Greg Ferraro, chairman of the commission, wrote in his order.
Contact reporter Adrienne Packer at apacker@reviewjournal.com or 702 384-8710.