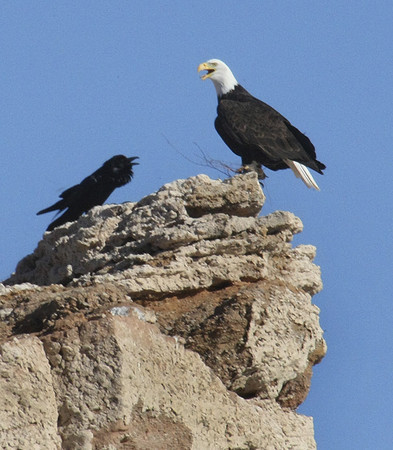 Bald eagles are soaring in record numbers at lakes Mead and Mohave, where biologists this week documented the highest tally ever.
The annual count Monday of bald eagles that migrate to the lakes from the Pacific Northwest and elsewhere climbed to 163, shattering the previous record high of 116 from two years ago.
It's a sign the once-endangered bird of prey has made a solid comeback since it was delisted three years ago.
And, it might be further evidence that the massive lakes that straddle Southern Nevada and Arizona are becoming a destination, rather than just a stopover in the eagles' winter migration.
"It's definitely the best year we've had for sure," said Dawn Fletcher, research assistant for UNLV's Public Lands Institute, one of nine agencies that participated in the survey.
The National Park Service and the U.S. Geological Survey conduct the midwinter bald eagle survey to monitor populations nationwide.
The bald eagle was declared an endangered species for much of the United States in 1967, before passage of the Endangered Species Act of 1973. Only 417 nesting pairs were known to exist in the contiguous 48 states in 1963.
The bald eagle's demise was blamed in part on habitat loss. But pesticides that since have been banned played a role by contaminating prey the eagles ate, causing egg shells to thin and making adults sick and infertile.
Eagle surveys in Lake Mead National Recreation Area date to the early 1980s, but the count method was standardized in 2001 and revised in 2007 to improve the quality of the data.
In all, 45 volunteers and biologists on boats scanned the lakes' shorelines with binoculars.
They followed specific routes at slow speeds looking for adults and immature bald eagles. Young eagles have a mottled appearance compared with the distinct snowy white hoods and tails of adult bald eagles, which have brownish black bodies and 6-foot wing spans.
The majestic birds stand like fire hydrants along the shoreline and high atop rocky cliffs. Some are counted as they glide over the lakes in search of striped bass, trout and carp, a diet that fuels their powerful bodies after the long migration.
Jef Jaeger, research assistant professor for the Public Lands Institute, said the high count numbers might reflect a cold snap across the country that might have pushed eagles south toward their wintering range earlier this year with peak numbers coinciding with the survey date.
"We don't know any of this for sure. This is speculation," he said Wednesday, reflecting on the preliminary data.
Weather for the survey was ideal — light wind at most and blue skies — which provided optimum conditions to sight eagles.
In keeping with past surveys, the Overton Arm route of Lake Mead produced the highest number, 42 total. There were 20 adult bald eagles and 22 immature ones in addition to two osprey, one peregrine falcon, two red-tailed hawks and a pair of northern harriers.
Nevada Department of Wildlife biologist Christy Klinger was impressed with the variety of wildlife that her team observed in the Overton Arm.
There were flocks of mallards, pintails, teal, grebes and Canada geese. Coyotes were seen stalking the shoreline in the same area where the bald eagles hunt. Bighorn sheep darted up steep cliffs.
A peregrine falcon, arguably the fastest animal on Earth with an average speed of 112 mph when it dives, or stoops for prey, flew like a lightning bolt low over the lake.
"There's a tremendous amount of wildlife out here," she said midway through Monday's survey.
Bald eagles were equally impressive.
"It's amazing. They are a magnificent bird. It's beyond words sometimes," she said as one glided seemingly effortlessly after leaving its perch with a flap of its wings.
Klinger surmised that the sharp increase in eagle numbers could indicate the Lake Mead area "is most likely quite and important migratory stopover. … Some of our data indicate that this may also be quite an important wintering ground for the eagles," she said.
Contact reporter Keith Rogers at krogers@reviewjournal.com or 702-383-0308.
Bald eagle count