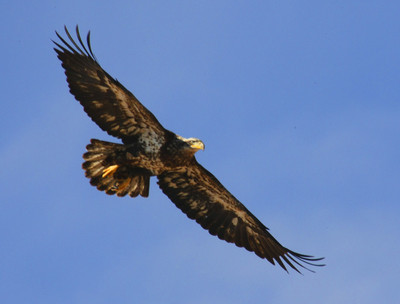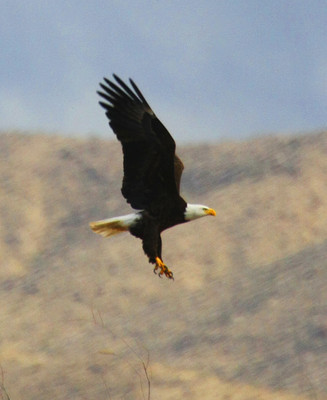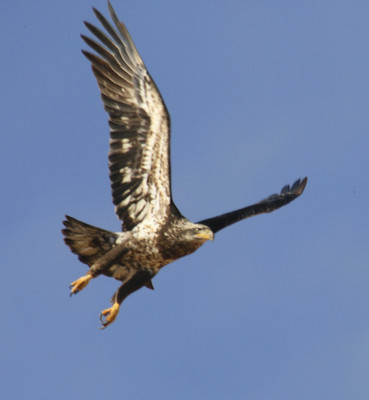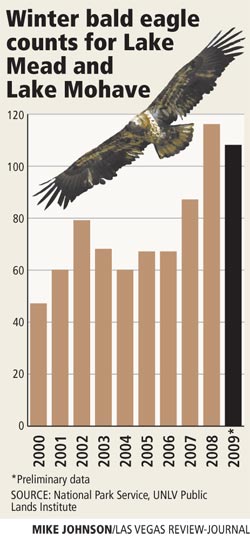 Southern Nevada is becoming the winter destination for a group of "snowbirds," but not the kind that drive down in recreational vehicles from places such as Wyoming and Canada to enjoy the warmer climate.
Instead, this bird is the national icon: the bald eagle.
After three consecutive years of counting high numbers of bald eagles during the annual midwinter survey at lakes Mead and Mohave, biologists believe the majestic birds are making the lakes their winter destination and not just a place to rest during migration.
That's the conclusion of Jef Jaeger and colleagues, who have been tracking them with volunteers in the National Park Service effort to count the birds during the national survey Jan. 7-14.
"We think the lakes are part of a wintering range for a much broader group of eagles. We used to think we were a stopover for migration," Jaeger said last week before biologists from the park service and the University of Nevada, Las Vegas headed out Monday to verify the data gathered in early January.
"That's the new perspective we have this year, which is really cool," he said.
Jaeger, a biologist at UNLV's Public Lands Institute and School of Life Sciences, presented a paper on this year's bald eagle survey at the Lake Mead Science Symposium on Jan. 14.
Preliminary results from the survey indicate bald eagles rivaled last year's record count of 116.
This year's unofficial results show 108 bald eagles — 49 adults and 59 immature — making for the second- highest tally in surveys in the Lake Mead National Recreation Area since the midwinter counts began in 1985.
The third-highest total was in 2007, when 87 bald eagles were documented on the lakes.
Biologists had wondered about the accuracy from earlier years of the survey because count methods varied. Since 2001, however, they standardized count methods and provided better training for observers to identify and record the birds.
In one leg of the survey, along the shores of Overton Arm, a record 51 eagles were seen by observers Monday, nearly half the unofficial count for the recreation area.
By comparing numbers from the Jan. 7 count, biologists hope to establish a variation factor as eagles are counted on different days and conditions in the same area.
The increased numbers might be attributable to better sampling techniques.
"We're doing a more thorough job of conducting the survey," Jaeger said. He noted that consistent speed of the boats carrying observers on consistent routes is crucial to obtaining accurate data.
Annual counts at other sites in the National Park Service system need to be uniform to assess how bald eagles have fared since their days of being a threatened species.
With only a few nesting pairs of bald eagles in Nevada, Jaeger said, biologists think those that have been making the lakes their winter destinations come from the Pacific Northwest and as far north as Canada.
They are attracted to the lakes because both Mead and Mohave are large bodies of water with plenty of food such as trout, carp, striped bass and waterfowl to feast on after their distant migrations.
"They are attracted to fish and potentially a high number of aquatic birds like coot," Jaeger said.
As in last year's survey, observers saw a few golden eagles in addition to some osprey and peregrine falcons.
Contact reporter Keith Rogers at krogers@reviewjournal.com or 702-383-0308.
View the slide show DID YOU KNOW? Predating the Endangered Species Act of 1973, the bald eagle was declared an endangered species in 1967 for much of the United States except Alaska, where about half the world's bald eagles live. The American bald eagle was heading toward extinction in the 1960s south of the 40th parallel because of pesticides that poisoned them and thinned their eggshells and from environmental degradation caused by human encroachment on their habitat. Since 1963, when only 417 nesting pairs were known to exist in the contiguous 48 states, they rebounded under protections afforded through the Endangered Species Act and environmental laws. The U.S. Fish and Wildlife Service removed the bald eagle from its list of threatened species in 2007.