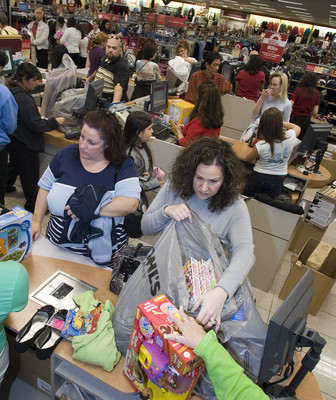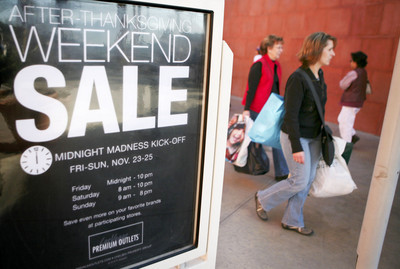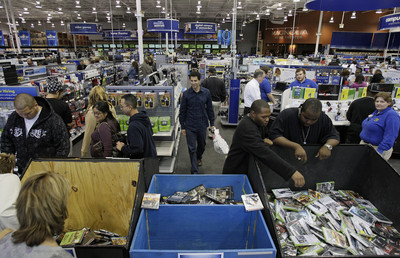 If holiday sales falter this year, don't blame the baristas.
All over Las Vegas — and across the country — shoppers sought specials that started hours before sunrise and slurped coffee by the gallon to ward off cold weather and sleepiness.
Whether caffeine-laced spending sprees are enough to sustain a wobbly consumer economy through another holiday season remains to be seen.
Shoppers have taken notice of the real estate slump, the high cost of oil and other dark clouds over the economy.
"You can feel the recession coming," said Wendy Jamieson, 53, of Las Vegas.
Jamieson and her husband, Craig, 59, were in J.C. Penney at Meadows mall shortly after 4 a.m. Friday digging through a pile of flannel shirts. "Anybody who has a 401 plan and watches the stock market doesn't like to be out here," she said.
The couple planned to shop with military precision, moving from store to store in search of sale items that Wendy identified Thursday in advertising fliers.
"I went through the ads last night," Wendy said. "So when you go to each of the stores, you get the object you planned."
In an effort to keep consumers' minds on iPods and not investments, retailers broke out every gimmick in the seasonal shopping handbook, from extended hours on Thanksgiving to "doorbuster" specials. The latter were often big-ticket items such as electronics marked down hundreds of dollars and available to only the earliest of the early birds.
"What they are hoping for is they get the people in their store, and while they are in the store, they get in the spirit to spend a little more," said Phil Rist, vice president of strategy and consumer research at BIGresearch in Columbus, Ohio.
Wal-Mart, the world's largest retailer, threw open its doors at 5 a.m., offering such specials as a Polaroid 42-inch LCD HDTV for $798 and a $79.87 Sony digital camera. From 5 a.m. to noon, Toys "R" Us Inc. offered 101 early morning specials on such toys as Mattel's Barbie styling set and Hasbro's FurReal interactive jungle cat toy. That's four times the number it offered last year.
J.C. Penney Co. Inc., which opened at 4 a.m., an hour earlier than last year, served up such deals as a leather massage recliner for $298.88, after a $50 mail-in rebate. The original price was $799. Other deals included 50 percent off toys and board games.
At Fry's Electronics, late afternoon traffic snaked out of the parking lot Friday and onto Las Vegas Boulevard.
The store opened at 5 a.m. Juan Hernandez, a customer service worker, estimated that 1,100 customers were already waiting to get in.
"On a day like this, about 20,000 people will go through," said Hernandez, who started his day around 3 a.m.
Customers shopped, played with remote control cars and took breaks at an in-store restaurant.
Another store worker told customers the checkout line was 30 to 40 minutes long even though as many as 40 checkers were on hand.
Hernandez said there were three instances Friday morning when the store reached capacity and customers had to stop entering until others exited.
"The store can only take so much," Hernandez said.
A salesman said the store sold "a few" 71-inch LCD televisions with a list price of $10,999.95.
At Best Buy in the Best of the West Shopping Center, several hundred shoppers lined up outside hours before it opened at 5 a.m.
Some pitched tents on the sidewalk and bundled in winter clothing to get a limited number of coupons to purchase a laptop computer for $399 or a desktop machine for $199.
But most just huddled in line clutching coffee cups. Employees from a nearby Starbucks wheeled cartloads of hot coffee through the parking lot. Judging by several 64-gallon trash cans heaping over with empty coffee cups, the mobile java carts were a success.
Joseph Villalobos, 58, of Las Vegas was in line at 2 a.m. The early start meant he was in, and out, of Best Buy while other shoppers were still in line.
Villalobos scored a 42-inch LCD television for $996.
"It is a present for me," he said.
Villalobos, who was laid off from work for part of the year, said he and his family remained in good shape for holiday spending because they save money every month for shopping and only buy what they can pay for in cash.
"Stay away from the credit cards," he said. "They will eat you up."
The real estate slump is looming large over spending, especially in places like Las Vegas where home prices crashed hard and fast. With home equity growth slowing or in decline, many homeowners just don't feel the confidence they did a year ago.
Of course, the market crash affected some people differently than others.
"This year business was great," said Rob Zaruba, 48, who has a company that helps banks prepare foreclosed homes for sale. Standing in line at Best Buy, Zaruba said the company has branches in Las Vegas and Arizona and is doing business at three times the pace of last year.
That said, Zaruba was up before the sun because he wanted to save money on purchases.
"Unless you are going to save $100, it isn't really worth it," he said.
While Friday was expected by some analysts to be the busiest day of the season, it's not a predictor of how retailers will fare in the season overall. In fact, the weekend only accounts for about 10 percent of overall holiday sales. But it does set the tone since what consumers see that day influences where they will shop for the rest of the year.
Last year, retailers had a good start during the Thanksgiving weekend, but many stores struggled in December, and a shopping surge just before and after Christmas wasn't enough to make up for lost sales.
This year, analysts expect sales gains to be the weakest in five years. Washington-based National Retail Federation predicted that total holiday sales will be up 4 percent for the combined November and December period, the slowest growth since a 1.3 percent rise in 2002.
Holiday sales rose 4.6 percent in 2006, and growth has averaged 4.8 percent over the past decade.
By Friday afternoon, retailers and analysts were reporting that this year's shopping season is off to a good start, with shoppers jamming malls and stores.
Based on early reports, Macy's Inc., Toys "R" Us, K-B Toys Inc. and others that were noisy with discounts reported bigger crowds for the early morning bargains than a year ago. And electronic gadgets, particularly the hard-to-find Nintendo Wii, topped shoppers' wish lists, though frustrations were high among shoppers who couldn't get their hands on the limited bargains.
By 6 a.m. Friday, the holiday shopping was already taking a toll on workers at the Las Vegas Premium Outlets. The mall was open from 10 a.m. to 7 p.m. Thursday. It re-opened at midnight and wouldn't close until 10 p.m. Friday, 22 hours later.
Mall workers said business was brisk from about midnight to 3 a.m. but trailed off considerably after that.
Around 6 a.m., many stores were empty, leaving workers to wonder whether stretching thin staffs to the breaking point was worth it — especially if extended hours only resulted in shifting business around as opposed to generating new spending.
At one point, a high-profile fashion retailer had three members of its 10-person staff on the sales floor with no customers in the store.
"Personally, I wish I didn't have to be here," one of the employees said.
The Associated Press contributed to this report. Contact reporter Benjamin Spillman at bspillman@reviewjournal.com or (702) 477-3861.