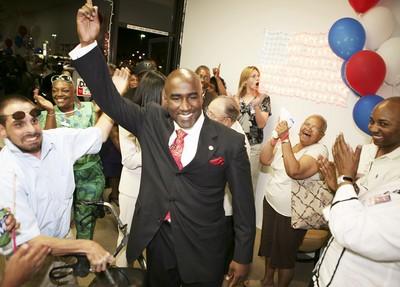 Ricki Barlow chest-bumped supporters, hugged his 9-year-old son and let out a victory cry Tuesday night as he won a hardscrabble race to become the newest Las Vegas City Council member.
Barlow, a City Council liaison for the past seven years, defeated attorney Stacie Truesdell by fewer than 400 votes.
"It came down to experience," Barlow said. "I've been working with the community, in the community. I know how to get the job done."
The election ended two months of brutal campaigning, which saw both sides go on the attack. The candidates displayed an obvious dislike for each other.
Barlow, 35, said the campaign was "actually the community coming together for an important dialogue. … The great piece of the puzzle left is the community coming together again to answer the questions that have been brought up."
In conceding the race at her campaign headquarters, Truesdell, 26, teared up.
"I hope all those people who wanted to see changes in the community get to see the improvements it so desperately needs," Truesdell said.
Barlow won 54 percent of the vote to Truesdell's 46 percent.
Of all of the parts of the city, Ward 5 faces some of the toughest issues. As an older ward, crime, graffiti and blight plague some areas. Residents of the historically black West Las Vegas neighborhood have protested the area's lack of development and have pointed to the need for a grocery store.
While each candidate vowed to be tough on crime, clean up graffiti and ease traffic congestion, much of the campaign was spent attacking each other. Observers said the wounds from such a negative race are never easy to heal.
"This stuff won't be forgotten easily," veteran consultant Terry Murphy said. "It's an absolute shame, and it breaks my heart, that the process has done this to two very qualified, good candidates."
She said the race had been "particularly nasty."
Six months ago, the race was going to be a quiet one. Then-Councilman Lawrence Weekly planned to run for re-election to the seat he had held since the ward was created in 1999.
But when Clark County Commissioner Yvonne Atkinson Gates announced her resignation and Weekly won the appointment, the race for the seat became wide open.
Ten candidates jumped into the race, and Barlow and Truesdell emerged from the April primary as the top two vote-getters. Coming out of the primary, Barlow had a commanding lead over Truesdell.
Then the negative campaign mailers began flying.
Barlow accused Truesdell of serving big developers and her Jones Vargas law firm clients rather than residents. Truesdell hammered on a domestic violence charge to which Barlow had pleaded guilty in 1998 and questioned when he moved into the district.
Barlow and Truesdell were able to raise hundreds of thousands of dollars, with Barlow having an edge on Truesdell.
Truesdell conceded the race about 9:20 p.m. In a brief speech to a crowd of about 60 people gathered at her campaign headquarters near Meadows mall, she thanked her supporters repeatedly.
"Four months ago, the 2,300 people who voted for me didn't know who I was, so we've come a long way," she said.
As she paused to compose herself and wipe away tears, a supporter yelled: "Stacie, you did good."
Truesdell's campaign consultant, Gary Gray, said the race was the start of a bright political future for the young attorney. "We're going to see a lot more of Stacie Truesdell in the future," he said.
At Barlow's headquarters, at Edmond Town Center in the heart of West Las Vegas, the mood was ebullient, even as the candidate and workers were hesitant.
Barlow walked in about 8:45 p.m., walking his way through a throng of more than 100 supporters, hugging each one on the way. His supporters congratulated him, but even when only 18 precincts were left to be tallied, Barlow refused to acknowledge victory.
When campaign consultant Jim Ferrence finally told him the results were final, Barlow's tired-looking smile became a genuine grin.
Review-Journal writer Frances McCabe contributed to this report.
2007 Municipal ElectionsNews & voter info