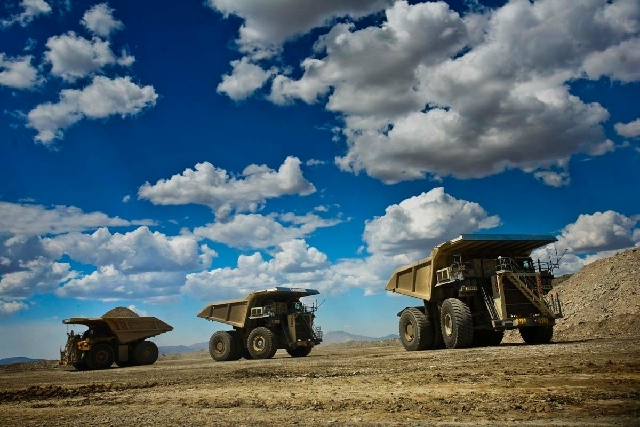 RENO — The world's largest gold mining company has announced plans to reduce its workforce by 55 positions in Nevada and Utah, citing falling gold prices, rising costs and sagging stock prices.
Barrick Gold Corp. plans to slash about 40 positions in Nevada, 15 in Salt Lake City and five to 10 elsewhere in the region through voluntary severance packages to certain employees, spokesman Lou Schack said.
The Toronto-based company did not rule out further such reductions to deal with what it calls "a very difficult business environment." Since late 2011, the gold price has fallen by $600 — over 30 percent
"As always, we will continually adapt our business to suit changing market conditions," Schack said. "This may include further restructuring and/or reductions in the future."
The move affects several groups of support function employees, including administrative, human resources and purchasing workers. The company has some 4,500 employees in Nevada — which comprises the bulk of its North American operations — and 140 employees in Salt Lake City.
Affected employees have been given time to review the severance offers initiated Thursday and to make their decisions. The offers include a payment based on years of service and base pay, and limited continuation of some benefits.
The reduction follows a thorough review of the company's organizational structure that was prompted by the change in business conditions.
"Our North American operations, most of which are in Nevada, comprise the most valuable and productive of Barrick's four regional business units — and we intend to keep it that way," Schack said. "To do so, we must cut costs and become a more efficient business."
Shares of Barrick and almost every major gold miner hit new annual lows before recovering Friday as a drop in gold prices leveled off.
Gold prices plunged 7 percent this week to levels not seen since September 2010. On Friday, after declining sharply the day before, gold for August delivery rose $5.80 to finish at $1,292 per ounce.
On Friday, shares of Barrick rose $0.29 or 1.7 percent to $16.89. Its market value is less than half of what it was a year ago.
Another leading gold miner, Newmont Mining Co., hinted it might lay off some employees in Nevada after announcing plans Wednesday to cut its workforce in Colorado by 33 percent. The company cited falling gold prices and rising costs as factors for considering such reductions elsewhere.