Barrier family talks to coroner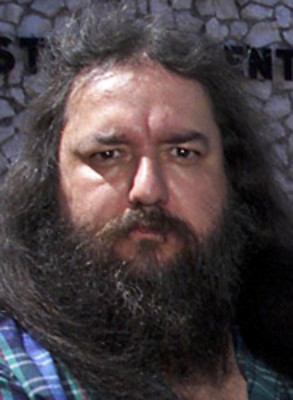 A medical examiner who performed an autopsy Monday on James "Buffalo Jim" Barrier said a preliminary report showed no evidence of drugs in his stomach or any indication the colorful auto mechanic died of a heart attack, Barrier's family members said Wednesday.
Officials with the Clark County coroner's office also said Barrier's body was in a "decomposition phase" when it was discovered Sunday afternoon inside a Motel 6 room at 4125 S. Boulder Highway, according to Barrier's 26-year-old daughter, Jessica.
The room was checked into at 8:22 p.m. Saturday, around the time the medical examiner estimated to the family that the 55-year-old former wrestler died, Jessica Barrier said.
Clark County Coroner Mike Murphy confirmed that Dr. Lary Sims, the examiner handling the Barrier case, shared details of his initial findings with Barrier's four daughters Wednesday morning. Murphy declined to discuss the report or elaborate on Sims' conversation with the family.
Murphy said toxicology results are expected to be returned in two to 12 weeks.
Barrier, known for his long-standing public battle with former Crazy Horse Too owner Rick Rizzolo, in recent months received death threats and warnings over the phone and by handwritten and typed notes dropped off at his office.
The most recent threat, according to Steve Miller, a Las Vegas writer and former city councilman who was a close friend of Barrier's, came in the form of a letter that arrived at Barrier's Industrial Road shop Saturday morning.
The author of the letter confirmed Barrier's home address and said, "Make sure your not being followed."
It said the Rizzolo family had been having meetings "at various locations around town."
Rick Rizzolo, whom Barrier helped send to prison on tax evasion charges, was released from custody Friday. His attorney, Tony Sgro, has not returned phone messages.
On Saturday evening, Barrier left his northeast Las Vegas home and told his 15-year-old daughter, Jerica, that he would be back by midnight, the family said. He never answered or returned Jerica's calls that night.
Although Las Vegas police determined Sunday that Barrier died of natural causes, family and friends are convinced he was murdered. To determine whether that's the case, they have hired a private investigator and are searching for a pathologist to assist them.
"We will feel better doing a totally separate one (autopsy)," Jessica Barrier said. "We don't want to risk any tampering."
She said the family's meeting with the medical examiner only furthered suspicions that Barrier was killed and dragged into the motel room, where his body was neatly placed on a bed. A maid discovered Barrier's body Sunday.
Jessica Barrier said her father was found lying on the bed in a blue shirt with his pants pulled down to his ankles. The family acknowledged speculation that Barrier was with prostitutes that night but said Sims told them no semen was found on his body.
Two glasses of tap water were discovered on the bedside table, Jessica Barrier said.
"Every single person my dad knew would say he didn't drink tap water," she said. "He drank bottled water; we're talking Evian."
Sims also said there were no marks on Barrier's body and his stomach contents included vegetable particles in a digestive stage and a liquid believed to be coffee, according to family members.
The Barrier daughters said their father trusted few people and had become increasingly cautious as the death threats became more frequent. They believe someone Barrier came to trust lured him into having coffee Saturday evening and poisoned him.
"This just makes us think our theory of him meeting someone for coffee makes sense," Jessica Barrier said. "He never drank coffee unless it was a social thing."
Barrier was found in possession of a bottle of Valium, which he was prescribed to help him sleep, his family said.
"But there was not one single Valium in his stomach," Jessica Barrier said she learned from the coroner's office.
She added that any suspicions he died of a heart attack were dismissed in her mind by Sims' preliminary report, which showed one heart valve was open and the other two had 60 percent blood flow.
"It's not like he was going to die," she said.
Miller said he suspects Barrier was killed in his Rolls-Royce, found in the Motel 6 parking lot. Although the daughters said the vehicle was missing when they arrived to identify their father's body and reappeared later that night, Miller said it's possible the women were too distraught to notice the car during their first visit.
Miller said that despite the family's contention, the Rolls-Royce at the motel was not the same vehicle that was the focus of a dispute earlier in the year between Barrier and casino entrepreneur Bob Stupak. Miller said the Rolls-Royce, identical to the one once owned by Stupak, had always belonged to Barrier.
The Barrier family postponed funeral services that had been scheduled for Saturday, explaining they first wish to allow their investigator and pathologist to conduct their own probe.
"We can't put Buffalo to rest until we put the mystery to rest," Miller said.
Contact reporter Adrienne Packer at apacker@reviewjournal.com or 702-384-8710.