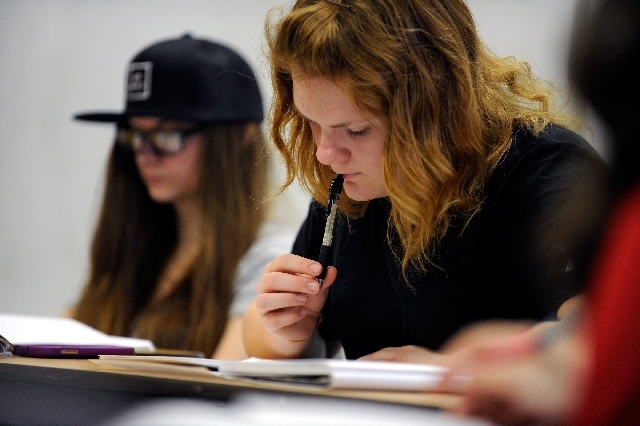 PAHRUMP
Claire Vaye Watkins is a desert girl, deep down inside.
She's a product of the emptiness out here, where you can drive for an hour and not encounter another soul.
This shaped her, the desert, the desolation, as experience shapes everyone.
Watkins has come home now, briefly, to return the favor — to help shape the place that shaped her.
She and her fiancé, writer Derek Palacio, founded the Mojave School, a weeklong workshop for rural Nevada teenagers who want to learn how to write.
Watkins spent last week in a Pahrump classroom with those kids.
She wrote a quote on the board — "Writers are always selling someone out" — to invite opinion. Joan Didion, the celebrated writer, included that line in her 1968 collection of essays, "Slouching Toward Bethlehem."
Watkins said she hasn't sold anyone out, except maybe herself.
"I still feel really exposed," she said, "when I read my stories out loud."
She writes stories about the desert: the people who live there, sometimes desperate, sometimes funny, always enthralling.
THE NEED TO WRITE
Watkins wrote these stories while she was homesick, away in graduate school, the desert always on her mind.
"I'm just sort of a confused, introverted person," she said. "Most of the things I want to say, I don't have any other way to say them."
Though she's 29, she's a lot like the kids in the classroom she took over for a week.
Like Andy Sposato, 17, who will be a high school senior in Pahrump this year. She writes for the Pahrump Mirror, a small weekly publication.
But she also writes for herself. "It's a good way to understand myself better," Sposato said.
That's the point, really, isn't it?
Watkins is a successful writer now. Those stories she wrote about the desert, she gathered into a book. "Battleborn" was published last year to wide critical acclaim and awards.
She's been teaching creative writing at Bucknell University in Pennsylvania and will join the faculty at Princeton University in the fall. She's working on a novel but figures she has lots of work to do before it's published.
She remembers being a teenager, the weird girl who wrote stories.
She had a heck of an upbringing to write about.
Her dad, Paul Watkins, had famously become Charles Manson's right-hand man, the guy who recruited pretty girls for the leader of the cult that arose in the late 1960s.
Paul Watkins was not involved in the Manson murders, and he would eventually testify against Manson.
Her parents founded and ran the Shoshone Museum near Death Valley, a place where tourists could buy maps and trinkets.
After her father died when she was 6, Watkins' mother remarried, and the new family moved to Pahrump.
Her mom, depressed and addicted to drugs, eventually died of an overdose when Watkins was 22.
Watkins spent her teenage years writing. Teachers encouraged her. She knew she was good at it.
But she did not realize that she could, in fact, be a writer. That professional writers were real people. That they were alive.
She moved to California, thinking she might enter the movie business. But she soon realized that it was not for her. She was a loner; movies required collaboration, organization.
She drifted. She took a bus to visit friends who were going to the University of Nevada, Reno.
She walked from the bus stop to the college, a few blocks away.
"By the time I got to the dorms at UNR, I was in love with the place," she said.
She worked. She got scholarships. She enrolled. She excelled. She knew what she wanted to do. What she wanted to be.
She went to Ohio State University to work on her master of fine arts degree. She met Palacio, now her fiancé.
She wrote and she wrote and she wrote, homesick, missing her mother.
THE MOJAVE SCHOOL IS BORN
A couple of years ago, Watkins was teaching a creative writing workshop for young people. It was expensive to attend. The kids impressed her.
She wondered what the poor kids did. Those kids in her dusty hometown. The kids like the one she used to be.
She and Palacio got to talking.
"Somebody's got to do something," she remembers Palacio saying. "Maybe somebody who's from there."
So that's what they did. They founded the Mojave School. It didn't take off last year, like they'd hoped, mostly because no one knew about it.
But this year, she said, they visited the schools. They made people aware.
Twenty-five kids signed up, each with stories to tell.
Alexa Martin was one of them. She's 16. She's going to be a high school senior this year.
She knows she has some ability, and she has the need to put her ideas and her emotions into words.
She said she loves writing. Blog posts, short stories, fan fiction. She might try screenwriting now, after inspiration from the class.
Like lots of people who think of themselves as writers, Martin said she isn't looking to make a career of it. Not now, anyway.
She just wants to express who she is deep down inside.
Contact reporter Richard Lake at rlake@reviewjournal.com or 702-383-0307.