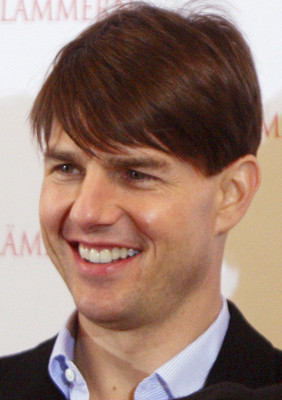 Tom Cruise's favorite Las Vegas restaurant is being replaced.
Shintaro, the Bellagio's Japanese eatery where Cruise dined with Nicole Kidman shortly before filing for divorce to end their 10-year marriage, is being replaced by a Light Group restaurant.
Cruise returned to Shintaro, where Kobe steaks fetch $170, a couple years later with Penelope Cruz.
Shintaro is the first of the original restaurants overlooking the dancing fountains to be replaced since Bellagio opened in 1998. The Japanese concept will continue, with an emphasis on sushi, I hear.
New York-based Light Group is replacing Light nightclub with another nightspot called The Bank. Light also operates Fix Restaurant at Bellagio, Jet nightclub at The Mirage, Stack Restaurant at The Mirage, Caramel Lounge at Bellagio, Mist Lounge at Treasure Island, and Diablo's Cantina at Monte Carlo.
THAT TORRE SIGHTING
So what was Joe Torre doing in Las Vegas four days before signing a three-year deal to manage the Los Angeles Dodgers?
Having an under-the-radar meeting, perhaps, with Dodgers brass at Wynn Las Vegas? That's where my spies said he was golfing on Oct. 26.
"He wasn't golfing," said Torre pal Bernie Schiappa, longtime general manager at Fletcher Jones Mercedes Benz.
I ran my theory past Schiappa at N9NE Steakhouse at the Palms on Friday. Schiappa thought it over for a minute and said he didn't want to comment on it.
Schiappa and Torre have been pals since 2003. They joined Terry Lanni, MGM Mirage chairman of the board and chief executive officer of MGM Mirage, as horse racing partners.
Torre's move to the Dodgers means shorter baseball trips for Schiappa, who took in Yankees games as Torre's guest. Seeing Torre in a Dodgers uniform will be a hoot for Schiappa, who grew up in New Jersey as a Brooklyn Dodgers fan and often caddied for Brooklyn stars Duke Snider, Don Newcombe and Junior Gilliam.
THE SCENE AND HEARD
Steve Schirripa is showcasing a ton of local talent in "The Vegas Va-Voom Variety Spectacular," the Nov. 14 kickoff event for The Comedy Festival.
Schirripa, a regular on "The Sopranos," will "revisit his Vegas heyday" as host and co-producer, along with band leader Lon Bronson and HBO.
In addition to Bronson's All-Star Band, the variety show, set for the Augustus Room at Caesars Palace, will include Red Rock Resort headliners Zowie Bowie, magician Kevin James, Schirripa's "Va-Voom" showgirls, and comedian Dom Irrera.
Bronson, who has been working with Schirripa as the bandleader of his TV talk show pilot, performs at Arizona Charlie's on weekends from 10 p.m. to 2 a.m.
SIGHTINGS
Sir Richard Branson, at a roulette wheel at the Hard Rock Hotel on Friday. He later took his daughter Holly and son Sam to Body English. … R&B stars Usher and Babyface, hanging out with Chris Tucker at Pure (Caesars Palace) on Friday. Tucker performed Michael Jackson's moonwalk for the crowd. … Demi Moore, with daughters Rumer, Scout, Tallulah, and fitness trainer Teddy Bass, at the 10 p.m. performance of "Love" (Mirage) Friday. … Ron Wood from the Rolling Stones at Charlie Palmer Steak Friday night. … At Social House (Treasure Island): singer Jewell, Mena Suvari, Mötley Crüe's Vince Neil and Usher. … At LAX (Luxor): Masiela Lusha from "The George Lopez Show" and martial arts personality Frank Trigg. … Rapper Nas, singing his hit single "Hip-hop is Dead" Friday at Jet. Also there: Ryan Friedlinghaus of West Coast Customs and host of the "Street Customs" show on TLC and NFL great Marshall Faulk. … Jenny McCarthy, celebrating her birthday with family members at N9NE Steakhouse (Palms) on Friday, along with her dad and her sister. … Pamela Anderson, dining at Morton's. … Danny Masterson, Bijou Philips, and Jeff Beacher, taking in "Zumanity" (New York-New York). … Actor Gregory Smith, of the new feature film "The Seeker: The Dark is Rising," at "Zumanity" on Friday.
THE PUNCH LINE
"You went nuts on the Halloween candy and ballooned to a size 4." — From David Letterman's Top Ten Signs You're a Bad Fashion Model.
Norm Clarke can be reached at (702) 383-0244 or norm@reviewjournal.com. Find additional sightings and more online at www.normclarke.com.
NORM CLARKEMORE COLUMNS