Bellagio definitely is not on market
October 24, 2008 - 9:00 pm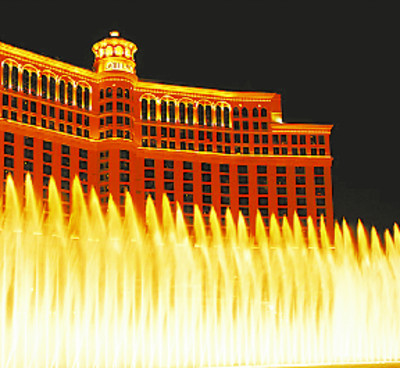 An East Coast gaming giant made an overture to buy Bellagio from MGM Mirage early in the Wall Street meltdown but was rebuffed, it was learned.
The buyer was identified as Peter Carlino, chairman of the board and chief executive officer of Pennsylvania-based Penn National Gaming, Inc., which includes casinos, racetracks and resorts.
Steve Wynn, who built the Bellagio in the late 1990s for $1.6 billion, said Carlino confirmed he "wanted to buy Bellagio but Terry Lanni said it was not for sale. That was three weeks ago."
Alan Feldman, vice president of communications for MGM Mirage, said, "These rumors fly around all the time." He added, "we're not in position to rule it out, if somebody had the money, but who has the money in this economy?"
Wynn's comment came during an interview in which he was asked whether he had an interest in buying back the Bellagio.
Wynn sold the Bellagio in June 2000 as part of his $6.6 billion deal that put his Mirage Resorts properties under the MGM Grand Inc. umbrella. He turned around and purchased the Desert Inn and built Wynn Las Vegas on the site.
If the MGM Mirage sells off any properties, Wynn predicts it probably would be the 50 percent it owns in the Borgata in Atlantic City with Boyd Gaming.
Wynn said his focus is on his own backyard.
"Don't look for me to buy anything on the cheap," Wynn said. He has big plans to develop the golf course land at Wynn Las Vegas, where he has a convention center project planned on the 150-acre site.
With a deep recession being forecast, "2009 will separate the men from the boys," Wynn said.
MAY I RECOMMEND …
The James Beard Foundation's annual Taste America is in Las Vegas for the first time this weekend. Today's schedule features seven dinners by Las Vegas chefs at Alex at Wynn Las Vegas, Ristorante di Mare at Wynn Las Vegas, Fiamma at MGM Grand, Rao's at Caesars Palace, Restaurant Charlie at The Palazzo, Simon at Palms Place and Valentino at The Venetian. A fundraiser Saturday at the Palazzo ballroom will feature more than a dozen JBF-award winning chefs, with multiple JBF winner Charlie Trotter honored as the special guest. A free culinary panel discussion is at UNLV at 10 a.m. A cooking demonstration will be at 4 p.m. at Payard's at Caesars Palace (for $20). Prices range from $175 to $500, depending on the restaurant. Tickets to the fundraiser are $350. For more information, go to www.JBFtasteamerica.com.
SIGHTINGS
Actress Jane Seymour, who performed in "Dancing With the Stars," at the early show at "O" (Bellagio) on Wednesday. Backstage, she met with the cast and told one of the dancers that her career started with dance, but she gave it up to go into acting. … Wynn, arriving at the Michelin Guide event arm in arm with Picasso chef Julian Serrano, whom Wynn hired at Bellagio. Serrano, Alex Stratta at Wynn and Guy Savoy at Caesars, received two stars from Michelin. They were among more than 60 chefs from Las Vegas and around the country who attended the debut of the 2009 Michelin Guide on the Sunset Terrace at Wynn Las Vegas. For the second year in a row, Wynn Las Vegas was awarded Michelin's ultimate rating, five red pavilions. MGM Grand chef Joel Robuchon, the lone three-star winner, was traveling and could not attend. … MTV reality show star Tila Tequila, hosting the grand opening of T&T (Tacos & Tequila) on Wednesday at Luxor. Other attendees included illusionist Criss Angel, comedian Carrot Top, the girls of "Fantasy," Thunder From Down Under, magician Nathan Burton, and rock-capella group Mosaic. The TBS show "Dinner & A Movie," filmed a segment near the water's edge in MonteLago Village at Lake Las Vegas on Wednesday. It is scheduled to air in early January.
THE PUNCH LINE
"They say the race is going to be decided by the undecided voters — 7 percent are undecided. I have a question for them: What the hell is wrong with you? This election has been going on for years." — Craig Ferguson
Norm Clarke can be reached at (702) 383-0244 or norm@reviewjournal.com. Find additional sightings and more online at www.normclarke.com.