Berkley ad hits Heller on stock scandal
August 10, 2012 - 1:32 pm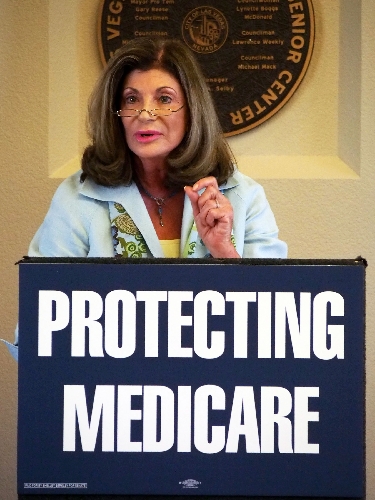 Looking to shift the focus from her own ethics troubles, U.S. Rep. Shelly Berkley on Friday went up with a hard-hitting TV ad against her GOP Senate opponent, accusing U.S. Sen. Dean Heller of allowing a Nevada diamond company to cheat investors out of $64 million while he was secretary of state.
The ad also says Heller "took campaign cash from a co-conspirator" in the case, although the man in question was never charged by the U.S. Securities and Exchange Commission in the penny stock scandal.
"While Heller was supposed to be stopping fraud, a Nevada diamond company broke the law, scamming thousands of investors out of $64 million," the 30-second ad said.
The new ad comes two weeks after Berkley, D-Nev., launched several ads defending herself for advocating to save a kidney transplant center at University Medical Center where her husband has a financial interest. She didn't disclose his connection at the time, something the House Ethics Commission is investigating.
The commission also is investigating Berkley's additional efforts on her own to keep Medicare reimbursement rates high for dialysis, which could benefit her husband's clinics.
The Heller campaign called the new Berkley attack ad a desperate smear meant to distract voters from her own ethical problems, saying she will "say or do anything to bring Dean Heller to her level."
"Obviously, Shelley Berkley's lies about Medicare are not working, so now she is inventing new ones," said Chandler Smith, a spokeswoman for the campaign. "Congresswoman Berkley is a desperate politician whose ambitions are being destroyed by her own ethics problems."
Smith said Berkley's campaign has been "trying to sell" reporters on the story about Heller and the diamond company for months, "but no one would buy it because there were no facts to support her allegations. So now she has resorted to running a blatantly false negative attack in a desperate attempt to create more fiction."
The Berkley campaign stood by the ad, saying the penny stock selling scam involving a company called CMKM Diamonds, Inc. happened under Heller's watch, so he should be held responsible.
"As secretary of state, Dean Heller's office authorized CMKM Diamonds to sell an estimated 800 billion shares of fraudulent stock in Nevada, which resulted in 40,000 investors losing $64 million," said Xochitl Hinojosa, communications director for Berkley's campaign. "Despite the fact that his office had the only information about the company at the time as well as the resources and mandate to launch an investigation, the only actions Heller took were to accept thousands in campaign contributions from one of the co-conspirators and to campaign on his tough anti-fraud track record."
In 2005, Heller accepted $4,200 for his first congressional campaign from Rendal Williams, according to Federal Election Commission records. Williams was CEO of U.S. Canadian Minerals, one of nine companies that had a business relationship with CMKM Diamonds and through which investors' money apparently flowed.
The Heller campaign didn't deny accepting the campaign contribution from Williams. But the campaign said Heller never received any federal campaign contributions from any person employed by CMKM Diamonds. Williams also has contributed to other GOP campaign committees and candidates.
"The contributor Berkley uses in her ad was not employed by CMKM Diamonds. There is no evidence that the SEC brought any charges against him or even mentioned him in their complaint," the Heller campaign said.
Williams had not been named in any of the indictments, but his company is included in the information.
Heller's campaign also noted that the GOP lawmaker was never part of any federal SEC investigation.
"Dean Heller was never contacted during any part of any investigation into CMKM Diamonds because he was in no way responsible for or related to any of the company's wrongdoings," the Heller campaign said.
The Heller campaign suggested Berkley is trying to turn the tables because her ads defending her kidney center advocacy aren't working with voters and she is worried she is losing the race to Heller.
"Shelley Berkley's campaign has become increasingly desperate and has poured more than a million dollars into ads to refute the charges," the Heller campaign said. "Clearly, they aren't working."
Nevada, like the state of Delaware, is a popular and cheap place for businesses to file incorporation papers, and thousands of them do every year. CMKM Diamonds registered with the secretary of state's office in 2002.
CMKM Diamonds apparently didn't register with the Nevada Securities Division, which has the ability to pursue both criminal and civil investigations and collect penalties for any violations of the state securities law.
Securities Administrator Diana Foley said Friday that incorporating a company with the secretary of state's office doesn't expose the firm to the extra scrutiny that the securities division would.
"Just because someone's a Nevada company doesn't mean the securities division will even see them," Foley said. "If they comply with the requirement for filing or incorporating, then they get incorporated here."
In 2009, a federal judge in Las Vegas unsealed an indictment that showed six people were accused of defrauding investors out of $64 million by conspiring to issue and sell unregistered shares of stock in CMKM Diamonds. A superseding indictment filed in 2010 added four more people for a total of 10.
The president of CMKM Diamonds, Urban Casavant, was among those indicted as the main player in the scheme. He remains at large, and the case is still wending its way through the court system.
Casavant was selling the promise of diamond mines in his home country of Canada, but he had no working operation, the SEC alleged. He is accused of using investors' money to pay for a lavish lifestyle, gambling debts and to generate investor interest, including at car, truck and motorcycle race events around the United States.
According to the indictment, the defendants conspired between September 2001 and March 2009 to sell unregistered securities, make false and misleading statements to the SEC and commit securities fraud.
CMKM did not file quarterly or annual reports with the SEC between 2002 and 2005 as required by law, according to the indictment, which should have raised red flags. The secretary of state's office would not normally investigate unless somebody complains. The matter then could be referred to the attorney general.
The Berkley campaign, in its new TV ad, shows an old Heller campaign commercial in 2006 that has him saying, "As your secretary of state, I cracked down on fraudulent marketing schemes." The Berkley campaign believes that opens him up to accusations that he didn't do enough to discover the CMKM scam.
Eric Herzik, a political science professor at the University of Nevada, Reno, said the ad seems unfair.
"It's a reach and a diversion," Herzik said. "Given the volume of incorporations in Nevada, you're going to have some fly-by-night operations and some fraudulent activities. To pin that on the secretary of state is a reach."
Herzik said Berkley is clearly worried her ethics problems will cost her the race unless she marks Heller, too.
"She's trying to divert attention from herself,' he said. "And if this is the best she's got, it's not very good."
Contact Laura Myers at lmyers@reviewjournal.com or 702-387-2919. Follow @lmyerslvrj on Twitter.